A 26-year-old Tamil woman from Mullaiththeevu, who was conscripted by the occupying SL military was admitted to Jaffna Teaching Hospital this week and died at the hospital on Thursday after a mysterious vaginal illness. The victim, Ajantha Prasath, a mother of a 6-year-old girl was from Chelvapuram in Oddu-chuddaan in Vanni. The lone poverty-stricken mother, living with her parents, was deceived with a 'job offer' by the SL military three months ago on 22nd May, was under military training at Palaali base. Ajantha died of 'vaginal cancer' according to the controversial director of the Jaffna Teaching Hospital, Mrs Bavany Pasupathirajah, who attended a 'press conference' organised by the so-called Civil Military Coordination Office on Saturday. The dead body was burnt at Ponnakar burial grounds on Friday. The family was told on Saturday that their daughter passed away due to cancer.
Bavany Pasupathyrajah, the director of Jaffna hospital, alleged to be having close links with the SL military and paramilitary operative Vinayagamoorthy Muraleetharan from Batticaloa, was present to respond to questions from journalists in Jaffna at the press conference organised by the CIMIC of the occupying SL military. 

Even the hospital director was not able to respond to a question from one of the journalists that why the SL military had not checked her health conditions before enlisting her in the training programme. 

The usual practice of such deaths is to bury the dead bodies. But, Ajantha's body was handed over to the family for a few hours and then was taken away from the family by the SL military to be cremated at Ponnakar cemetery.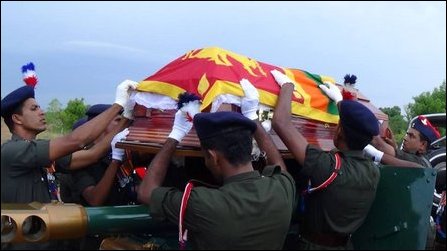 The dead body of 26-year-old Tamil woman Ajantha Prasath was taken away by the SL military for 'military burial' was burnt at Ponnakar burial grounds by the occupying military


The whereabouts of the husband of the victim is not known. It is believed that he had abandoned her, news sources in Mullaiththeevu said. 

US-trained 'counterinsurgency' commander of the SL military in Jaffna Maj. Gen. Udaya Perera has been behind the deceptive programme of giving training to Tamil women in Vanni and Jaffna. TamilNet has earlier uncovered how the programme was being run in Jaffna through a Tamil operative known as 'Tamil CNN Kannan', who returned to Jaffna from London. 

The SL military recruited 39 Tamil women from poverty-stricken families in Mullaiththeevu district 3 months ago. The women were told that they would be getting jobs in computer section after 'job training'. The SL military also promised that the women would not be subjected to any military training. However, all the Tamil women are being subjected to military training at Palaali military base, informed sources in Jaffna told TamilNet. 

During the middle part of December 2012, 21 of around 100 Tamil girls conscripted for the SL military, were admitted to Ki'linochchi hospital in a mentally affected state. A Tamil doctor, R. Sivashankar, who voiced for the rights of the Tamil women forcefully recruited and held against their will by the SL military, was subjected to SL military's 'terrorism detention' in a counter-insurgency style .


Related Articles:
26.06.14   Eezham Tamils and duplicity of West's human rights campaigns 
29.04.14   Sinhala military operates US-trained 'counterinsurgency' in .. 
20.04.14   SL military attempts to recruit 1,350 Tamils as subservient .. 
12.04.14   Genocidal military deceives Tamil students in Jaffna, Vanni 
01.04.14   SL military 'punishes' families opposing forced conscription.. 
24.03.13   95 Tamil girls 'alter' the image, says 300,000 strong Sinhal.. 
01.01.13   SL military admits 'terrorism' detention of Dr Sivashankar 
12.12.12   SLA conscripted Tamil females admitted at Ki'linochchi hospi..