US probes monitoring MP's huge deals with PR firms
Sri Lanka will pay for PR/lobbying firms in the US will thus be a staggering US$ 2,140,000 
US$ 683,635 (or over Rs. 88.87 million) was paid to TAG last year.

 

Mahinda furious at Sambanthan who said 'We want to live within a united, undivided Sri Lanka" 
Commission probing Disappearances and now tasked to probe alleged war crimes could go on for "two or even three years."  says President.
Cheating and Not keeping his promises is part of President Mahinda.
Revelations in the Sunday Times in the past two weeks have prompted a review of mandatory information forwarded to the US Department of Justice by public relations (PR) and lobbying firms assigned by Sri Lanka using vast sums of public money. The FARA (Foreign Agents Registration Act) Unit of the US Justice Department said it would conduct a re-scrutiny. Timothy Pugh of the Unit functioning under the Attorney General's Department said we "will review the information" forwarded by the registrants.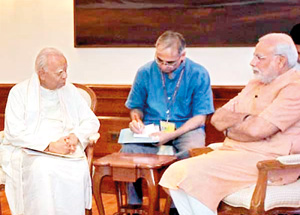 The move stems from the declarations made by three PR/lobbying agencies, joined by a fourth just two weeks ago. Whilst disclosing that their client was Sajin de Vass Gunawardena, Monitoring MP for the External Affairs Ministry (EAM), the address has been given as 9/2 Dudley Senanayake Mawatha, Colombo 8. As exclusively revealed in these columns, there has never been a Government office at this address. It is now occupied by the Korean International Corporation Agency (KOICA). Earlier, the office of Cosmos Aviation, a helicopter fleet operator where Vass Gunawardena is a director, was located in the premises.
In terms of the FARA, any person who wilfully violates provisions in any registration statement is liable, when proved, for a fine of not more than US$ 10,000 or imprisonment for more than five years. For some offences, the punishment is not more than $5,000 or imprisonment of not more than six months, or both.
It came to light this week that another PR/lobbying agency Vigilant Worldwide Communications, 85-1466 Road, Rego Park, New York 11375 has been hired for the "Office of the Monitoring MP for Ministry of External Affairs." Dated July 31, the FARA declaration says this firm has been engaged for six months at a cost of $5,000 a month or a total $ 30,000 dollars.
The signatory to the agreement with Vigilant World Wide Communications is "Beltway Government Strategies Inc. (for the Government of the Democratic Socialist Republic of Sri Lanka Office of the Monitoring MP for the Ministry of External Affairs). Signing for Vigilant is Blaze Wharton, "Managing Member." The purpose, the declaration says, is to "develop a strategic communications plan and conduct outreach to Members of the Congress and other US government officials with the purpose of raising awareness of Sri Lanka's strategic importance to the US. Registrant shall monitor congressional and administration activities that impact on Sri Lanka."
It may be recalled that Beltway Government Strategies Incorporated based in Los Angeles was hired by Vass Gunawardena. This was with the help of a US citizen of Pakistani origin, Imaad Zuberi who is touting his relations with President Barrack Obama, to win deals. Among other matters he was Vice President for the US president's re-election fund raising campaign. Thereafter, in a convoluted exercise Beltway signed up with three different PR/lobbying agencies on behalf of Vass Gunawardena as Monitoring MP. They are
(1) Burson Marsteller LLC for US$ 75,000 a month (more than US $900,000 a year). Principal address: 9/2 Dudley Senanayake Mawatha, Colombo 8;
(2) Madison Group for US$ 15,000 a month(us$180,000 a year). Principal address: 9/2 Dudley Senanayake Mawatha, Colombo 8;
(3) R & R Partners for US$ 35,000 a month (US$ 420,000 a year). The Principal Address is the Presidential Secretariat, Colombo 1.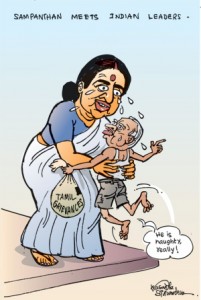 Vass Gunawardena was in Los Angeles. Last Sunda. He was present at a gala dinner for Ed Royce, Chairman of the US House of Representatives Committee on Foreign Relations. He represents California's 39th Congressional District. Among those present was Imaad Zuberi, the go-between who arranged for the latest collection of PR/lobbying firms for Sri Lanka with Vass Gunawardena. Zuberi, was also a donor to Obama's Presidential Inaugural Committee – 2013.
According to reports from Washington DC, a deal with yet another PR/lobbying firm is in the making. It will be with Nelson, Mullins, Riley and Scarborough of 1320 Main Street, 17th Floor, Columbia, South Carolina 29201. It is yet to go for registration. US law requires that an agent must register within ten days of agreeing to become an agent before performing any activities for a foreign principal. The Nelson Mullins account is to be worked on by Sri Lankan born lobbyist Vinoda Basnayake together with Bob Crowe. Basnayake joined Nelson Mullins from Patton Boggs which recently merged with Squire Sanders.
Whilst the fee to be charged from the Government of Sri Lanka by Beltway and Nelson Mullins is still not clear, the total amount to be given to the other PR/lobbying agencies (arranged for by Vass Gunawardena) works out to US$ 1,380,000 or more than Rs. 179.4 million for one year.
This amount is without the payment the Central Bank of Sri Lanka (CBSL), which has now chosen Liberty International Group LLC from August 2014 for one year. This agency will receive an annual fee of US$ 760,000 (or over Rs. 99 million) from the CBSL. The grand total Sri Lanka will pay for PR/lobbying firms in the US will thus be a staggering US$ 2,140,000 or over Rs. 278.2 million. These funds could have easily gone to equip poor schools or launch income generating projects which could have lowered unemployment if only the Government appointed competent people to its embassy in Washington and adopted a more prudent foreign policy approach with the US.
The Central Bank of Sri Lanka (CBSL) in a statement last Wednesday confirmed the revelations in these columns that it has now hired Liberty International Group LLC from August this year. This is after it had ended the contract with Thompson Advisory Group (TAG), to whom it paid millions. Here are excerpts from that statement:
"……. .a robust Communication Programme in the USA….. has been fashioned to create and maintain a conducive political and economic environment in the USA to enhance Sri Lanka's long-term political and economic aspirations, and to develop a comprehensive information platform where decision makers in the USA would receive clear and accurate information about conditions in Sri Lanka so that it would serve to attract a higher volume of private sector investments……. The Programme of the Central Bank has been devised in accordance with the Monetary Law Act's mandatory objectives of realizing economic and price stability and financial system stability..….."
CBSL Governor Ajith Nivard Cabraal also made a lengthy statement to the Sunday Times. Here are relevant extracts: "………Since the end of the conflict in May 2009, the Central Bank has observed with deep concern, that well-organised and well-funded sections by certain members of the Tamil Diaspora and the local and international media, have been trying to convey inaccurate stories which are detrimental to Sri Lanka, which if allowed to continue unchecked and unchallenged, could affect the image of the country and the economy.
"Since the end of the conflict, many investments have flown into the country, based upon the benign conditions as well as robust economic growth that has been experienced since then. However, some of the Tamil Diaspora and the media yet continue their efforts to discourage foreign investments into Sri Lanka.
"It was in that context, that the Monetary Board decided to implement a comprehensive overseas campaign to provide an accurate account of the Sri Lankan political and economic environment to US leaders, think tanks, investors, business chambers and interested citizens to keep them abreast of the true situation in the country. In order to carry out such a campaign effectively and successfully in the USA, the normal practices in the USA have to be followed, based upon proper advice and effective interventions….."
Well, good and noble indeed but for the absolute transparency ensured by US laws. It has bared an entirely different reality. The CBSL statement and that of of Governor Cabraal do not answer the questions raised in these columns last week. How was one agency replaced and another chosen? Was it through a transparent process and were tenders called? Or was it the choice by one person or more to select the firm of a retired House of Representatives member? There are 435 representatives in the House and 100 members in the Senate. Hence, how could just one such retired person "re-calibrate" US foreign policy as the Central Bank has sought? Was Cabinet approval obtained? Were the Ministries of External Affairs and Mass Media consulted? Was there a concerted joint strategy with the other arms of the Government doing the same thing? All this is because public funds are being used and squandered to build this claimed "information platform" and a more "balanced" US policy towards Sri Lanka.
The CBSL, as is clear, cannot function as a parallel Government and take cover under what it claims are "mandatory objectives" that supersede those of the Cabinet of Ministers. Previous Monetary Boards have not resorted to this. Even President Rajapaksa (who is also the Minister of Finance and Planning) seeks approval of the Cabinet of Ministers for projects or other tasks even when the amounts involved are a few thousands of rupees and not millions. The CBSL also does not say why it did not believe that the Sri Lanka Embassy in Washington DC could execute "mandatory" objectives or build an "information platform"? Is it because the CBSL too believes the embassy was and still is incapable and hence it was "mandatory" for the CBSL to outsource?
Nor does the statement explain how the "mandatory objectives of realising economic and price stability and financial system stability" are achieved by making payments as fees to a limousine driver? This was when the CBSL hired its previous PR/lobbying firm. It was this driver who has been chauffeuring around the TAG President Robert J. Thompson in Washington DC.
We revealed in our columns that US$ 683,635 (or over Rs. 88.87 million) was paid to TAG last year. Of this amount, last year's payment to Tilak Mohan Siriwardena, the limousine driver, included US$ 34,675 (or more than Rs. 4.5 million). He has to be the highest paid driver of the Government of Sri Lanka. Of this amount, US$ 7000 was "to compensate him for his time in participating on the fact finding trip to Sri Lanka." Siriwardena came to Sri Lanka accompanying a TAG delegation and had the opportunity of seeing the country of his birth, meeting relatives and friends at Sri Lankan taxpayer's expense. What facts did he find? How did he help the so-called information platform? This is besides Siriwardena's monthly fee of US$ 7,000 (or over Rs. 910,000).
How does the CBSL justify paying almost a million rupees every month to a limousine driver in the US? It would be in the public interest for CBSL to explain the driver's qualifications and what was achieved by TAG last year that led to economic, price and financial stability in Sri Lanka. The CBSL should also say why such achievements could not have been carried out by the Sri Lanka Embassy. Surely if there was no one qualified, the monies spent on an agency could have easily been used to recruit and train qualified local talent? More than 66 years after independence, CBSL does not seem to believe in this. Why?
The Sunday Times has obtained further details from FARA records which give the purposes for which funds were paid by the Central Bank to TAG last year. On April 16, 2013, US$ 13,044.92 (or over Rs. 1,695,839.60) was paid for "meals and miscellaneous" expenses. It was not just a case of paying the driver but feeding him and the others. On the same date, a further US$ 14,930 has been charged for "transportation." On August 26, 2013 a fee of US$10,000 has been charged for "Creative Response Concepts." A total of US$ 62,000 (over Rs. 8,060,000) has been paid to one Adriaan Verheul though the tasks carried out have not been explained. One can even understand if this money was for some covert exercise to win over enemies and influence friends, but then it must produce results. What are these results that the CBSL has to show?
The saga of the PR/lobbying firms and how they are hired willy nilly by powerful persons in the UPFA Government ostensibly to win over the Obama Administration and change (or 're-calibrate') its policies towards Sri Lanka raises more questions than it answers. Matters are made worse when some maintain a stoic silence whilst others are engaged in laughable semantics better explained by the Sinhala adage koheda yanney, malley pol or 'Where are you headed? There's coconut in the bag'. The saga tells the story of what happens when there is a government within a government. Financial Regulations, Administrative Regulations and other procedures are ignored.
Commission probing Disappearances and now tasked to probe alleged war crimes could go on for "two or even three years."  says President.
Those disturbing developments notwithstanding, President Rajapaksa appeared buoyant this week. Perhaps due to his excellence at public relations, a breakfast meeting with members of the Foreign Correspondents Association (FCA) turned out to be a very mild event at a time when many a controversy plagued his UPFA Government. He announced two additions to the Advisory Panel assigned to the Commission probing Disappearances and now tasked to probe alleged war crimes. They are Indian human rights activist Avdash Kaushal and Pakistani law expert Ahmer B. Soofi. He had tweeted the names earlier. He said the Commission could go on for "two or even three years." He also declared that no visas would be given to the OHCHR members from Geneva to visit Sri Lanka during their international investigation into alleged war crimes.
Though the Government has taken up this position much earlier, this is the first time the President made that public assertion. Other than that, not many tough questions were asked or major announcements made. That gave him more time for light-hearted cracks. One was how he had taken part in a cultural event last week to mark India's independence. The performing artiste had wanted to know whether he had any particular request. Rajapaksa said he was familiar with several Hindi songs but did not know their titles. He heard a chorus of voices asking for a particular number. So he endorsed that it was his request too. The unsuspecting but thrilled crowds cheered him for favouring their request.
Responding to a query, he declared that he would remain in office as the next President. He had extended the term of retired Major General G.A. Chandrasiri as Governor of the Northern Province because there were no accusations against him. He said the Queen of England too had appointed retired military officers to several high positions. Rajapaksa chided Anuradha Herath of his Media Staff when he learnt that FCA associate members, who are mostly diplomats, were not invited for the event. He said that FCA members and their associates too be invited for a planned dinner for the local media shortly. Besides, he said, they should also be hosted at a cocktail party.
Last Saturday, the President had been up in Nuwara Eliya for the 125th anniversary of the Golf Club. There he had wowed members, society ladies, caddies and cooks alike and when asked to swing a wooden driver to hit the golf ball across the range, he turned to old friend and one time Nuwara Eliya Golf Club President Herman Gunaratne and said with a chuckle, "Madamulaney mata mona golf-da". (What golf for a person from Medamulana). He didn't do too badly with the drive either, despite the national dress he was attired in.
Mahinda furious at Sambanthan who said 'We want to live within a united, undivided Sri Lanka"
Yet, Rajapaksa by Thursday was livid at the news that Tamil National Alliance (TNA) leader Rajavarothayam Sampanthan and five TNA parliamentarians were headed for New Delhi the next day. Other members of the delegation were Mavai Senathirajah, M.A. Sumanthiran, Selvam Adaikalanathan, Suresh Premachandran and Pon Selvarajah. Conspicuous by his absence was Northern Province Chief Minister C.V. Wigneswaran. On Friday, the delegation met Indian External Affairs Minister Sushma Swaraj. Indian External Affairs Ministry spokesperson Syed Akbaruddin told reporters in New Delhi that "Sushma Swaraj stressed on the need for a political solution that addresses substantially the aspirations of the Tamil community in Sri Lanka for equality, dignity, justice and self-respect within the framework of a united Sri Lanka." The TNA delegation had a meeting with Indian Prime Minister Narendra Modi yesterday where a whole range of issues including the fuller implementation of the 13th Amendment to the Constitution was discussed. Fuller details of the talks were not immediately available. Before his departure, Sampanthan told the Sunday Times, "I don't want to be discourteous to the Indian Prime Minister by saying what we want to talk. There will be a wide range of issues we are concerned about. We want to live within a united, undivided Sri Lanka."
Cheating and Not keeping his promises is part of President Mahinda.
Ahead of the TNA delegation's departure, The Sunday Times learnt President Rajapaksa conveyed to Sampanthan his displeasure through an emissary. He was angry that there was no intimation to the Government. A source familiar with the dialogue said Rajapaksa had pointed out that the visit was aimed at cornering him and his Government. The TNA had wanted to change the Government. Referring to one of the causes of friction between the UPFA Government and the TNA, he had pointed out through the emissary that he agreed not to extend the term of the Northern Province Governor only because the Provincial Council there had adopted a resolution to oust him. The offer not to extend was made when Wigneswaran met Rajapaksa to be sworn in as Chief Minister on October 7 last year. The President had pointed out that wherever Sampanthan and party went, they would eventually have to come to him. Otherwise, they will not be able to talk about resolving issues, he has added.
The same sources said Sampanthan rejected Rajapaksa's accusations that the TNA's New Delhi visit was against the President and his Government. "Whatever is said and done, I am the leader of a Tamil political party. We are seeking a political solution. We are going at the invitation of the Government of India to explain our position," he had responded. Sampanthan had also said that the Northern Provincial Council had adopted a resolution for the removal of NPC Governor long before the President assured them he would not renew his term. He had also said that a further assurance not to extend the Governor's term had been given to the TNA when its members M.A. Sumanthiran and Chief Minister Wigneswaran met President Rajapaksa on January 2 at "Temple Trees". Sampanthan has also been strongly critical of Indian Lok Sabha MP Subramanian Swamy for the remarks he made over the TNA's visit to New Delhi.
Swamy, who was in Colombo for the fourth annual seminar organised by the Ministry of Defence, declared that if the TNA wished to go for talks in India, it would first have to obtain President Rajapaksa's approval. Though sections of the UPFA perceived Swamy as a powerful voice of a policy maker in India's ruling Bharathiya Janatha Party (BJP) Government, his remarks made clear he was not in the loop on key issues between Colombo and New Delhi. The TNA visit, planned earlier, had been kept a closely guarded secret until two days ahead of the delegation's departure. Swamy received VVIP treatment during his visit and was taken on a conducted tour of the Kilinochchi district including the Nandikadal area. He met senior military officials there.
There is also another major cause for UPFA Government's disappointment over TNA's visit to New Delhi. UPFA sources say that besides the talks with Rajapaksa, when he went to attend Premier Modi's swearing in, there has been no formal interaction by a UPFA Government dignitary with the Indian leader. External Affairs Minister Peiris told his confidants that he had wished the Indian Prime Minister's first official engagement was with a Sri Lankan Government representative. The fact that the TNA has been granted that appointment meant, like the ousted Congress Government, the ruling BJP was equally keen that Sri Lanka enforce the 13th Amendment and went beyond it. The message that though governments change in New Delhi, there is no fundamental change in foreign policy is abundantly clear. In fact, EAM Swaraj who was in Sri Lanka as Leader of the Opposition, made this point during her engagements in Colombo in June last year. This is in marked contrast to the conduct of Sri Lanka's own foreign policy where it not only goes through a periodic metamorphosis but is also sub contracted to foreign interests by those acting unilaterally.
While the TNA delegations was headed to New Delhi on Thursday, Rajapaksa planned a two-day visit to Pakistan on the same day. An External Affairs Ministry source said it had to be cancelled at the request of the Government of Pakistan. Cricketer turned politician Imran Khan's Teherik-e-Insaaf (PTI) and cleric Tahir-ul-Qadri had launched mass protests in Islamabad bringing life to a standstill. When the crisis began, the Presidential Secretariat dispatched Major General Chagi Gallage from presidential security to Islamabad to make an on-the-spot assessment of the security situation. He was then assured by the Pakistani authorities that they would ensure adequate arrangements were in place for the visit.
However, as the security situation worsened, Islamabad was forced to advise Colombo to put off the visit. Rajapaksa was to have had official talks with Prime Minister Nawaz Shariff on Friday. The duo were due to sign nine different protocols for joint cooperation in different fields including disaster management, scientific and technical co-operation, shipping, joint action on trafficking of narcotics and collaboration between Pakistan's National Defence Academy and the Lakshman Kadirgamar Institute for International Relations and Strategic Studies (LKIIRSS).
President Rajapaksa will leave for New York next month. This is after the state visits to Sri Lanka by Japanese Prime Minister Shinzo Abe on September 7 and 8 and Chinese President Xi Jinpeng on September 16 and 17. Rajapaksa is due to address the 69th sessions of the UN General Assembly on September 25. Tamil Diaspora groups have planned a protest outside UN Headquarters on this day. As reported last week, large aid packages are expected to materialise as a result of the state visits of the Japanese and Chinese leaders.
Ministers at their weekly meeting on August 14 decided to award three high priority water projects — Katana, Kandy North and Thambuttegama Water Supply Projects – to China National Aero Technology International Engineering Corporation (CATIC – ENG). Ministerial sources claimed that the concurrence of Water Supply and Drainage Minister Dinesh Gunawardena has not been obtained for the project. Yet the project has been evaluated by the National Water Supply and Drainage Board (NWSDB).
However, other sources said Request for Proposals (RFP) was in fact announced in May and two Chinese firms had applied. Besides the awardee, the other was Sinohydro Corporation Limited whose rupee component was Rs. 5.8 billion (or US$ 45 million) less than CATIC ENG. The CATIC-ENG and its local partner Maga Engineering have been awarded the project for which the foreign component is US$ 215,943,918. The local component is more than Rs. 11.45 billion. President Mahinda Rajapaksa who forwarded the proposal has pointed out that the Ministry of Finance and Planning (of which he is the Minister) entered into a Memorandum of Understanding with the China Development Bank Company Limited (CDB) in May last year to obtain financial assistance of US$ 680 million to implement selected priority road and water supply development projects in Sri Lanka.
Accordingly, he has told his ministerial colleagues, US$ 400 million was allocated to the implementation of road projects and the balance US$ 280 million for water supply projects. As a result, 250 kilometres are now being rehabilitated at a total cost of US$ 357 million and another 105 kilometres are to be rehabilitated at a cost of US$ 118 million soon. Hence, he has pointed out that "the Government has assigned high priority for implementation of water supply projects considering the urgent need of providing safe drinking water to the people and meet the target of 100 per cent access to safe drinking water by 2016. Therefore, in addition to the mobilisation of funds from several other sources such as Asian Development Bank, French Development Agency, Indian Exim Bank and funds available from local sources, the Department of External Resources requested CDB to increase the funds available for the water supply projects up to US$ 400 million for which CDB has responded positively."
The ministers have given approval for the National Water Supply and Drainage Board to enter into a loan agreement with China Development Bank Company Ltd., to obtain a loan to meet the costs of the three projects. To facilitate this, the Treasury will give a sovereign guarantee. All "on-lent" balance of the NWSDB will be converted to equity from the day the decision was made by the ministers. It would be the task of NWSDB to, in the light of debt being converted to equity, to service all future direct borrowings from local and foreign sources. The ministers have also authorised the NWSDB to obtain overdraft from local banks to meet project implementation working capital equivalent to three times of its monthly revenue collection.
The loan the CDB will grant the NWSDB will carry a repayment period of 15 years with a grace period of three years. Ministers did not have their weekly ministerial meeting last Thursday. This was both in view of President Rajapaksa's planned visit to Pakistan. As the weeks go by, it is becoming increasingly clear that the UPFA Government is pointedly focused on the upcoming presidential elections next year. Towards this, it is using all its political firepower to win the Uva Provincial Council election on September 20 with a larger majority. Surmounting that pressure would be the highest priority for the opposition parties.