As the Sri Lankan Govt. hosts two rival heads of States just nine days apart, Namini Wijedasa looks at the implications of the visits
Thousands of schoolchildren in traditional costumes welcomed Japanese Prime Minister Shinzo Abe to Sri Lanka last week. They danced in sync to local folk songs as his convoy rolled from the airport to the Colombo-Katunayake Highway.
It was the first time such a show—using 3,200 students from 22 schools across five districts—had been staged for a visiting head of State or Government, said Thilak Gunathilaka, Director of the Ministry of Education's Aesthetic Division. They lined both sides of the road for one-and-a-half kilometres.

The children had all learned the same routine from their respective dance teachers. They will be on the road again on Tuesday, decked in finery to welcome Chinese President Xi Jinping. In their small way, the entertainers too are part of the delicate balancing act Sri Lanka is playing in hosting leaders of two great rival nations just nine days apart.
President Xi's visit will be 24-hours long. Prime Minister Abe's, from September 7-8, was four hours shorter but he packed plenty into it. The main events were a bilateral meeting with President Mahinda Rajapaksa, a business forum of Sri Lankan and Japanese entrepreneurs, a visit to Parliament, an official banquet and a stop at the Kelaniya Raja Maha Vihara on his way to Bandaranaike International Airport (BIA) for departure.
In talks with the President, Mr Abe's top priority was maritime security. It featured prominently in the joint statement between the two countries which used the word "maritime" 12 times. It was also the subject of a majority of international news headlines written on the Japanese Prime Minister's visit to Colombo.
"Maritime security was the single most important topic for the Japanese and they kept strong focus on it," an official said, on condition of anonymity. "It is no secret that Japan is concerned about China's growing influence in Sri Lanka, particularly in the sphere of ports. Apart from financing the construction of the port at Hambantota, a Chinese company is in control of the Colombo South Harbour and another Chinese company is building Colombo Port City. Japan is not the only country that is jittery."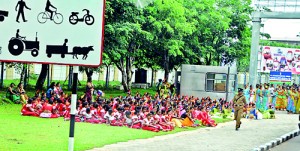 It was his intention to increase cooperation with Sri Lanka "for open and safe seas", Prime Minister Abe said at the business forum. The two countries have now decided to establish a "Sri Lanka-Japan Dialogue on Maritime Security and Oceanic Issues" to discuss issues of mutual interest in oceanic issues.
For his part, President Rajapaksa sought Japanese cooperation in the field of ports, harbours development and marine education. He also hoped Japan would provide patrol vessels to Sri Lanka. Prime Minister Abe said the Japan International Cooperation Agency (JICA) will conduct a survey with a view to meeting this request. In recent times, Japan has given "patrol boat gifts" to countries such as Philippines, Vietnam and Indonesia. International analysts have seen these donations as part of the country's efforts to counterbalance China's creeping tentacles in the region.
Shortly after his arrival, Prime Minister Abe and President Rajapaksa jointly launched phase II of the second stage of BIA expansion. The first part of this JICA-funded project is expected to be completed by early 2017.
During bilateral discussions that took place shortly afterwards, Sri Lanka reaffirmed its support for Japan's campaign to secure permanent membership of the UN Security Council; expressed appreciation for Japan's support at the UN Human Rights Council where it has abstained from voting in US-sponsored resolutions on Sri Lanka; and sought further cooperation in international and multilateral forums on issues of common interest and relevance to both parties. With regards to Overseas Development Assistance (ODA), it was made clear to Japan that Sri Lanka's priority now was large infrastructure projects. The Government, therefore, saw benefit in bulk amounts coming in. While Japan has consistently provided grants and loans, the assistance is typically divided among several projects and takes a long time to materialise. Post-war, Sri Lanka's requirements have changed.
There was "very, very high expectation" that Mr. Abe's visit would set the ball rolling on a Free Trade Agreement (FTA) between the two countries, officials said. Sri Lanka saw the starting point of this to be a Memorandum of Cooperation on "the Vitalisation of Intergovernmental Economic Policy Dialogue" finalised on September 7.
"We are pushing that and we expect Japan to reciprocate," a senior official revealed, before the talks. However, there was no mention of a possible FTA in the joint statement. Sri Lanka asked for greater cooperation in increasing tourist arrivals from Japan. It also called for more foreign direct investments from Japan.
"We have always said there hasn't been a significant increase in Japanese investment," the official said. Despite this, the Japanese business delegation mostly comprised companies looking to sell the goods and services—from green tea to vehicle spare parts—to Sri Lanka. Government sources said they were hopeful more joint ventures and Japanese private sector investment were on the horizon.
As a result of his attendance at the business forum, Prime Minister Abe came late to Parliament. He was tailed by a throng of journalists into the dining hall where tea and snacks had been arranged. A smattering of MPs from ruling and opposition parties was present. Ranil Wickremesinghe, UNP and Opposition Leader, was a notable absentee despite his party's decades-long ties with Japan. Speaker Chamal Rajapaksa made a speech followed by Prime Minister Abe.
Mr. Wickremesinghe was listed to deliver a vote of thanks. Chief Opposition Whip John Amaratunga did it on his behalf. Just as he started speaking, the waiters served snacks and he fought to be heard over the noisy chatter that had erupted in the hall. Prime Minister Abe sporadically turned in his direction, nodding politely in between mouthfuls of food. Leader of the House Nimal Siripala de Silva, who made a second vote of thanks, faced the same predicament.
Politically, Prime Minister Abe's visit was also a reminder of how the Sri Lanka-Japan relationship remains as nuanced as ever, diplomats said. "Japan has a Western position on thematic issues in the international arena," commented one, requesting anonymity. This is particularly so in relation to civil, political and human rights.
Japan has repeatedly called for an implementation of the recommendations of the Lessons Learnt and Reconciliation Commission (LLRC). In exchange for its support for Sri Lanka at the UN Human Rights Council, it has also wanted civilian administration to be returned to former conflict areas.
The subject of peace-building was raised again in talks last week. It also featured in the joint statement. Prime Minister Abe welcomed developments such as the Northern Provincial Council election; the Bill on Assistance to and Protection of Victims; and the expanded mandate of the Presidential Commission of Inquiry on Missing Persons and an establishment of a council of international advisers. But he also made reference to Sri Lanka's continuing engagement with the UN Human Rights Council and its mechanisms.
Such topics are unlikely to feature at all in this week's discourse between President Rajapaksa and his Chinese counterpart. "There is no nuance at all in that relationship," said a senior diplomat. "Their objectives are very clear."In contrast to the handful of papers signed between Japan and Sri Lanka during Prime Minister Abe's visit, the Chinese Government has forwarded a dossier of more than 20 deals for finalisation when President Xi arrives in Colombo. "It can't be clearer where we are heading," said one official, cryptically.
Back at BIA, arrangements are being made to usher in the Chinese President. The schoolchildren are preparing for another round of rehearsals. Chinese security and officials are overseeing everything and have even asked the Department of Information for a list of foreign media covering the President's visit—something that no other countries with visiting leaders have ever asked for. And mahouts are getting their elephants ready for a ride to the airport.
For, Mr. Abe only got dancers on arrival. But a contingent of pachyderms will join the welcome party for Mr. Xi on Tuesday as he lands in country that has become increasingly beholden to China.
Wear a tie to cover Xi's visit, media men told
Trust these scribes not to know the meaning of "formal": Journalists who tripped over to the Presidential Secretariat on September 7 to cover the bilateral meeting between President Mahinda Rajapakasa and Japanese Premier Shinzo Abe were barred from entering for lack of suitable attire.
Reporters, photographers and Colombo-based foreign media correspondents gathered at the venue in good time. They had earlier received an advisory from the 'Presidential Spokesman and International Media Unit'. It said the dress code for the event was "formal".
The majority of them were, therefore, dressed in attire that they thought was "formal" enough (for journalists) — long sleeved shirts tucked into neatly-pressed, belted trousers. As an additional compromise, they even wore dress shoes. Blazers or ties, however, were not in the equation.
A member of the 'Presidential Spokesman and International Media Unit' blew a fuse. While some journalists (who had arrived early) had managed to slip through his fingers into the room where the meeting was taking place, a larger number were trapped outside in their shirtsleeves.
This gentleman was ready to forfeit international media coverage of the Rajapaksa-Abe bilateral over a few neckties. One reporter managed to secure a tie. The others had none. The journalists wondered whether they would be better off leaving.
A heated debate ensued. Messages went here and there, finally reaching the ears of some of the organisers who were inside the room. A compromise was reached. The next time they covered an event involving a Head of State or Government, foreign correspondents would wear ties. And a blazer would be an added incentive to letting them do their job.
One journalist later joked to Anuradha Herath, Director (International Media), that it was difficult for them to wear coats. However, they would happily don national suits with "satakayas" if that would please the President's media unit.
Not wanting to take chances, more detailed instructions were included in the new media advisory for coverage of Chinese President Xi Jingpeng. It said: "The dress code for media personnel is formal (jacket preferred, minimum tie)." And it was bold, underlined.
"All media personnel are kindly requested to follow the dress code as it will be strictly enforced," it added, peremptorily. "Those who are not in the appropriate attire will not be granted access to cover the event. No exceptions please."
As one editor remarked in response: "What, not even a Mao suit?"