Six accomplices of Malaka Silva, son of Minister Mervyn Silva, allegedly involved in the assault of a foreign couple at a nightclub, are still at large, though they have been identified, police said.
The suspects were identified through CCTV footage from the Rhythm and Blues nightclub where the alleged assault took place in the early hours of November 1.
Details of the alleged assault surfaced this week as a team from the Colombo Crime Division (CCD) led by OIC Neville Silva conducted investigations.
James Casserly, 43, from Scotland, who was employed here, was with his fiancée Belinda Mackenzie, 24, who had arrived two days back. It was a special occasion for them as it was James' birthday.
Investigations reveal that Malaka, along with six bodyguards, turned up at the club shortly before 2 am.
The CCTV footage shows Malaka entering the dance floor and allegedly making advances towards Belinda, when she tries to prevent him getting closer. James intervenes and escorts her off the dance floor.
Malaka approaches the couple and is seen pointing at them while making some remarks. He tries to pull Belinda, when James intervenes and punches Malaka in the face.
As Malaka falls on the ground his bodyguards pounce on the couple and attack them. Among those present are two Ministerial Security Division (MSD) bodyguards.
Then the nightclub Manager intervenes and separates the two sides.
Malaka and his bodyguards leave. One of his bodyguards lodges a complaint at the Bambalapitiya police while Malaka gets himself admitted to a private hospital.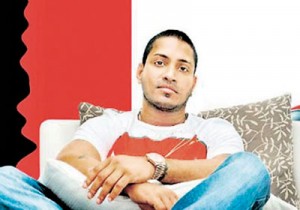 James and Belinda had called over at the Bambalapitiya police, but on sighting Malaka's bodyguards there, had turned around and returned home, fearing another attack.
Based on their video footage analysis, the Bambalapitiya police concluded that Malaka was responsible for the provocation. Accordingly, he was remanded till November 1.
The investigations were then handed over to the CCD.
The CCD traced the couple to their home and directed them to seek medical attention, as they were afraid of leaving their home.
They were also directed to be examined and reported on by a Judicial Medical Officer
James who had been unconscious after the assault, had a laceration on the right side of his forehead and several bruises on the body. Doctors ordered a CT scan.
Belinda suffered abrasions and multiple bruises on her forehead, arms and legs.
The CCD charged Malaka and eight others with unlawful assembly and assault of the two foreigners.
The report submitted to courts said there was suspicion that attempts were made to abduct Belinda.
When the case was taken up on Tuesday, Malaka was not present as he had reportedly undergone surgery. He was transferred from the private hospital to a State-run hospital.
The case was postponed for November 11 to submit a medical report, while an identification parade is due to be held on November 18.
Belinda, in her statement to the CCD, said that Malaka had harassed her during the dance and he appeared to be after liquor. She claimed she feared that she would be abducted.
James said they were harassed and he feared his finacee would be abducted from that location, and therefore, he reacted in self defence.
Malaka, in his statement, claimed that he was first assaulted by Belinda, and thereafter, he had reacted.
Meanwhile, Senior Deputy Inspector General of Police S.M. Wickremaratne confirmed that two MSD bodyguards were present at the scene of the incident, but police were yet to ascertain whether they were involved in the brawl. "We are investigating the matter," he said.
He said they will be investigating the circumstances surrounding their presence there. "We will present them to a court of inquiry," he added.
Malaka had been previously involved in several similar incidents at nightclubs.
In one incident, he was accused of assaulting Major Chandana Pradeep, of the Military Intelligence Corps, while returning from a nightclub at the JAIC Hilton Colombo Residences, Union Place. 
In 2004, he was accused of running amok, destroying property at a nightclub. 
In 2006, he and his bodyguards pleaded guilty in a case where they were charged with attacking Police Narcotics Bureau officials, and were ordered to pay compensation.
The following year, he was accused of assaulting a Charted Accountant at a Colombo restaurant.
In 2013, Malaka was assaulted in a clash at the Odel car park, for allegedly casting remarks at a female.
Meanwhile, a British High Commission spokesperson, when contacted on the incident, said, "We are providing consular assistance, but cannot comment on individual cases."