Former Public Management Reforms Minister and Chief Organiser United People's Freedom Alliance (UPFA) for the Nuwara Eliya District Navin Dissanayake who crossed over from the government to support the common candidate to abolish executive presidency said like his father the late Gamini Dissanayake, he too sees how dangerous it is to have executive powers with one person. "Like my father I too had to take certain decision to serve the country. That was why I crossed over with another 17 to strengthen President Mahinda Rajapaksa's government to eradicate terrorism.
"Now it's time for the President to abolish executive presidency as promised in 2005 and 2010. In order to abolish this system, it is a heroic decision taken by the General Secretary of the UPFA Maithripala Sirisena to cross over and I wholeheartedly wanted to help him out whose hands are clean. I am happy to give up all my posts in the UPFA and join the common candidates cause," Dissanayake said………………...  READ MORE 
Speaking this Wednesday at a news conference to explain why he refused a bribe of Rs. 100 million offered by three people from government ranks to stay with UPFA and not cross over to the opposition camp as he did on Sunday, he said, "I had already given my word to Maithripala that I am with him and, like my late father, when I give my word, my word is engraved on rock."
How heartening to hear that this eldest son of UNP stalwart the late Gamini Dissanayake whose sterling qualities were eulogised by Ranil Wickremesinghe at the same meeting, has not forsaken his old habit and reiterated his need to once more inscribe his promises on his reusable slate of molten lava of the lowest viscosity after a cooling off period of barely two months.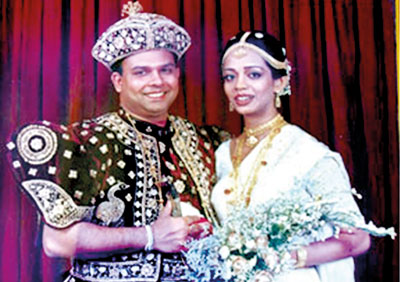 For it was only on October 13 that he renewed his solemn oath of allegiance to the UPFA government before a crowd of farmers gathered at the Nuwara Eliya District Secretariat to receive seed potatoes distributed by him.
This is what he told them: "Once I received votes from one party and crossed over to another. I was criticised, for it was a wrong thing to have done. I did so to give strength to the President to end the war and I think I am vindicated today. But I will never again cross over from one party to another. I give you that promise. 43,000 people voted for me. I will never again betray those voters and go to another party ever again. We cannot develop Nuwara Eliya as we are not getting adequate funds. We must fight for that. The thing is not to establish farmers' societies but to get about Rs. 20 or 30 million. Then we can solve the problems of Nuwara Eliya instantly."………………..READ ALL
A Joint Opposition press conference featuring Navin Dissanayake and the Common Opposition Candidate Maithripala Sirisena was held on Tuesday morning
Speaking first at the briefing, Dissanqyake said that the government had attempted to buy him over, when news of his defection had spread, but he said that he made a promise to Parliamentarian Sirisena, so he stepped down. He said he was offered 100 million rupees to stay with the government.
Speaking further on MP Sirisena's credentials, Dissanayake pointed out that it was MP Sirisena who was acting Defence Minister when the President was abroad, and that he would never be quote a puppet for western nations. Dissanayake also asked the question, whether India or the USA would conspire against Sri Lanka? He noted that they had helped in the battle to defeat the LTTE.
Dissanayake also noted that true patriots weren't rogues, and went on to charge that the government is looting funds which they receive from China for development purposes. He added that, when he was a minister, he was unable to reveal any of this corruption, before going on to highlight the need for a clean country free of family corruption………..READ ALL
– See more at: http://lankaimage.com/en/2014/12/03/local/i-was-offered-100-million-rupees-stay-govt-%E2%80%93-navin-dissanayake?language=si#sthash.9R2AnzrM.dpuf