UPFA showpieces Tissa; Maithri offers Rs. 10,000 pay hike and petrol at Rs. 50
By Our Political Editor
Attanayake accused of links with Rajapaksa for two  years; UNP trio hit back at former secretary
Pope's visit confirmed, MR assures bishops he will step down peacefully if he loses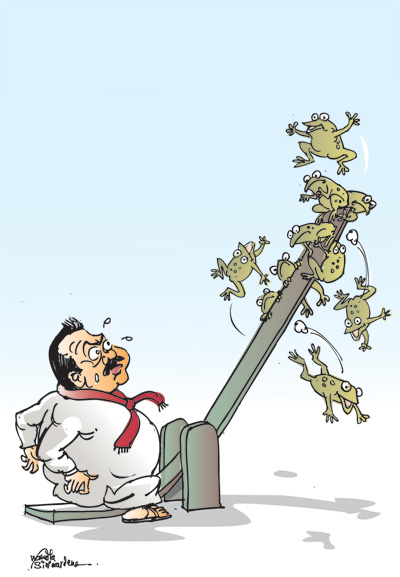 The 'star of the week', the United National Party's former General Secretary Tissa Attanayake was on board the SriLankan Airlines airbus A 330 with President Mahinda Rajapaksa, wife Shiranthi and son Yoshita when it rolled out from the runway of the Bandaranaike International Airport last Tuesday afternoon.
For Attanayake, who had been an Opposition politician until much less than 24 hours earlier, it was a signal honour. There are more than a 100 ministers and deputies in the Rajapaksa Cabinet and even MPs who are yet to be included in his official entourages for travel abroad. By simply switching loyalty, he propelled himself to the top rungs of the UPFA and found a place in the presidential entourage and the cabinet of ministers later.
Though he did not have an electoral base and is on THE UNP's National List, UPFA members argued they have lost a General Secretary (Maithripala Sirisena, SLFP) and gained one – a quid pro quo of sorts. Thus, Attanayake appeared buoyant that he was accompanying Rajapaksa for religious ceremonies at Tirumala Venkateshwara Temple in Tirupathi, some 138 kilometres from Chennai but located in the state of Andhra Pradesh. The presiding deity of the temple is Lord Venkateswara, an incarnation of lord Vishnu. Venkateswara is known by other names: Balaji, Govinda, and Srinivasa. The temple lies on the southern banks of Sri Swami Pushkarini, a holy water tank. The temple complex comprises a traditional temple building, with a number of modern queue and pilgrim lodging sites. The special flight landed 75 minutes later in Cochin from where Rajapaksa and family were flown by helicopter to a hotel in the town area. Others went by road.
A little disappointment did not deter Attanayake. At the predawn Wednesday dharshan, he found himself excluded and hung around with security personnel and officials for their turn to enter the gates of the temple with the hoi polloi. President Rajapaksa was accompanied for the dharshan by wife Shiranthi, son Yoshita and Thiru Nadesan, a Colombo businessman and Chairman of Colombo Hilton. As soon as they went in, the gates were shut. The latter, a strong devotee, had made all the arrangements for the trip. The husband of Nirupama Rajapaksa, Deputy Minister of Water Supply and Drainage, Nadesan opted to sit in the Economy Class though a steward called on him to sit in the Business Class saying provision has been made for him. Before boarding the flight, Nadesan had spent hours trying unsuccessfully to prevent Nuwara Eliya District parliamentarian Palani Digambaram from leaving the UPFA and extending support to the opposition Common Candidate Maithripala Sirisena who is contesting from the National Democratic Front (NDF). The MP who was elected at the parliamentary elections in 2010 on the UNP ticket is the leader of the Worker's National Front (WNF), the political arm of the National Union of Workers (NUW). Only days earlier, Nadesan had persuaded Digambaram not to 'cross over' and offered 'assurances and other benefits' from the UPFA for continuing to extend his support. Digambaram was to later reject them.
Though an honour guard was presented upon Rajapaksa's arrival in Tirumala, a notable absentee at the arrival event was Andhra Pradesh Chief Minister N. Chandrababu Naido. Reports said Naido did not want to offend those in Tamil Nadu who were protesting over Rajapaksa's visit. There were 56 members in Rajapaksa's official entourage. That included Gamini Senarath, Chief of Staff in the President's Office, Majintha Jayasinghe, Assistant Secretary, Ministry of External Affairs, Chaminda Kulatunga, President's Personal Secretary, Gamini Abeyratne of the Airport and Aviation Services, a team of Army officers and personnel from presidential security. There was two "no show" or those in the passenger list prepared by the Presidential Secretariat who did not turn up. They were Sajin de Vass Gunawardena, Monitoring MP for the Ministry of External Affairs and Tiran Alles, an MP from the National Democratic Alliance (NDA).
There were more rewards for Attanayake when Rajapaksa returned to Colombo. On Thursday he was sworn in as Minister of Health — the portfolio held by Sirisena. That it angered ministerial aspirants in the UPFA is no secret. Most disappointed was Deputy Health Minister Lalith Dissanayake. After Sirisena's 'crossover,' Dissanayake not only held a ceremony at Health Ministry after he was named Acting Minister, but even invited his family members to take part. He was using the Minister's office thereafter. Now, he has to go back to his old office as deputy minister.
Attanayake's letter, which the UNP leaders believe was written for him by a party supporter helping in propaganda activities, accuses former Chairman Malik Samarawickrema, Assistant Leader Ravi Karunanayake and Communications Director Mangala Samaraweera of "banding together" against the reconciliation of UNP national leader Wickremesinghe and his Deputy Sajith Premadasa. Here are highlights of the translation of his six-page letter in Sinhala to Wickremesinghe:
"I never for once thought the day would come for me to write a letter such as this in the course of my political career. But you, more than anyone else, know that I was pushed to make this political decision due to the misdemeanors of the Malik-Ravi-Mangala trio who recently banded together in defiance against the Ranil-Sajith reconciliation in our party. This trio has been continuously trying to disrupt my political career and moreover when taking decisions regarding the party have not so much as breathed a word to me, notwithstanding the fact that I am the General Secretary of the party.
"I started my political career 35 years ago, in 1981, when I was an undergraduate at the Kelaniya University. The long journey I made was all made possible by my dedication and talent, and not due to nepotism or favoritism. I began my life as a parliamentarian in 1989 when I was elected from Kandy under the late Ranasinghe Premadasa leadership, and have been an active MP ever since.
"The late D.B. Wijetunga made me Minister of Higher Education in 1993, and in the following year, giving that position over to Anura Bandaranaike, I took over as Minister of University Affairs. Later when the UNP came to power in 2001 I took over as Development Minister for the Central Province. In the course of my political journey I was even imprisoned while working for the cause of the party. In the 2000 elections the then Government, in order to weaken our party's work, sent me to jail and it was from the Bogambara prison that I led the campaign for the UNP. Once freed, I organised a walk in protest against harassment and injustice I had to suffer…………….
"Although the party members and supporters rejoiced with me over the Ranil-Sajith reconciliation, there is a group within our party that is unhappy and envious of this. It is no secret that Mangala Samaraweera and Ravi Karunanayake are highly opposed to the reconciliation. It is my belief that they find the reconciliation a threat to their selfish political agendas. This is what led them to launch an attack on me — at times even using web based media to which they had connections: they resented that it was I who brought about the reconciliation. They went so far as to hire thugs to hoot during the speech I made at the special party convention on December 6.
"I was never opposed to the idea of forming an alliance with other political parties in order to gain power; but I was continuously opposed to the idea of having a candidate from another party: it is against the accepted tradition of establishing political alliances. It is also unfair on the UNP supporters who will be the main power, in fact 80% of the supporters, of such an alliance……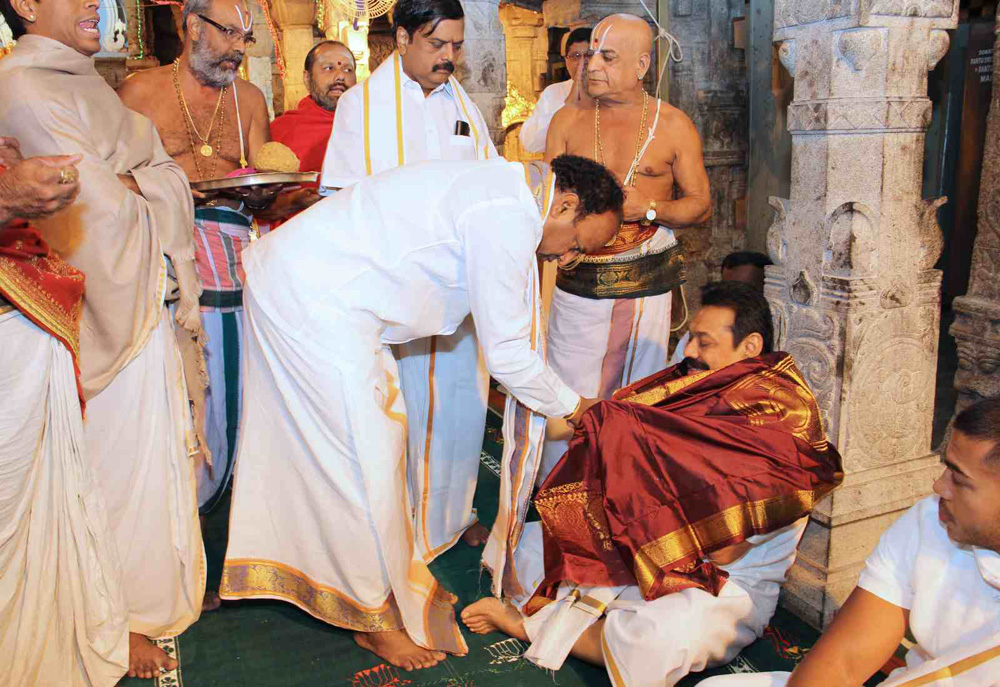 "The UNP came up with three conditions in presenting Maithripala Sirisena as the common candidate. One: that you (Ranil Wickremasinghe) be made prime minister after Mr. Sirisena is made president, and that within 24 hours the executive powers of the president be bestowed on the body of ministers headed by the premier. Two: that Maithripala Sirisena be named common candidate only after he had brought over 20-25 MPs from the Government. Three: that within 100 days after becoming President, he must completely amend the Constitution, abolish executive presidency and take steps to restore democracy. Up to now Mr. Sirisena's party has not affirmed any of these conditions. He has been named common candidate and is ready to ride on the shoulders of the UNP……….
"Besides, Maithripala Sirisena has not spoken so much as a word to me after joining the UNP, not even to observe protocol, seeing as that I am the Secretary. I know very well that this is because Maithripala is no more than a puppet in the hands of the Malik-Ravi-Mangala trio. Though I tried my best to carry on despite such unpleasantness, I was not left in peace by this trio………… I declare that my conscience cannot be bought by money…………
"It is not only I who has become a victim of Malik, Ravi and Mangala. You yourself have been imprisoned by them. During recent years none of the important decisions in our party were relayed to me. Not even the recent Memorandum of Understanding was shown to me. I know they did not inform me because I, as secretary, will stand against any decision which will be unfair for the party or its members and supporters. The Malik-Ravi-Mangala trio is endeavoring to sideline staunch members like us who have always stood for the party. As you confided to me, you have been 'pushed against a wall'. I am sure you can see that within such an environment I cannot act according my conscience.
"I was made to feel by the above mentioned parties, through everything other than in explicit words, that I must leave the UNP. Actions were taken to dilute my power. …… As you can see I cannot continue to do my duty as secretary according to my conscience under such circumstances…… The decision to leave my position was taken after much consideration. Although I will never leave the party, I have no alternative than to quit the post of Secretary as I cannot carry out its duties with dignity and respect."
It is quite clear that the important aspect in Attanayake's letter — forging unity between Wickremesinghe and Premadasa — is only a half truth. The other half, which he has chosen not to mention, relates to the then UNP General Secretary's close ties with Tiran Alles, a non-member of the UNP. He represents the Democratic National Alliance as an MP. The Sunday Times (Political Commentary) has revealed Alles' role in this regard including the preparation of a list of responsibilities he wanted Wickremesinghe to assign Premadasa as Deputy Leader. Though Attanayake handed this to the UNP leader, he (Wickremesinghe) refused to accept it. At a meeting of the party's Working Committee, Attanayake admitted that there was cooperation from Alles to usher in reconciliation between Wickremesinghe and Premadasa. This was after a string of denials. Attanayake made a public admission that there would be no more criticism of the party from a newspaper group as well as a television channel. That Attanayake was then collaborating closely with Alles, a staunch backer of the UPFA, dawned on the UNP leadership only much later.
Thereafter, those who entertained doubts on his bona fides were to change their mind after the first visit to Siri Kotha by Maithripala Sirisena. In a speech he delivered on that occasion, Attanayake said he would not leave the UNP 'under any circumstances.' Later, speaking at the annual convention of the UNP on December 6, he declared, "Our party members have been suffering for twenty years. That is why we have come together, to rebuild the country, disregarding the changes in our separate outlooks and visions. We have to take this message of unity all over the country in preparation for the presidency, and we must bring into effect the programme for 'twelve thousand polling booth agents."
Attanayake went on to say; "Mr Ranil Wickremesinghe took a step backwards only in order for the country to move forward, and we, as a party, have come together today with great hope in our hearts. Our organisers have sacrificed a lot to protect our supporters. Some have even mortgaged their homes, and we need a solution to such issues as these. Our 'polling booth agent programme' will create a 'Kola Balakaya' (Green Force) of 420,000 members which outnumbers the electoral base of the JVP or the JHU. What we want at the end of it all is to make a change for the country and to make things better for our supporters."
Hardly a week later, on Wednesday, however, Attanayake struck a completely different note at a news conference under the UPFA banner. He said he quit because Sirisena did not fulfil his main pledge to the UNP Working Committee – bringing in 25 Government MPs. The endorsement for Sirisena had come on the basis of his assurance, he said and added that it was he who had the key to the 'polling booth agent programme' of the UNP and that Sirisena would take several months to find the key to that programme.
The Sunday Times has learnt that Attanayake used different channels for talks to join the UPFA. He had regular contacts with a senior Presidential Secretariat official, who he counts as a colleague from his days in the university. Also associated with the move was Gamini Abeyratne better known as 'Taxi Abey', who, like Attanayake, hails from Kandy. Recent contacts between them were established through a relative of the official.
When talks were stalled, a Sri Lankan businessman in London spoke to the UPFA leadership to say Attanayake was willing to continue the dialogue. At least on one occasion, the caller from London urged that the channel Attanayake had used at the very beginning be avoided since the then UNP General Secretary wanted to feel confident that matters did not leak out. When a deal was clinched, Attanayake was by President Rajapaksa's side as he prepared to travel to the Department of Elections to hand in his nominations. He was present when President Rajapaksa visited the Kelaniya Raja Maha Viharaya and later at 'Temple Trees' to board his bullet proof BMW to travel to the Elections Office. Also joining the UPFA with Attanayake was Jayantha Ketagoda, a member of former General Sarath Fonseka's Democratic Party (DP). A senior Police officer serving in the City of Colombo was the interlocutor for this 'cross over.' Wickremesinghe named UNP Chairman Kabir Hashim as the new party General Secretary. This is in addition to his office as Chairman.
The UNP trio whom Attanayake named in his letter of resignation were angry at the references made to them. Malik Samarawickrema, who was personally instrumental in Attanayake becoming the General Secretary of the UNP, told the Sunday Times, "For some time now we were aware he was closely associating himself with the UPFA leadership. In this suspicious background, we were naturally reluctant to share matters of confidentiality. The party people are well aware that I had intervened personally when there were repeated moves to oust Attanayake from his post. There are other personal matters which I do not want to speak about." Earlier, talking to a group of senior UNPers who questioned Samarawickrema, he replied, "I might as well have called Tiran Alles and told him about all the party matters instead of telling Attanayake."
UNP Assistant Leader, Ravi Karunanayake told the Sunday Times, "It is a case of Kapuwa Kapothi (A Sinhala adage which says it is the end of the Marriage Broker). He held talks with people like Tiran Alles who is not a member of our party. He issued statements that reflected the views of the UPFA Government. We were well aware only his mind was in the party whilst his soul was fully with the UPFA. One cannot play a double game for too long. Now it is clear who has been drawing all the benefits. Here is the man who said he would not resign from the party. In his speech on the day Sirisena visited Siri Kotha, to the contrary, he said he would even resign if it brought victory for the party. He has resigned but for his own personal gains."
UNP's Communications Director Mangala Samaraweera told the Sunday Times, "Attanayake is trying to justify his actions by blaming the others. Since I joined the party, I worked closely with him. I was rather surprised. He has new found friends after he got close to media barons."
Unlike the other two, Karunanayake also wrote a six-page letter to Attanayake. In that he said the former UNP General Secretary's close relationship with the UPFA leaders began one and a half to two years ago. This was after Attanayake visited 'Temple Trees' and presented President Rajapaksa with a book on his life story. This could be termed a special occasion for any writer. But how could it be one for a serving General Secretary of the UNP, he asked.
Attanayake's first public appearance after his crossover was at the UPFA rally in Anuradhapura on Tuesday. Hundreds of buses brought in crowds from distant places including Colombo and southern towns. The surging crowds became a nightmare for presidential security detail, both Police and the Army. As the crowds surged forward close to the stage, some had to be hurriedly moved to the rear. The worry was because those crowds were not formally security cleared. "We had to keep a close watch," said a relieved Army officer.
Large crowds thronged open spaces opposite the central market where Sirisena and other leaders of the NDF addressed crowds. UNP national leader Wickremesinghe told his party seniors it was the largest turnout since a meeting held in 1977 during parliamentary elections – which swept the UNP to power. Some of those who attended rallies complained to Police they were attacked by gangs who stopped their vans or vehicles. They alleged they had been pulled out and assaulted after being asked why they attended the NDF rally.
The UPFA is preparing a brief manifesto that is to be made public shortly. The NDF has already finalised two different documents. One is a nearly 60-page document where only a limited number of copies will be printed. It sets out the background in which the Front has been set up and spells out in detail its objectives. The second is a four-page document giving in bullet point form what Maithripala Sirisena will do once elected as President. Among the significant highlights is a pay increase of Rs. 10,000 for state sector workers and drastically cutting the price of a litre of petrol to Rs. 50 and commensurate decreases in prices of other petroleum products. Other measures include doubling of Samurdhi benefits, writing off loans given to state sector officers to obtain motorcycles, increase in guaranteed price for paddy to Rs. 50 and potatoes to Rs. 80 a kilo and salary increases for private sector employees. The four-page document will also have a timetable on the abolishing of executive presidency and will be released on December 18.
The spectre of possible 'crossovers' has begun to haunt both the UPFA and the UNP in good measure. The worry for both of them is whether any operational information relating to the polls would leak to the opposite side. Worries for the National Democratic Front (NDF) came after JHU Provincial Councillor Udaya Gammanpila crossed over this week. He had been at different meetings of the NDF until he quit. For the UPFA, it was a case of Palani Digambaraman who was privy to their campaigns in the Nuwara Eliya District. Both sides are acting with great caution during meetings.
In the NDF, there was a somewhat heated exchange between JHU General Secretary Champika Ranawaka and UNP national leader Wickremesinghe over matters related to the executive presidency. It was the JHU's view that the presidential system should be retained with some changes including the pruning of the President's powers. However, the UNP national leader said he had a mandate from his party to abolish it. A UNP source said that the issue was settled on Friday with wording in a draft statement to be printed as a leaflet being acceptable to both sides. Earlier, the task of drafting the statement had been given to Gammanpila who has since crossed over. Sections in the UNP were also to complain that the JHU was running a parallel operation including different committees and a media campaign with an office in Thimbirigasyaya, a charge denied by the JHU. It has spawned a controversy over advertising with costs running into millions of rupees. At least relatives of three top politicians are vying with each other to deal with advertising material in the light of the commissions involved.
It is in this backdrop that the Catholic Church is finalising preparations for the three-day visit of Pope Francis to Sri Lanka from January 13. The Catholic Messenger, the official organ of the Church, has quoted the Archbishop of Colombo His Eminence Malcolm Cardinal Ranjith in an interview that he and other bishops had spoken to the two main candidates at the presidential election – Mahinda Rajapaksa and Maithripala Sirisena. His Eminence has declared, "We need to have faith and believe in what they told us. Both candidates assured us that they will not in any way allow any violence on their part to take place after the election. In fact, there were a lot of cross questions posed by the Bishops and both candidates said that whatever their status is, they will both welcome the Holy Father when he steps down at the airport.
They also assured the bishops conference that their supporters will also be there to extend a warm welcome to the Holy Father……… The Bishops even asked the President what happens if he loses the election and his answer was that he will, without hesitation, hand over power to his successor."
The polls campaign of the two main contenders is hotting up. Their promises to the voters will be known in the coming week. There is little doubt it will be a keen contest for the votes of 15 million registered voters.
.http://www.sundaytimes.lk/141214/columns/upfa-showpieces-tissa-maithri-offers-rs-10000-pay-hike-and-petrol-at-rs-50-132196.html