PM directs Minister of State for Defence to conduct full probe,
CID detectives question retired senior military officers
More details of heavily armed private security companies conducting election work for Rajapaksa
National Executive Council finalises Constitutional changes;
Maithripala to retain some executive powers; Ranil to head government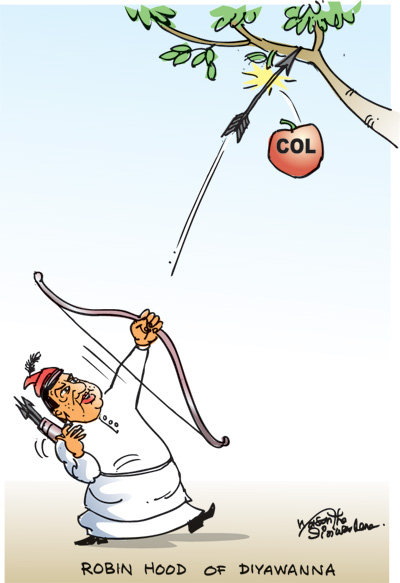 Prime Minister Ranil Wickremesinghe on Monday directed the Minister of State for Defence, Ruwan Wijewardene, to conduct a full investigation into the operation of a veritable private army run by the state-backed Rakna Arakshaka Lanka Limited (RALL) and Avant Garde Maritime Security Services Limited (AGMSL) after disclosures made in the Sunday Times (Political Commentary) last week.
"Did you leak the story to the Sunday Times?" asked a journalist from Wijewardene when a few of them, mostly representing outlets in New Delhi, surrounded him at India House, the official residence of the High Commissioner at Thurstan Road. The occasion was the celebration of India's Republic Day. "No, no. I also read it from the Sunday Times. I treat all the media fairly and equally," he replied.
In what took the air of an impromptu news conference, Wijewardene had to answer a volley of questions. He revealed that he had met the directors of the RALL. "They were contradicting each other," he said. In response to a question, one of the directors had said that their partner AGMSL was running a floating armoury in 'international waters' and added that they were docking in the Galle Harbour only for re-fuelling purposes. A director had at first explained that they were unable to have on board Navy personnel to protect the weapons since that would, in the international context, become a vessel of war. When he later questioned the directors what would have happened if the armoury was seized by someone, Wijewardene said "he replied that the Navy was on board."
The Minister of State for Defence said that an internal audit was now being conducted in his Ministry. The idea to determine the volume of funds received by the Ministry of Defence from the RALL-AGMSL tie up. They were also going through records to determine how RALL came to be established. He said he had been asked by the Prime Minister not to change any directors of RALL and allow the present members to continue until the investigations were over. This is on the basis that if RALL is found to be an illegally constituted body, appointing new directors would create more legal issues. He said action against those concerned would be taken only after the investigations were concluded. A high ranking Government source said that would naturally involve dealing with those responsible irrespective of the positions they held. "We now know that the entire operation is illegal," he said speaking on grounds of anonymity.
The internal audit inquiry at the Ministry of Defence came as detailed investigations into the RALL-AGMSL were taken over by the Criminal Investigation Department (CID). Three Assistant Superintendents of Police (ASPs) — Shani Abeysekera, P. Ampavila and B.S. Tissera — are now recording statements from those concerned. Detectives are checking on all the weapons on board as well as the land-based armoury. They want to determine to which armed force they belong and whether all of them were issued with End User Certificates (EUCs). When the arms were imported into Sri Lanka, the Government to whom the weapons belong had to declare that it was the end user. How it transferred such certification to a third party, that too, to a private security firm like the AGMSL is now being probed. Another aspect is to ascertain allegations that some weapons seized from the Liberation Tigers of Tamil Eelam (LTTE) during the final stages of the separatist war in May 2009 had also been issued. As the CID proceeds with the inquiry, detectives are consulting the Attorney General for advice.
CID detectives have still not been able to question retired Major General Palitha Fernando, who is Chairman of RALL. They found that he has flown to Sydney, Australia to visit his children who are studying there. Among those from whom detectives have recorded statements so far are Damayanthi Jayaratne, Additional Secretary in the Civil Security Division of the Ministry of Defence, and retired Major General K.B. Egodawela, Chief Executive Officer of RALL.
RALL-AGMSL campaigned for Rajapaksa
The RALL which together with AGMSL ran the floating armoury on board Mahanuwara and an unauthorised land-based one inside the Navy's SLNS Dhakshina base in Galle, had been cause for concern for leaders of the National Unity Government. This was weeks ahead of the January 8 presidential election. It came after reports that this private security firm was at the forefront of former President Mahinda Rajapaksa's re-election campaign. RALL and AGMSL have been deployed countrywide to campaign for Mahinda Rajapaksa at the presidential election. The AGMSL had made available a fleet of Defender Jeeps, too. Some of these vehicles and personnel had been used during the campaign for the Uva Provincial Council elections too. The campaigners were reporting regularly to a team of retired military officers — mostly from the Sri Lanka Army — who ran an 'Operations Room' near Kirimandala Mawatha in Colombo's Narahenpita area.
These officers, grouped into different 'segments' by former Defence Secretary Gotabaya Rajapaksa, operated largely from offices located in rented houses and other buildings. They were given specific sectors in the Greater Colombo area to carry out campaigning and the Operations Room functioned under retired Major General Gamini Hettiaratchchi. He was backed by five different persons who had retired from the Army as Captains. The vast majority of those who were deployed were retired military and police personnel from RALL followed by those from AGMSL.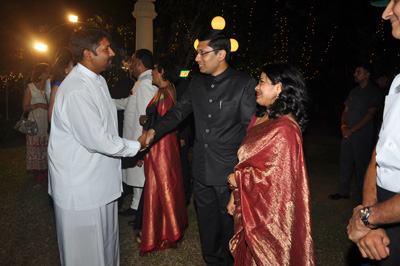 Of significance among these is what is described as the 'segment' comprising – Kolonnawa, Kotte and Maharagama. They came under the overall charge of retired Major General K.B. Egodawala, Chief Executive Officer of RALL. Under him, placed in charge of Maharagama was retired Major General Palitha Fernando who is Chairman of Rakna Arakshaka Lanka Limited or RALL. Fernando retired from the Sri Lanka Army as a Brigadier. It was only after he joined the Ministry of Defence as Military Liaison Officer (MLO) that he was 'promoted' (whilst in retirement) to the rank of a Major General enabling him to obtain a higher pension and perks. Similar promotions extended to a few others earned them the sobriquet "Taiwanese Generals." Taiwan's name was used since there was a time when products from that country were described as inferior quality. As revealed last week, it was this Maj. Gen. Fernando who sent out written instructions to the Southern Naval Area Commander, Rear Admiral D.E.C. Jayakody to allow RALL-AGMSL to maintain an armoury inside the base. He signed that 'order' as Army Coordinating Officer raising a string of questions. Firstly, he had no power legally to make such an order. Secondly, though he had been at the MoD, he had violated procedure by not making his request, (though illegal) to the Commander of the Navy, that too in his capacity as Army Coordinator.
A large number of RALL personnel in the ranks of Majors, Lt. Colonels, Colonels and Majors General were formally assigned for presidential election duty in the Western Province. The areas where groups were tasked: Group 1 Kolonnawa, Group 2 – Kotte, and Group 3 – Maharagama (this is in addition to this sector coming under another parallel group of top men from RALL). Similar groups from RALL were also assigned to other parts of the country. The names and assignments of these groups listed in what looked like a 'deployment order' were checked for their authenticity by a state intelligence arm recently and confirmed.
As revealed last week, RALL tied up with AGMSL, a private company, to provide "Sri Lanka Government owned weapons and associated equipment to private maritime security companies." Such weapons included T-56, AK 47 assault rifles, 7.62 ammunition for these weapons, Light Machine Guns, Ballistic Helmets, Body Armour, Night Vision Goggles, Radio sets (for communications) and flashlights. It was RALL, listed with the Registrar of Companies that received weapons from the Sri Lanka Government. These were in turn handed over to AGMSL, a private company, with End User Certificates (EUCs) from the Government of Sri Lanka.
The fact that RALL has been involved in the polls campaign makes clear its allegiance to one political entity. Allowing such an entity to develop a heightening private military capability together with a private security firm, also showing allegiance to the same political entity, leads to the creation of a powerful private army cum monolithic political apparatus. That such a monolithic outfit with strong political leanings could pose a serious threat to the legitimate armed forces or the Police force in the country cannot be treated lightly.
Already high pressure moves are afoot to stall investigations on the basis that the entire exercise was legitimate. It is in this backdrop that the revelations in last week's the Sunday Times (Political Commentary) came up for discussion when the National Executive Council of the National Unity Government met at the Presidential Secretariat last Tuesday. The ten members in the Council are Prime Minister Ranil Wickremesinghe, former President Chandrika Bandaranaike Kumaratunga, JVP Leader Anura Kumara Dissanayake, TNA parliamentary group leader Rajavarothayam Sampanthan, SLMC Leader Rauff Hakeem, JHU leader Minister Patali Champika Ranawaka, Democratic Party leader Sarath Fonseka, All Ceylon Peoples Party Leader Rishad Bathiudeen, Democratic People's Front Leader Mano Ganeshan and Ven. Maduluwawe Sobitha Thera (Convenor).
H.M.U.D. Basnayake, Secretary to the Ministry of Defence, was summoned before the Council to explain his public remarks that the RALL-AGMSL was a "legitimate" project and had been "approved by the Cabinet." He was rebuffed by members of the Council for re-iterating those remarks and directed to submit a written report. In what seemed another campaign of disinformation over the discovery of the secret armoury at the BMICH, a Chief Inspector attached to the Crimes Division of the Cinnamon Gardens Police was quoted as saying that the RALL-AGMSL was a deal done legally. He said Saman Dissanayake, a Senior Assistant Secretary in the Civil Affairs Division of the Ministry of Defence, was present when the raid was conducted. Police spokesperson Ajith Rohana hurriedly summoned a news conference to declare that the Chief Inspector's assertions were altogether wrong. "This officer's claims are not correct since they did not conduct investigations. They are being carried out by the CID," SSP Rohana said.
Besides the political and military aspects, the investigations are also centring on other areas. They include allegations that a lady official was paid handsomely every month for the services she rendered. In addition, her regular travel to a country where her children were being educated has also come under scrutiny after allegations that the private company paid for them. Also under scrutiny is another official, who, it is alleged, received a brand new car for helping in routinely clearing official matters. This official in question, it is alleged, was using his office for private business too.
"We will strongly resist any move to sweep these investigations under the carpet," Minister Patali Champika Ranawaka, General Secretary of the Jathika Hela Urumaya (JHU) told the Sunday Times. He said the JHU "will make sure the Government will take stern and deterrent action against those involved. We will not allow anyone to soft pedal it." Ranawaka noted that there were serious implications to national security from facts that were emerging in the ongoing investigations. "We cannot allow anyone to create private armies and endanger national security," he added.
UAE alarmed
Two years ago, the role of AGMSL surfaced in the United Arab Emirates after its floating armoury Sinbad reportedly strayed into the UAE's territorial waters. This is what The National; a leading UAE newspaper, had to say in its issue of October 17 2012 calling for strong measures:
"Alarm bells have sounded over the appearance of ships doubling as floating arsenals near UAE waters. Of the estimated 12 armoury ships operating globally, at least four are known to operate off the coast of Fujairah.
"They rent weapons to security companies that guard merchant vessels in the areas where pirates are active, and act as ammunition stores for security companies en route to UAE, Yemen or Saudi Arabian waters, where weapons from other countries are banned. On October 1, the Sri Lankan-flagged Sinbad was seized by the coastguard after it strayed into UAE waters.
"Sinbad is operated by Avant Garde Maritime Services, which runs two other armouries, off the coast of southern Sri Lanka and in the Red Sea. All are sanctioned by their government for use by private maritime security companies, a company spokesman said.
"Avant Garde's website says its clients can rent arms including automatic weapons, ammunition, body armour, light machineguns and night-vision goggles from them. "It also charges US$25 (Dh91) a day to store the weapons and ammunition of other security companies. "Maj Nissanka Senadhipathi, chairman of Avant Garde, declined to give the number of weapons aboard Sinbad but confirmed the arms were owned by the Sri Lankan government. "Nobody was arrested, they just questioned the men," said Maj Senadhipathi. "They were not treated as detainees.
"We were checked and our authenticity as a joint venture with the government of Sri Lanka was proved. The ship was released after five to seven days after the check was conducted." UAE authorities confirmed an incident had been investigated. Sources said the case had been referred to Fujairah prosecution.
Security experts say the incident highlights the need for stronger regulation and clear standards to prevent the chances of weapons falling into the wrong hands.
"It is a necessary evil and governments can't stop these because they are in international waters," said Nicholas Davis, chief executive of the Maritime Guard Group based in Ras Al Khaimah, which operates two ships off Fujairah and in the Red Sea to store weapons for the company's use. "Some are run as well as any armoury based ashore but there is an urgent need for standards for armouries across the board."
Maj Senadhipathi said of the Sinbad: "We are highly protected. There are 15 men from the RALL [Rakna Arakshaka Lanka Sri Lanka sea marshals] guarding the weapons at any time." Protection Vessels International is another company operating patrol boats that store arms, but their ships in the Red Sea and off Fujairah are for private use only to store firearms for clients.
"We have our own vessels for embarking and disembarking firearms and these are regulated [under British law] and under our control," said Simon Osborne, sales director at the maritime security company. Mr Osborne believes transparency is key. "Other companies who have rented firearms may not know where the firearms are from and who is using them," he said. "We're pushing for regulation, for better standards."
Tim Stear, the director of maritime security at the crisis-management company Control Risks, based in the UAE, believes there are varying degrees of professionalism on floating armouries. "There [should] be set minimum standards for secure storage of weapons, with correct records of the number of weapons, the size, calibre and types," Mr Stear said.
"Theodore Karasik, the director of research and development at the security consultancy Inegma in Dubai, said the focus of regulation should be safety.
"Certain precautions must be followed with floating armouries to avoid an accident or attack by any individual or group," Mr Karasik said." "The UAE has a strict policy against transferring arms across its borders, he said.
"If a floating armoury is too close or requires inspection, the UAE will make sure the proper procedures are being followed," Mr Karasik said. By AGMSL head retired Major Senadipathi's own admission two years ago; his private security firm was in a "joint venture" with the Government of Sri Lanka. His passport remains impounded. Was any approval given by the then Cabinet of Ministers for such a joint venture? On what basis was AGMSL selected? Were worldwide tenders called? The joint venture Senadipathy is referring to is the one between RALL and AGMSL whose personnel were both involved in the presidential election campaign in the weeks before January 8. The billion dollar question is whether such a tie up, which as claimed, is bringing Sri Lanka some US$ 68 million per month, should remain solely in a chosen company and a private security company – both of whom have publicly demonstrated their political affiliations and campaigned? Whoever gave authority to form RALL and allowed the tie up with AGMSL would have to answer so the Sri Lankan public will know the truth. If their activities did not surface with the advent of the January 8 presidential election, there was the likelihood that at all future elections candidates opposing those who fostered RALL-AGMSL monolith will be facing a formidable enemy — rival politicians and a private army.
Constitutional changes
Besides a discussion on the RALL-AGMSL tie up, the National Executive Council discussed at length the proposed Constitutional changes. The debate on whether or not the Executive Presidency should remain shorn of powers or abolished altogether continues. The JHU is insistent that the Presidency should remain in some form and argues that to abolish it altogether a national referendum would be required. Other partners in the National Unity Government, however, feel that the post of Executive Presidency should be abolished.
The contours of the constitutional changes are taking shape as deliberations are going on at different levels. Prime Minister Wickremesinghe is in consultation with Nimal Siripala de Silva, Leader of the Opposition. He wants to seek the Opposition's support to ensure the constitutional amendments are carried through Parliament early. JVP leader Anura Kumara Dissanayake, in a brief Q & A with the Sunday Times gave the highlights of some of these changes. See box story on this page for details.
The latest discussion on constitutional changes was a meeting chaired by President Maithripala Sirisena on January 24. Taking part were former President Kumaratunga, Prime Minister Wickremesinghe, JVP leader Dissanayake and Venerable Maduluwawe Sobitha Thera. A move to completely abolish the Executive Presidential System formed one of the subjects of discussion. However, such a move would have to await consultation with the JHU which has taken a firm stance that the Presidency should remain without much power.
The period of transition when a presidency makes way for a Prime Minister or is an office with less powers, also formed the subject of discussion. Whilst it was suggested that the President could remain Head of State, the Head of Government would be the Prime Minister. The President would be entitled to chair meetings of the Cabinet of ministers when a request is made. On other occasions, it would be the Prime Minister who would chair such meetings. In terms of the 100-day programme, it was pointed out that the life span of the Parliament would have to be ended by April 23 to pave the way for parliamentary elections.
President Sirisena expressed the wish that as interim President, he would retain the portfolio of Defence. In addition, he also conveyed his wish that the Mahaweli Ministry too be brought under his charge. Sirisena has shown great interest in the Mahaweli, particularly the Moragahakanda project which entails the construction of a gravity dam. It may be recalled that when former President Mahinda Rajapaksa effected a Cabinet re-shuffle in 2007, after 17 United National Party (UNP) parliamentarians crossed over to his Government, Sirisena was denied the subject of Mahaweli. He told presidential election rallies that former Minister Basil Rajapaksa had objected. Later, President Rajapaksa directed brother Basil "Onna Oka deela daanava" or just give it back to him.
The Government is taking different measures to expedite investigations into allegations of bribery, corruption and even nepotism. The Commission to Investigative Bribery or Corruption is tackling a number of cases and has complained that lack of investigators is impeding its task. DIG Ravi Waidyalankara, who was serving in Jaffna, has been recalled to Colombo and tasked to be in charge of investigating bribery and corruption. He is now picking his staff to form a secretariat.
The CID's report on the veritable private army operated by RALL-AGMSL is to be sent to the Attorney General's Department when investigations are completed. Action on those responsible for any illegal activities would then follow, a senior Government official said.
JVP: Dual citizens can't contest polls; term of Parliament specified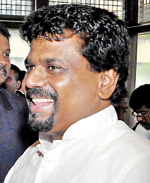 The Janatha Vimukthi Peramuna's proposal to debar persons with dual nationality from contesting elections if they do not renounce the other nationality will be incorporated in the proposed Constitutional amendments, its leader Anura Kumara Dissanayake told the Sunday Times.
However, he said, such persons will not be prohibited from engaging in politics in Sri Lanka. "We want to make sure that candidates owe their entire allegiance to Sri Lanka and not to another country where they may be domiciled," he said. Hence, they would have to renounce their citizenship in another country if they want to contest elections, he added.
The move will affect persons like former Minister of Economic Development Basil Rajapaksa who is a citizen of the United States. He slipped away from Sri Lanka after the presidential election ended. It is also expected to affect former Defence Secretary Gotabaya Rajapaksa who planned to contest the Colombo District on the UPFA ticket.
Dissanayake said the proposed constitutional amendments would restrict the term of Parliament to five years and make it illegal to dissolve the House until at least four and half years of the five-year terms was completed.
Another proposal made by the JVP and accepted is to make express provision in the Constitutional amendments to prevent cross overs in Parliament.
Besides the constitutional changes, Dissanayake said, the JVP is also spearheading efforts to expedite investigations into a number of corruption allegations.
This would include the alleged corruption in the procurement of MiG-27 fighter jets. This was exposed by the Sunday Times, he said.
Dissanayake said the JVP would not get involved in other issues. "We are only playing a limited role," he added.