Despite his conviction, Khan doesn't have to prepare for prison just yet. In a land where legal processes can drag out for years – and where the glitz of Bollywood goes a long way – he might still escape a sentence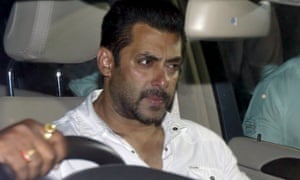 The Bollywood star Salman Khan will breathe easy for two more days after the Bombay high court granted him a two-day interim bail, hours after being found guilty of culpable homicide and other charges by a sessions court and sentenced to five years' imprisonment following a 2002 incident in which a pavement dweller was run over and killed by the actor's car.
On Friday 8 May, the high court will hear Khan's appeal; if granted, the next hearing will not be for at least another month, as the court will go on summer holidays before reopening on 8 June. If the high court upholds the sessions court's decision, the actor has the right to appeal to the supreme court before potentially facing a custodial sentence. The process could drag on for years, during which Khan can continue acting in movies, but will not be allowed to travel overseas.
Khan's case is similar to that of another Bollywood actor, Puru Rajkumar, who in 1993 was convicted of running over and killing two people in Mumbai, but was eventually released after agreeing to pay the families of the victims the 30,000 rupees each (£310 in today's exchange rate). Another star, Sanjay Dutt, who was arrested in 1993 for illegal possession of arms, has been in and out of in jail before being convicted and reimprisoned in 2013, after which he has been periodically released on parole.
"In terms of how long it takes get any litigation through in courts in India, whether it is civil or criminal, it is really a function of the backlog of cases the courts have had over many, many years, whereby no particular case has swift deliberation on it. It does drag on," says Dina Dattani, a legal consultant who works with the Indian entertainment industry. Dattani says that it takes anywhere between three and 15 years for cases to reach a conclusion, and that there is no fast-tracking of cases, no matter how serious they are.
Describing the problem as "endemic", Dattani said: "A lot of the lawyers here have found ways to prolong the process further, by filing objections and appeals against every order that's made. All of the lawyers are aware of what the loopholes are and how it can be dragged out." Dattani says this extra time buys the accused a chance to change their image. "Salman Khan went from a bad boy to a good human being, doing the right things, setting up a charity, doing lots for charitable organisations and causes, which actually then quickly turns your image around. Image here counts a lot in terms of how the lawyers represent you and the judges view you."
In 2007, Khan founded the Being Human Foundation, a charity devoted to supporting the poverty-stricken in India. His image is strong, meanwhile, among his fellow Bollywood actors, who have been tweeting their support all day.
Whether they have committed crimes or not, Bollywood A-listers can seemingly do no wrong, and enjoy an almost godlike status among their fans. Opening days of their films are often nothing short of a festival, with hardcore fans watching the new releases multiple times in the first weekend alone. As Dr Sundar Sarukkai, director of the Centre for Philosophy and Humanities at Manipal University, says: "Religions are the first examples of cinema and gods are the first film stars; they are presented as colourful pictures, are unreachable and remain the last hope. So why be surprised when film stars become godlike figures?"
Salman Khan has two releases coming up this year: Bajrangi Bhaijaan in July and Prem Ratan Dhan Payo in November. There's no reason to assume the reception of these will be any different than usual.
http://www.theguardian.com/film/filmblog/2015/may/06/salman-khan-bollywood-star-stay-out-of-jail