My dear Wimal, Vasu, Dinesh and Udaya,
I am writing to congratulate you on your recent work, staging rallies in cities around the country trying to convince people that we should all get together to try and bring back Mahinda maama so that he can save the nation once again, although it is only a few months since he was voted out of office.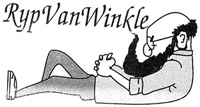 I am told the most recent meeting at Kurunegala was a 'huge success' because dozens of blue MPs and thousands of people attended the meeting. I do hope that when the next election — which is just around the corner — is held, you can get all of them to vote for you.
I say so because I am worried about what happened during Mahinda maama's last campaign. There were thousands of people at his rallies — even though some silly people said they were being brought in buses — but not all of them seem to have voted for him, or else he wouldn't have lost the election!
Wimal, I am very impressed with your work. When you speak, what you lack in your ability to educate — say, for instance, like your former colleague Anura Kumara sahodaraya does — you more than make up for by your ability to play to the gallery. That is what has kept you going all these years.
We still remember you yelling 'Aiyo Sirisena' at Mahinda maama's last campaign meeting during the presidential election and asking his rival to pack his bags and leave in rather colourful language. Things didn't quite work out that way, although someone did have to pack his bags and leave…
Anyway, we know why you are doing what you are doing. You wouldn't be nominated for the next election by the Blues because of the way you behaved during Mahinda maama's election campaign, so you need him back, so you can stay in Parliament. Smart thinking, Wimal.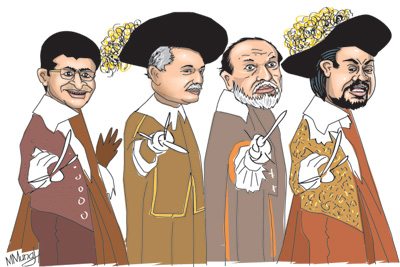 Vasu, to be honest we are quite surprised that you are part of this campaign because you were a socialist and they are a principled bunch of people. Judging by what we are hearing about some of the deals that have been put through during Mahinda maama's time, he is a capitalist of the highest order.
Even so, now being more than three quarters of a century in age, some of that old socialist fire must have dimmed in you. At that age, fighting probably your last election of any kind, I don't blame you for joining Mahinda maama if you think that is your best chance of surviving in politics!
Dinesh, I was even more surprised to see you join this group which wants to bring back Mahinda maama. We have always known you and admired you as a person of principle, no matter what your views are. After many years in politics you have remained clean; no one says you are corrupt.
With all these stories of corruption now making headlines, that is why it is surprising to find you still in the forefront of this campaign backing Mahinda maama. Anyway, you might still have a change of heart and switch sides. After all, we shouldn't forget that your late great father Philip died a UNPer!
As for you, Udaya, we are not at all surprised to see you in this campaign. Double crossing is your specialty. That is why you left Mahinda maama's government in a huff and then lo and behold, you were back with him. How and why that came about has never been explained to us, has it, Udaya?
We know that you didn't want to live in Champika's shadow forever. He is clearly the cleverer of you two but even then it must have hurt to see him become a Cabinet minister when you were a mere provincial councillor begging for a hundred rupees to run your election campaign.
Now you are your own man, complaining to the authorities about Presidents and Prime Ministers. All that is well and good, Udaya, but the danger of the game you are playing is that if you make the wrong choice, you stand to lose everything you did all these years. If you are in doubt, just ask Tissa.
Anyway, even though the four of you have yet to convince most people that you are on the correct track, you seem to have convinced Mahinda maama that he can do the impossible. However, even he is shy to get on stage with you. It does look like he is still keeping his options open.
Mahinda maama was asking for the Prime Minister's job from Maithri last week and that was politely refused. So, you might get lucky and he might finally join your ranks. If that does happen, my advice to you is, remember that all four of you need him more than he will ever need you!
Yours truly,
Punchi Putha
PS: Someone tells me that this campaign launched by the four of you is, to borrow Wimal's favourite phrase, an 'international conspiracy' hatched by Ranil. The more I think about it, the more I think it is true. The more you agitate, the more you divide the Blues. That can only mean that by the time the next election comes around, the Blues will be split in to two camps and Ranil will be laughing all the way to the next Parliament!