During our student days many, many moons ago, we were taught that British colonialism did some good things in what was then Ceylon while many of the unsavoury acts tended to be interred with the inglorious history of the Raj and British rule elsewhere in the empire.
So that cliché about how Britannia ruled the waves but waived the rules.

Fortunately — for the British that is — there were no international conventions on civil and political rights and no Human Rights Council to which injured parties and militarily subjugated nations could appeal.
Western imperialist powers not only made the rules, but waived the very rules they made. I mean what's the point in making rules if you cannot dispense with them. So whether they killed Ceylonese Buddhist monks who bitterly opposed colonial rule or those who rose in rebellion against the occupiers, or even massacred unarmed nationalist demonstrators in Jallianwala Bagh in Amritsar in 1919 they were footnotes in history if at all.
But then there was a European Convention on Human Rights when the British forces were killing opponents of their rule in Kenya in the 1950s-1960s and a decade or so later unarmed civilian protestors in Northern Ireland during what history came to record as the "Bloody Sunday massacre".
But all that is history and quite often history is written by the victors, a quote generally attributed to Winston Churchill but not authenticated. One thing is certain, however. One of the German Nazi leaders, Hermann Goring, is said to have mentioned so during the Nuremberg trials which the victorious allies held to try the defeated Germans.
Now that the "yahapalanaya" government has set out to "reset" as they call it the country's foreign policy and cozying up to the British is an important pivot in this recalibration of our national interests after six years or so of dismal bilateral relations, the shady side of British history is better left undisturbed like the mass graves that had been found in Matale and elsewhere not too long ago.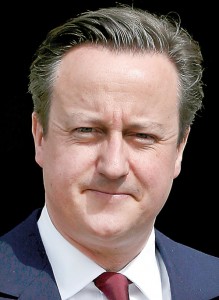 So now it's time to wave the Union Jack and sing the praises of Queen and Country especially since the Royal family recently added a fourth in-line to the Throne.
After all, how discourteous can one be in these times of our westward ho-ha not to recognize colonial Britain's positive contribution to the political development of our country without which our treasured democracy and parliamentary system would probably have been stillborn or in extended gestation.
As students, we learnt that Ceylon began its journey to political maturity when representative government was introduced into the country in 1833.
The Colebrooke-Cameron (perhaps an ancestor of David Cameron, who swept into power earlier this month) Commission proposed the establishment of an Executive Council and a Legislative Council.
Certainly the Ceylon Legislative Council (Legco as the Hong Kong people with a penchant for the abbreviated called their Legislative Council, which was one of my journalistic stomping grounds when I worked there) was very limited to start with. It had 16 members drawn mainly from the Executive Council and the administration and six appointed unofficial members consisting of three Europeans, one Sinhalese, one Tamil and one Burgher.
It might have been a tiny step towards democracy, but it was a giant step for Ceylon. So less than 20 years after Ceylon became a Crown Colony the first steps in representative government were taken by the Colonial Secretary giving considerable consideration and weight to the recommendations of the Colebrooke-Cameron Commission.
Now, that is a very relevant lesson the chairman and director board of SriLankan Airlines might draw from history. While the Colonial Secretary of the day seemed to have acted with expedition to bring the first buds of democratic governance to a distant colony, the report of the inquiry into SriLankan Airlines and its junior partner Mihin Lanka carried out by the Weliamuna committee appointed by this Government is seemingly being gently pushed into oblivion.
This, even though the committee had exposed the many shenanigans that happened from ground zero up to 40,000 feet. Surely a critical public that have heard the alarm bells go off and shouts of "Mayday Mayday" as the national carrier hurtled groundwards would have more faith in all those incantations about resurrecting the airline and studying the broader picture if what was made public by the Weliamuna inquiry did not fall on deaf ears.
As the empire shrank and the British began to withdraw from east of Suez Ceylon drew some important lessons from the legacy it left behind. Though we have squandered much of it as the politicisation of independent institutions and various arms of the state took its toll, let it not be said that we Ceylonese or Lankans as they are called today are not a gracious people.
We pay our debts – well, sometimes that is. So if we learned positive lessons from our colonial masters, we are not averse to teaching them a thing or two ourselves in gratitude. After all, did not someone say that it is more blessed to give than to take?
Readers will recall that when the assorted opposition picked a common candidate and they all sat down and thrashed out a policy platform of sorts, there emerged what came to be known as the "100-Day Programme." This was a series of intentions that was to be implemented within 100 days.
So imagine my surprise when during the British election campaign that began long after yahapalanaya was planted in Sri Lanka, two of the main parties launched their own 100-day plans.
If he was re-elected David Cameron promised a 100-day plan that included bills to exempt those on the minimum wage from income tax and to enact a British Bill of Rights.
Not to be outdone Labour leader Ed Miliband, now out of a job, had planned a 100-day programme for the National Health Service which was a crucial issue at the elections, and other matters.
When Cameron with his slender majority of 12 sat down to pick his team, " The Independent" newspaper's i-paper came up with a headline that said it all. "Cameron tries to unite Conservatives by giving jobs to his toughest critics," it read. If the words Cameron and Conservatives are replaced by Sirisena and SLFP it would seem like déjà vu, wouldn't it.
What do you think happened two days after the election? There was the Cameron family unpacking the bags they had readied in case they had to quit No.10, when far-Left demonstrators, some wearing face masks or scarves, tried to storm the prime minister's residence angry at the election result.
Hurling smoke-bombs they clashed with riot police and tried to break through police lines. Some brandished Socialist Workers' Party placards carrying the slogan "Get the Tories out." The Mail on Sunday headlined the story "Hate mob in No.10 rampage".
Our habits are being picked up fast, it would seem. So far they have not yet indulged in what our own Rathu Sahodarayas of yesteryear, the "Wansa duo" Somawansa and Weerawansa have done — fast unto death — though they all seem to survive this ordeal.
But it will come to Britain before long. It will come. You can bet your bond issue on it.