The rape and murder of 18-year-old Vidya Sivaloganathan in Pungudutivu has led to many families in her village, Veeramalai, fleeing for safety in other towns. Families with young girls are especially fearful.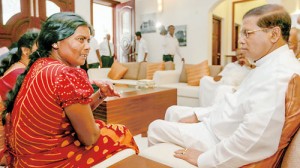 The victim's family too is seeking to move away from the island of Pungudutivu.
Veeramalai resident Ganesh Vigeswaran, 47, said he had decided to go and live with his in-laws in Batticaloa because of the volatile situation in his village. Mr. Vigneswaran, a father of three girls who, like the murdered Vidya, are students of Pungudutivu Tamil Vidyalam said he could not be certain of his children's safety any longer. "I have three young girls aged 18, 19 and 21 and I don't feel safe," he said.
It is learnt that many residents of Pungudutivu had left the island even before Vidya's death on account of the war.
Previous incidents of rape and murder had pushed many people to seek asylum overseas and migrate to other areas seeking safer environment.
According to a resident the island, which had around 28,000 families living there in 2005, had been reduced to a mere 4,000 people. Elderly women and men have opted to stay back in order to protect their properties. "In Pungudutivu, there are many houses that have been abandoned. The only signs of life are the cattle roaming around," Mr. Vigneswaran said.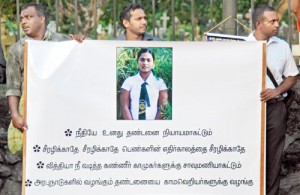 The dead girl's brother, Nishanthan Sivaloganathan, said his family was planning to move to Vavuniya where they would rent a house. "We no longer want to stay on this island," he said.
Mr. Sivaloganathan, who met President Maithripala Sirisena on Tuesday at Governor's House, Jaffna, said the President had promised to convene a special court and expedite the hearing of the case.
President Sirisena, who also spoke to Vidya's mother, Saraswathie, had questioned her about the tragic incident and offered his condolences.
Mr. Sivaloganathan said his mother had intimated the family's intention of moving away from Pungudutivu as they did not feel safe there.
Saraswathie Sivaloganathan had told President Sirisena that the family had no property in Vavuniya and planned to rent but that they wished to be under their own roof. The President had said he would give the matter some thought.
Following the President's visit to Jaffna the peninsula remained calm, without protests or demonstrations. Chief Inspector P.U.K. Wootler, the new Jaffna Headquarters Inspector, said calm had returned to the district. "We have no protests or demonstrations – everything is back to normal," he said.
Government agent Sunderam Arumainayagam also confirmed that Jaffna was quiet after last week's chaos at the Jaffna courts when protestors turned violent, demanding justice for Vidya.
In Colombo and Batticaloa, however, protests continued. Early this week in Batticaloa, Tamil National Alliance (TNA) parliamentarian Pon Selvarasa staged demonstrations in Kottakalaru and Peryakallaru, with schoolchildren and nurses joining in.
On Tuesday, a protest and candlelight vigil in Borella, Colombo was held jointly by TNA parliamentarian M.A. Sumanthiran, United National Party (UNP) ministers Rosy Senanayake, Eran Wickremaratne and politician Kumara Kurup an, Catholic nuns and women's rights groups.
In the plantation sector, Ceylon Workers Congress (CWC) parliamentarian Muthu Sivalingam declared last week a week of mourning and demanded that the culprits be brought to book expeditiously.