Yet another attempt by the Government for Parliamentary approval of the three members from civil society, picked to serve on the Constitutional Council (CC), failed this week, after Opposition legislators sought written assurances that ministers will not be appointed to the CC after the term of this Parliament lapses.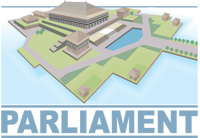 The UPFA objects to the choice of Ministers Champika Ranawaka and Wijedasa Rajapaksha as members of the CC, and want them to be replaced by lawmakers sans ministerial positions.Prime Minister Ranil Wickremesinghe on Wednesday moved in Parliament a motion seeking confirmation of the names of three members from civil society, but several MPs including Dinesh Gunawardena, Anura Dissanayaka, Wimal Weerawansa and G.L. Peries asked that the approval be delayed until the written agreement was finalised, thus forcing the Prime Minister to postpone the matter. …………………....READ ALL
Heated arguments over electoral reforms;
UNP opposes 237 seats, minority parties want double-ballot system —
Serious lapses in presidential security, President taken to the wrong venue last Monday
The 156-day old presidency is still not running smoothly in some respects. Last Tuesday morning, President Maithripala Sirisena's security detail escorted him to the Parliament complex in Sri Jayawardenapura -Kotte. He had been told that the meeting with his MPs was to take place at a Committee Room in the Parliament Complex that sits in the middle of the Diyawanna Oya. There, he found UPFA parliamentarians had not turned up for the scheduled meeting with him. Mobile phones and radio communication sets went busy.
President's package for electoral reforms
The Cabinet of Ministers, at a special meeting on Friday, agreed to the broader outlines of electoral reforms that will increase the number of seats in Parliament to 237.However, the UNP and minority and smaller political parties have said they will not support it. The ministerial decision came after intense debate and followed a memorandum titled "20th draft amendment to the Constitution in relation to the Reforms to Parliamentary Electoral System" tabled by President Maithripala Sirisena. Here is the full text:"I presented a Cabinet Memorandum on June 8, 2015 with regard to the 20th Amendment to the Constitution in relation to reforms to the Parliamentary Electoral System………………….   READ MORE
The United National Party (UNP) says former President Mahinda Rajapaksa seems scared for the political future of his son Namal Rajapaksa.
UNP Parliamentarian and Minister Rosy Senanayake said that Mahinda Rajapaksa had gone to the venue of a rally held in his support at Matara yesterday but did not get on stage.
Senanayake said that Mahinda Rajapaksa was avoiding getting on stage out of fear his son will not get nominations to contest the polls from the Sri Lanka Freedom Party (SLFP).
There is a split in the SLFP on if Rajapaksa should be given nominations for the next Parliament election.
Rajapaksa and Namal are both SLFP members but the split has seen some SLFP top guns proposing that Mahinda Rajapaksa not be given nominations from the SLFP to contest the next Parliament election