A surprise Excise raid on an official vehicle of Sabaragamuwa Chief Minister Mahipala Herath at Polgahawela yesterday revealed that it was transporting cannabis or Kerala Ganja. But the Chief Minister told the Kegalle Police three hours later that the jeep was stolen, Police and Excise officials said.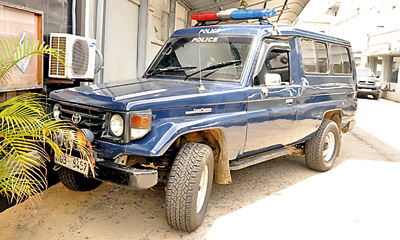 The vehicle belonging to the inner security detail of the Chief Minister was carrying two kilograms of imported cannabis (ganja).
The vehicle was a police jeep with a siren. The vehicle was taken into custody by the Excise Department's Special Crime Branch sleuths who were acting on a tip-off.
A spokesperson at Police Headquarters confirmed that the vehicle belonged to the security detail of the chief minister but did not reveal the identity of the driver. Meanwhile, Mr. Herath in a complaint to the Police has claimed that a vehicle belonging to his security detail had gone missing without a trace along with the driver. He made the complaint three hours after the detection.
Mr. Herath said he had noticed the vehicle missing only in the morning and had brought the matter to the notice of the police around 10.30 am, Kegalle's Senior Superintendent M.L. Gunatilleke said."Investigators are yet to ascertain whether the driver was attached to the Police Department or to some other agency or was employed in a civilian capacity," the SSP said.
However, he said the vehicle that was earlier used by the Police Department had been later handed over to the Chief Minister's security detail owing to "maintenance constraints".
Law and Public Order Minister John Amaratunga said a vehicle owned by the Police Department could not be transferred for use by a politician. Officials are probing to ascertain if the same vehicle was used for similar operations earlier and if there are others involved.
Chief Minister Herath claimed that the vehicle belonged to the Provincial Council and that the police emblem had remained by oversight. He told the Sunday Times the driver was on the payroll of the council and he had been interdicted immediately.
The cannabis is smuggled into the country from neighbouring India via the Palk Strait.
In a separate incident, a police sergeant was taken into custody with a haul of cannabis in Kalutara Friday afternoon, police said.
They added that the police sergeant was driving a super luxury vehicle at the time of his arrest.The suspect was attached to the Gealiningama Police Station, an entry point to the Southern Expressway and was arrested by officers from the Kalutara Police Division.