Despite election of reformist president Maithripala Sirisena, who vowed to lift government repression, charity says it is still receiving reports of torture
Sri Lankan security forces have continued to torture Tamil detainees even after the election of reformist president Maithripala Sirisena in January, according to a report.
The report, by the UK-based charity Freedom From Torture (FFT) and published on Thursday, comes just four days before critical parliamentary elections on 17 August. Sirisena, elected on a promise to lift government repression, is seeking to prevent a comeback by his predecessor, Mahinda Rajapaksa, whose government has been accused of systematic brutality against the country's Tamils after the military rout of the Tamil Tiger rebels in 2009.
The charity said that more than a third of the alleged torture victims in the report had returned to Sri Lanka from the UK, some forcibly after their asylum applications were rejected.
The FFT report, Tainted Peace: Torture in Sri Lanka since May 2009, looks mostly at abuses during the Rajapaksa era, analysing 148 case of apparent torture, but the charity said that it has continued to receive referrals of Sri Lankan torture victims in 2015.
"The new leadership will need to tackle vested interests in the military, police and intelligence services who until now have resisted any proper reckoning for torture and other grave abuses committed during the civil war and the six years since the conflict ended," the report said. Almost all the cases FFT reviewed involved Tamils, detained because they were suspected of having personal or family ties to the Tamil Tigers.
The alleged forms of torture used include beatings, burning, rape and other forms of sexual violence, asphyxiation, electric shocks, mock executions, and stabbings. Seventy per cent of the inmates in the study were held in solitary confinement.
The report alleges: "Methods of torture were often meted out simultaneously: every survivor was beaten, including with blunt instruments, pipes filled with cement or pistol butts. Often these blows were delivered while the person was suspended with both their hands and feet tied up. Some were dropped from a height with bindings still in place so they were unable to break their fall.
"The high prevalence of burning with cigarettes or heated pieces of metal could reflect a policy of branding, not only to inflict long-term psychological and physical damage, but to ensure that the individual is easily identifiable in future as having been of adverse interest to the authorities."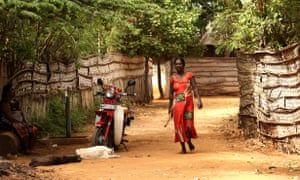 FFT said it presented the report to the Sri Lankan high commission in London on Tuesday, butthey did not respond to requests for comment on Wednesday.
In a few cases the victims were shown photographs by their state interrogators showing them taking part in protests in the UK against the Rajapaksa government.
The charity called on the UK Home Office to take the evidence contained in its report into account when assessing asylum claims from Sri Lankans. Its policy and advocacy director, Sonya Sceats, said: "The UK needs to take extreme care given our alarming evidence that more than 50 Tamils returning from here with a real or perceived past connection to the LTTE [Tamil Tigers], even at very low levels, were tortured.
"Many were specifically interrogated about the Tamil diaspora here. Given his personal commitment to promoting human rights in Sri Lanka, David Cameron should ensure that UK asylum policy is updated to bring it into line with the risk we have demonstrated."
There was no response from the UK Home Office for a request for comment on Wednesday. In the past it has insisted that asylum is always granted when there is solid evidence of a risk of torture in the event of return to an applicant's home country.
A report by the International Truth and Justice Project Sri Lanka in July came to similar conclusions on the widespread use of torture in Sri Lanka. It alleged that among the victims were five men who had helped organise demonstrations to publicise the plight of Tamils during a visit to the Jaffna Peninsula by David Cameron in 2013. After the prime minister left, each of them were grabbed separately on the street, bundled into a white van or jeep, taken to a government interrogation centre and tortured, the report claimed.
One victim said: "They held my head from behind and put a bag full of petrol on my head and held it tight. This lasted about 10 seconds. It was burning and suffocating. The fumes were burning my eyes and skin."
The report alleged that all five victims were sexually abused and in some cases subjected to repeated anal rape.
Rajapaksa's election comeback campaign has also been hit by allegations that his security detail tortured and murdered a celebrated Sri Lankan rugby player, Wasim Thajudeen, who was said to be in a dispute with the former president's son over a woman. According to the official account Thajudeen died in a car crash, but his body has been exhumed and is said to show signs of torture.