Continue investigations and purge SLFP of the criminal and corrupt : Dr. Amunugama – Mr. and Mrs. Weerawansa , Cabraal , Gammanpila questioned again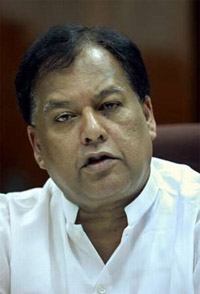 (Lanka-e-News- 21.Aug.2015, 11.50AM)    'Continue with the investigations into the frauds and corruption of the previous government members who have been elected at the recent elections , without interruption , and duly punish them , with a view to purging the SLFP of the undesirables and criminals ,' Dr. Sarath Amunugama has requested to president Maithripala Sirisena.
Amunugama made this request when the Central committee of the SLFP met yesterday morning, chaired by the president. It is to be noted that nobody obstructed or objected to Amunugama's request .
Menwhile , the FCID (police financial crimes investigation department ) and the CID resumed their investigations .
During the elections in compliance with a request made by the Elections commissioner , the investigations were put on hold. Ajith Nivard Cabraal the Central bank governor an accused who heaved a sigh of relief  during the elections and thought he has found an  escape route  was summoned to the FCID  for questioning again.
Wimal Weerawansa's wife charged with fraud and forgery too was summoned for further questioning by the CID . Udaya Gammanpila who parades as a Buddhist sentinel and savior of Buddhism had also to face the CID over a complaint made by an Australian national . All of them were summoned for questioning yesterday.
Wimal Weerawansa arrived at the Financial Crime Investigation Division (FCID) this morning(21) to give a statement regarding his assets
—————————
by     (2015-08-21 06:48:45)