A UN report is set to reveal harrowing crimes. But the survivors do not believe their government is capable of ensuring justice
Sri Lankan war crimes will be laid bare in a harrowing UN report to be published on Wednesday. The Sri Lankan government has already launched its latest charm offensive to convince the world it can deal with these issues, but the international community must stay strong to ensure a proper justice process that wins the confidence of survivors and enables the country to heal.
For years these efforts succeeded as Sri Lanka painted itself as a leader in the fight against terrorism and a standard bearer for developing countries, defending its sovereignty in the face of "interference" by western governments pushing a human rights agenda. A commonwealth summit hosted by Sri Lanka in November 2013 was a turning point. Brushing off intense pressure for a boycott, the UK prime minister, David Cameron, insisted that he would seize this opportunity to meet victims in Tamil parts of the country and "shine a light on human rights".
Cameron proved his critics wrong by turning his experience with families of the disappeared into a passionate call for an international inquiry into wartime atrocities and ongoing violations after the conflict ended. In March last year, the UK and US built support among a coalition of states in Africa, Latin America and elsewhere for a resolution of the UN human rights council ordering an international investigation aimed at "avoiding impunity and ensuring accountability".
The UN report, to which Freedom from Torture submitted evidence, is expected to reveal a sickening catalogue of international crimes committed in the war and its aftermath. The UN human rights chief, Zeid Ra'ad Al Hussein, has already warned that the inquiry's findings "are of the most serious nature".
Freedom from Torture supplied extensive forensic material to the investigators based on almost 150 examinations conducted by our expert doctors. Our report Tainted Peace shows that torture – including rape and extensive burning – has continued to be practised by the Sri Lankan military, police and intelligence services since the end of the conflict and that those at particular risk include Tamils with a real or perceived association with the Tamil Tigers, even at low levels and whether current or historical.
The Sri Lankan government bitterly opposed the UN probe. Investigators were apparently unable to access the country, even after Mahinda Rajapaksa was ousted at presidential elections in January. The new Sri Lankan government, led by President Maithripala Sirisena, concedes that accountability is essential for reconciliation, but echoes the previous regime by insisting this is an internal matter. In theory, a national process is preferable, in keeping with Sri Lanka's international human rights obligations, but in practice this would prove highly problematic.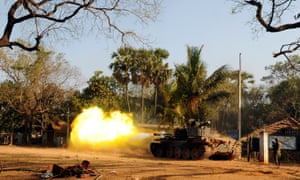 Sri Lanka has a record of flawed domestic accountability processes and the justice sector remains weak after years of debasement in the service of a corrupt elite. While the new leadership has begun to restore press freedom and the rule of law, it has proven unable or unwilling to take on Sri Lanka's overbloated and lawless security sector. In a painful blow to victims, a senior commander whose division was implicated in serious human rights abuse was recently promoted to army chief of staff.
Freedom from Torture has seen case materials for eight people tortured in Sri Lanka this year, including as recently as June. In most cases the person reports being abducted by plainclothes agents and transferred, often in white vans, to unknown facilities where they were subjected to multiple forms of torture such as beatings, asphyxiation by plastic bags full of petrol fumes tied around the head, burning and sexual violence.
The survivors we work with are adamant that Sri Lanka is incapable of exposing those most responsible for their suffering to a justice process meeting international standards. They are pinning their hopes on the UK, US and other members of the human rights council to follow through on the UN findings and demand an accountability mechanism that includes strong international participation at every stage and level.
Any process that fails to win the support of survivors, including from the Tamil minority, is doomed to fail before it even begins. Instead of aiding the cause of reconciliation it might derail it. As Al Hussein said yesterday, the human rights council "owes it to Sri Lankans – and to its own credibility – to ensure an accountability process that produces results".