Weliamuna spearheads Government campaign to find loot hidden abroad
Secret accounts held by at least seven others linked to former regime; Govt. now pursues fresh strategy through local probe
Ministers and public not told what is happening in Government bid to track paper trail
It was ten days before parliamentary elections on August 17 when news reached the highest levels of the Government about a secret account held by a young politician, the son of a former VVIP, at the Emirates National Bank of Dubai (NBD).
That was to cause considerable excitement. The prospect of obtaining the details and exposing it during the polls campaign, it was felt, would bolster tremendously the positions of both the Sri Lanka Freedom Party (SLFP) under President Maithripala Sirisena and the United National Party (UNP) under Prime Minister Ranil Wickremesinghe. That was how the process to track down details of the account holder and pursue further action against him began in earnest.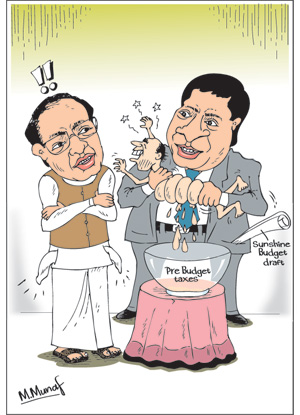 The man to whom that task went was Attorney J.C. Weliamuna, a human rights activist and former Executive Director of Transparency International (local chapter). He has been at the forefront of the Government's anti-corruption drive and plays multiple roles in other spheres. This week, he was virtual Government spokesman on the OISL findings of alleged war crimes in Sri Lanka. In the secret account case, he has been playing the role of a Sherlock Holmes, secretively of course, for the past many weeks. That is to bring to Sri Lanka the monies in the account or more importantly give both the SLFP and the UNP a lethal political weapon to smash a common enemy. After all, both sides had decided ahead of the elections, that they would together form a National Government.
Weliamuna's efforts to produce results before the polls failed. His probe into the workings of SriLankan Airlines, for which he was paid three million rupees, gave some negative details of the way the airline was managed. Yet, no one has been arraigned before courts on any of the findings. The report itself was the subject of some controversy with sections of Colombo's legal fraternity holding the view that it was "more sensational than a document with some legal basis" for prosecution. The airline's management has merely passed on the findings to the Attorney General and left it there for further action. This report was sent both to the Criminal Investigation Department (CID) and the Financial Crimes Investigation Division (FCID) for action.
President Maithripala Sirisena gave Weliamuna official authority through a document to pursue the Dubai offshore account matter of the young politician. That proxy became his tool to deal with Dubai authorities. This was in addition to Sirisena making an appeal to the ruler of Dubai, Mohammed bin Rashid Al Maktoum. As weeks passed, Weliamuna shuttled between Colombo and Dubai a number of times. His first task was to hire a legal firm to represent the Government of Sri Lanka. There is little doubt that involved payment. He was encouraged by the firm's assurances and conveyed them periodically to Government leaders.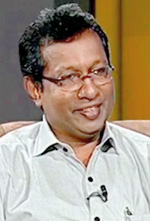 That included the firm's strong belief that it could "recover and return" to the Government of Sri Lanka through the courts in Dubai the monies in the account if there was proof it was obtained through criminal or illegal means. He was later joined in the effort by Dilrukshi Dias Wickremesinghe, in her capacity as a consultant to a different local organisation. Substantively she is the Director General of the Commission to Investigate Bribery or Corruption (CIABOC). The office she holds prevented her from working elsewhere for a fee. By then, multiple channels, including those revealed last week in these columns, had confirmed the existence of the account. Later, the identities of at least seven others, including the young politician's brother, holding similar accounts in the same bank became known.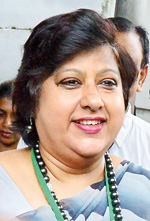 It has become a common practice among political parties to have their own informants or sources amidst their rivals. This is how different sides become privy of other's secret discussions or actions. Not surprisingly, the news that inquiries are under way reached a former VVIP. So much so, he raised issue with Prime Minister Ranil Wickremesinghe when he met him at a public event. The Premier, who related this to Government leaders, had been non-commital. Here again, it became clear that what Weliamuna thought he was doing secretly to get details of a young politician's offshore bank account in Dubai had already reached the ears of the former VVIP and his family. Thus, both sides to the issue were privy and the only side left out was the Sri Lankan public. That too at a time when they were complaining that despite assurances, for over a year, no action has been forthcoming against those who had looted the country's assets.
The Government, over the weeks, received information that the young politician was transferring funds from his account to a bank in Ukraine. Unconfirmed reports also spoke of transfers made to Seychelles and the Bahamas. The amount remaining in the Dubai bank account which had stood at over a billion dollars had dwindled to a little over US 500 million. Before proceeding with other action, it was felt that the Government should move the law firm in Dubai to initiate legal measures to freeze this amount and thus prevent any further transfers. Then it wanted to go through a legal process of ensuring the funds were returned to Sri Lanka. The Dubai law firm moved towards that, and as revealed last week, the courts sought an opinion from the Attorney General there on Thursday (October 8).
Thereafter, further hearings were fixed for October 11 or last Sunday. In Dubai, an Islamic state, this day is treated as the first day of the week. Friday and Saturdays are their holidays. Matters related to Dubai Courts and cases listed for hearing on Sundays and other working days could be verified from their website – www.dubaicourts.gov.ae/ and clicking on the "Sessions Agenda." Yet, the case from Sri Lanka was not among them raising questions on whether it was a sitting open to public, or one in chambers. This is in view of secrecy provided to account holders.
When the case came up for hearing last Sunday, a fact revealed exclusively in these columns last week, Attorney Weliamuna and Dilrukshi Dias Wickremesinghe were present together with lawyers of the firm hired by the Government. The duo had flown to Dubai the previous day for this assignment. There was some surprise when the Attorney General of that state produced a copy of the Sunday Times political commentary headlined "Crucial Court Verdict on West Asian Secret Account of VVIP's son." By dusk on Sunday, the case was going on, Weliamuna was to phone Government VIPs to give them periodic updates. One of them privy to the conversations quoted him as saying that because of this publication the court may now transfer this 'criminal case' as a 'civil case.' How this conclusion was reached is unclear. An aide to one of the VIPs declared, "If that's true, when the media, for example, reports on a rape or a murder case, the judge would convert it to a civil case. How absurd?"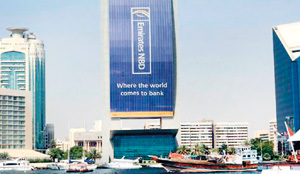 However, it did not take long for the exact reason to surface. The Judge turned down the request of the Government of Sri Lanka, through its law firm in Dubai, to freeze the funds in the account of the young politician. This was after strong objections were raised by the Attorney General of Dubai that the politician in question has not been convicted in Sri Lanka or a case filed against him in any court of law, or even investigations have not started. Hence, he argued that the request should be disallowed. It was an ex-parte hearing. The prime mover Attorney Weliamuna may not have given consideration to this aspect or felt it was not necessary. It is only now, post-facto that different options to initiate legal action locally are being considered. One is for a state body dealing with bribery and corruption related matters to interview the young politician with the objective of proceeding with legal action under local laws. Such an investigation is about to start, that too after a refusal by a Dubai court to freeze the account. This development begs the question whether the views of local banking experts or other professionals have been obtained.
Weliamuna and his colleague in the exercise returned to Colombo on Tuesday. Many ministers expressed the view that the Government should shed some light into the Sunday Times (political commentary) revelations. They argued that it was they who were facing public criticism that despite promises made to the people both at the presidential and parliamentary elections, no one had been brought to book. This, they pointed out, was an opportunity for them to come out with at least a few details without naming anyone to convince the public that the Government was seriously following up on a case where vast amount of funds were held. President Sirisena, the Sunday Times learnt, telephoned Weliamuna to ask whether he could make available some details during a news conference.
The one-time campaigner for transparency in Sri Lanka was not in favour. "It would hamper the case," he had replied. Many efforts to contact Weliamuna failed. He did not respond to e-mail or SMS messages either.  His reluctance notwithstanding, official Government spokesperson Minister Rajitha Senaratne provided details at his briefing on Thursday. It came after the weekly ministerial meeting on Wednesday. Senaratne even took the credit for revealing in January the existence of these accounts and the amounts involved. He said he is the one who had laid it bare.
At the weekly ministerial meeting on Wednesday, they were discussing a recommendation by Foreign Minister Mangala Samaraweera to sign a Memorandum of Understanding on the establishment of a Joint Committee for Consular Affairs between Sri Lanka and the United Arab Emirates (UAE). Minister Champika Ranawaka said a newspaper had published details of a bank account held by a former VVIP's son. He said the ministers should be told about the situation since they were unaware of what was going on. It became clear none of the ministers was aware. Samaraweera replied that that the newspaper had brought it to the public domain and that had an adverse impact. He was alluding to the Sunday Times (political commentary) which reported that a West Asian court was sitting last Sunday to examine a request by the Government of Sri Lanka to freeze the account of a young politician, son of a former VVIP. "This inquiry was carried out secretly. We have checked how it (the Government request to the Dubai courts last Sunday) leaked. It has not gone from us. It has gone from the American side," he said. Ranawaka argued that a public statement be made on the issue, a position endorsed by Premier Wickremesinghe. However, Minister Samaraweera turned down the request to do so.
Ravi Karunanayake, who drove straight from the Colombo airport to the Presidential Secretariat for the ministerial meeting, joined in. He had returned from a World Bank event in Lima, Peru. He revealed seven persons linked to the previous Government held bank accounts in Dubai. He did not name them. Besides the young politician, there was his brother. Among others were the head of a Government owned commercial undertaking. He is alleged to have been involved in a number of controversial procurement tenders over cooking gas. He is alleged to have US$ 8.7 million in the account. Another is a top ranking official in the former President's office. He allegedly has a balance of US$ 168 million. Yet another is a one-time close confidant of the former President. He allegedly has a balance of US$ 518 million. The last mentioned, a source familiar with the issue said, has also been allegedly responsible for carrying cash for deposit. He had allegedly used diplomatic immunity for the purpose.
Dubai has acquired an international reputation as a banking centre and a highly stable state for investments. Several politicians, government officials and businessmen in the South Asian and even South East Asian region are known to have "invested" their money in the emirate. Here is a brief account about the banking secrecy reputation investors have acquired from a company that offers help to set up offshore accounts: "Dubai is ranked at 16th position on the 2014 Financial Secrecy Index, which places it towards the top end of the secrecy scale. Dubai accounts for a large portion of the global market for offshore financial services, making it a medium sized player amongst secrecy jurisdictions, with a very high potential for further growth. About two thirds of the UAE's income was non-oil related by the 1990′s and around the same time Dubai grew to become the largest free-trade zone in the world, from Europe to Singapore. It is estimated that in 2014 Dubai held over $700 billion in assets and deposits because of tight secrecy.
"Dubai does not disclose or prevent trusts and private foundations, does not maintain company ownership details on public record, nor require that company ownership details or financial information are publicly available online." The promoter of offshore banking in Dubai adds: "Various departments of the Central Bank of the United Arab Emirates and the Dubai Financial Services Authority are responsible for regulatory oversight of the banking industry in the UAE. The scope of these regulatory mandates include domestic banks, foreign banks located in the UAE as well as finance house and other financial institutions, including financial advisory practices. They also supervise Treasury Operations, Accounts and Management Information, Capital Markets, Money Markets and Foreign Exchange, Certificates of Deposit, and Back Office Settlements."
Given this background, the Government's strategy or action plan on this exercise to freeze the accounts appears somewhat naïve. It is not that the Government must not try but how best it advised itself in the course of action to be taken calls for questioning. That such funds form the bulwark of the emirate's economy and required a studied approach is simply fundamental and common knowledge. Here, no inputs were possible by other state agencies or ministers since they were all blissfully unaware of the "secret" operation. It was largely left to Weliamuna and the Dubai-based firm.
At Thursday's news conference, Minister Rajitha Senaratne gave an account of what Foreign Minister Samaraweera termed a "secret inquiry". He confirmed the revelations made in these columns last week that the Government sought to freeze the funds of the young politician. Of course he made clear that no names would be mentioned now. A brief account of the Q & A:
Q: There are reports that some Sri Lankan politicians are having massive bank accounts in Dubai. Can you comment on that?
A: You may recall that I revealed this information in January itself along with details of the amounts. It's these reports that are emerging now. But it is not good to talk about this too much. The newspaper reports that have appeared in this country have become an impediment to these investigations going on in Dubai. So it's better not to talk about this but all the necessary investigations are being done. There are eight accounts that we have uncovered. We understand that it has been discussed in that country. They have forwarded the details of report that appeared in a certain local English newspaper and shown it to our representatives in courts and asked why such details have been released to the media.
Q: Namal Rajapaksa (in comments made to BBC's Sinhala service Sandeshaya) has rejected charges that he has any such accounts?
A: We did not say he is the account holder. Why is he jumping? There are other Rajapaksas. Why are the other Rajapaksas keeping quiet while only this Rajapaksa is speaking? So far he has not been named. Let us wait and see. The investigations are now on. We can see who and who are having accounts and how much of money is in them.
Q: You said there are eight accounts. Do you have names of these account holders?
A: Let's leave the names aside. After the investigations, we will tell in a few days.
Q: How much are in these accounts?
A: In one account there is US $1.086 billion, $ 1.8 billion in one and in another more than 500 million?
Q: Have these accounts been blocked?
A: We have made a request and will take legal action to seize all these monies.
Q: If they say the money is not theirs, the state can take over?
A: Yes how nice it would be if other people put money in my account. If there are such benefactors who say, "The President's son is in a difficult situation and we must put about a billion in his account", that would be very nice.
Q: When they say it is not their account that means they don't want the money?
A: They will not get the money anyway. The money belongs to the state.
Q: Is there a law in that country that we can request such monies to be returned?
A: They don't have specific laws but like in Micronesia and Monaco, they don't have very strict laws that prohibit the return of such money. These are all dollar transactions. All dollar transactions are reported to the US Federal Reserve. That is why when we handed this over, the US representative, when he visited Sri Lanka said, we can inquire into all these and trace every dollar that is deposited anywhere. Where the money was deposited, where it was transferred to, but they need time. Because there are transactions taking place all over the world and hence they need time. But now they have reported to us all the details of these transactions and it is based on these that the investigations are continuing.
Q: Are these accounts in the names which have been mentioned?
A: Let us inquire into these a little more in detail.
In the public interest as well as that of the Government, it must be pointed out that greater vigilance should be exercised in issues of this nature. This is by ensuring that all proper professional expertise is obtained. Even more importantly, a Government which promised good governance or yahapalanaya should demonstrate even a semblance of transparency and keep the people of Sri Lanka informed.