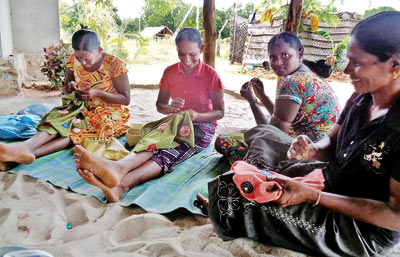 Sari Connection – a subsidiary under PARCIC (PARC Interpeoples Cooperation) a Japanese NGO working with marginalised communities in Sri Lanka since 2004 – has a unique, carefully handcrafted product range made out of upcycled saris. These are meeting with aspirations of seamstresses from marginalised communities such as Jaffna and Mullaitivu, long affected by conflict or natural disasters – in most cases both – and strive to sustain their families of which they are generally the sole bread-winner, a media release from PARCIC said.
"From the very first product – a black and yellow cotton poncho – Sari Connection has developed its product line to include smart casual dresses, blouses and pants, bags, accessories and homeware items – cushions, bed spreads and table runners. Each product is truly an inimitable combination of sari materials of varying colours and textures. We have been successful in our endeavours to ease financial tension for these women, thus far due to the support and contributions we have received", noted Natasha Yatawara, Project Coordinator and Merchandiser for Sari Connection.
By mid-2015, Sari Connection had over 70 such women on-board from Jaffna and Mullaitivu. They receive periodic training in sewing skills, designing and quality control provided by PARCIC in collaboration with professionals from Colombo and Tokyo. At the initial stages, the project donated 50 sewing machines to these women to continue work from home enabling them to take care of their young, the release said.
"The use of upcycled saris reduces negative environmental impacts and keeps material costs to a minimum. In addition, the donation of saris from women in the South to be upcycled by women in the North initiates a bond between the two communities. The underlying goal of the project is to facilitate reconciliation amongst communities from the northern and southern parts of the country. Sari Connection aims to promote peace, trust and harmony in Sri Lanka while connecting and empowering women," it said.
Saris used in Sari Connection products are collected through donation drives organised in Colombo and from individual donors living around the island. With presence at Good Market and events to support those in need – Sari Connection strives to connect communities through a helping-hand scheme, the media release added.PARCIC is currently working in Jaffna, Mullaitivu and Deniyaya supporting local fishermen, farmers and seamstresses to uplift their living standards. "Through projects differing from producing organic tea to making dry fish, PARCIC continues to reach out to more communities providing lasting assistance. PARCIC aims to promote direct exchange and trade based on trust among people as a means towards self-reliance, peace and human development," it said.