Murder trial on Raviraj starts in January: Red alert Interpol warrant issued on murderer whom LEN exposed earlier (New photo evidence)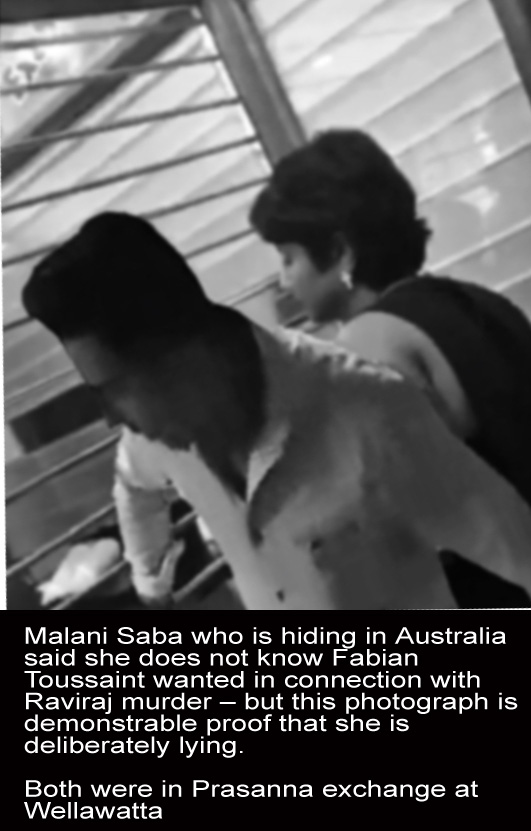 (Lanka-e-News -09.Dec.2015, 11.30PM)   The Raviraj murder trial is to be heard from 4th January  2016  without interruption , the court  decided yesterday(08) . To arrest the two suspects who have fled the country , a red alert with warrant was  issued yesterday by the police to enable the Interpol to arrest them abroad. The two suspects are Fabian Roysten Toussaint and Shivakanthan Vivekanandan . It has been decided to open the trial in the absence of these two suspects and Palanasamy  Suresh . It is learnt that the latter has been killed by now.
Fabian Roysten , a Burgher national and an ex police officer who is responsible for 16 murders including that of Raviraj has fled the country , and is now residing in Australia , Lanka e news reported this on 22 nd October . The  Interpol red alert warrant was however issued only yesterday .
Malani Ventura who is harboring  and hiding him in Australia has many aliases – Malani Alles, Malani Saba,and  Malani Kanagasabapathy. She has until last October been a member of the Australian-SL chamber of commerce, and resigned thereafter  . After our report in this connection , she had announced that she has no dealings with Toussaint.
The photograph herein wiih both posing together clearly proves that she is lying. In the  photograph is Malani and Toussaint at 'Prassanna exchange' Wellawatte when they were transferring monies illegally from country to country, and  were courting.
If those in Australia who read Lanka e news have any information about this couple ,please intimate to the nearest police station.
In the case filed against seven suspects in the murder of Nadaraja Raviraj M.P.committed  in 2006 , the three suspects mentioned above are unavailable, but the other suspects Prasad Hettiarachi , Gamini Seneviratne, Pradeep Mahinda and Sampath Munasinghe are here .
Among the suspects , as many as three are members of the Naval forces.
Based on Attorney General's (AG) advice , Nalaka Mathakadeera and Aruna Shantha were freed.  Sampath Prithviraj another  suspect turned into a crown witness.
The case was called up yesterday before Colombo additional magistrate Ms. Nirosha Fernando .
—————————
by     (2015-12-09 20:10:43)
http://www.lankaenews.com/news/980/en#prettyPhoto