[TamilNet, Saturday, 25 April 2009, 22:13 GMT]
A separate Tamil Eelam is the only solution that will permanently put an end to the problems of the Tamil people in the island of Sri Lanka, said Tamil Nadu former Chief Minister and principal Leader of the Opposition, Ms. Jayalalitha at a election rally in Salem city Saturday. In a powerful, moving speech, she resolved to fight to attain independent Eelam.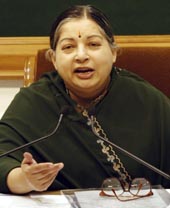 "I met Art of Living founder Sri Sri Ravishankar who has just returned from the war-zone in the Vanni. He gave me CDs and photographs of the atrocities. My heart boils when I looked at it," the AIADMK leader said. If this pathetic situation of the Tamil people has to be removed, if the problems of the Lankan Tamils has to come to an end, an independent Eelam is the only solution, she added.
"We will fight to attain that independent, separate Eelam. Till today, I have never said that separate Eelam is the only solution. I have spoken about political solution, this and that. But, now I emphatically say, a separate Eelam is the only permanent solution to the Lankan conflict, " she said.
Earlier, Jayalalitha had announced at an election rally in Thirunelveali (Tirunelveli) on April 18 that if won in the coming elections and if the AIADMK-led alliance would have a say in the next Union Government, she would strive to get Eelam if a fair political solution was not found for the Tamil people in Sri Lanka.
Voice: Extracts of Ms. Jayalalitha's address

Direct Link (mp3)
Ms. Jayalalitha, had earlier espoused that a solution to the Tamil problem had to be found within the constitutional framework of Sri Lanka.
Meanwhile, twenty women who were on a fast unto death in Chennai since April 13 demanding Congress chief Sonia Gandhi to bring about an immediate ceasefire, gave up their fast after Ms. Jayalalitha requested them to end it.
www.covaipost.com/…/jayalalithaa-promises-to-take-steps-for-separate-ta…
22 hours ago – Jayalalithaa promises to take steps for separate Tamil Eelam for Sri Lankan Tamils … polls: We will seek dual citizenship for Lankan Tamils, saysJayalalithaa ().
www.kollytalk.com › Politics
17 hours ago – Nedumaran lauds Jayalalithaa's support for setting up 'Tamil Eelam' – Tamizhar Desiya Munnani (TDM) president Pazha Nedumaran has lauded Tamil Nadu …
thelakeandeswave.com/…/will-continue-taking-steps-for-separate-tamil–e…
18 hours ago – Will continue taking steps for separate Tamil Eelam for SL Tamils:Jayalalithaa. Filing of nominations will now start for 234 constituencies in Tamil Nadu 140 …
www.uktamilnews.com/?p=21165
5 mins ago – "I will take steps for creation of separate Tamil Eelam for Sri Lankan Tamils where they can live an … Jayalalithaa was campaigning in Tiruchy today. She had …
www.tamilguardian.com/
31 mins ago – The chief minister of Tamil Nadu and AIADMK leader, J Jayalalithaa told voters in Tiruchi that her party would work towards a separate Tamil Eelam where …
You've visited this page many times. Last visit: 25/02/16
www.ceylontoday.lk/print20160321CT20160630.php?id=1194
23 hours ago – Tamil Nadu Chief Minister Jayalalithaa yesterday (24) asserted her party would take "continuous steps" to attain a separate homeland for Tamils in Sri Lanka …