The view hitherto that SLFP majority is with Rajapakses crashes headlong..!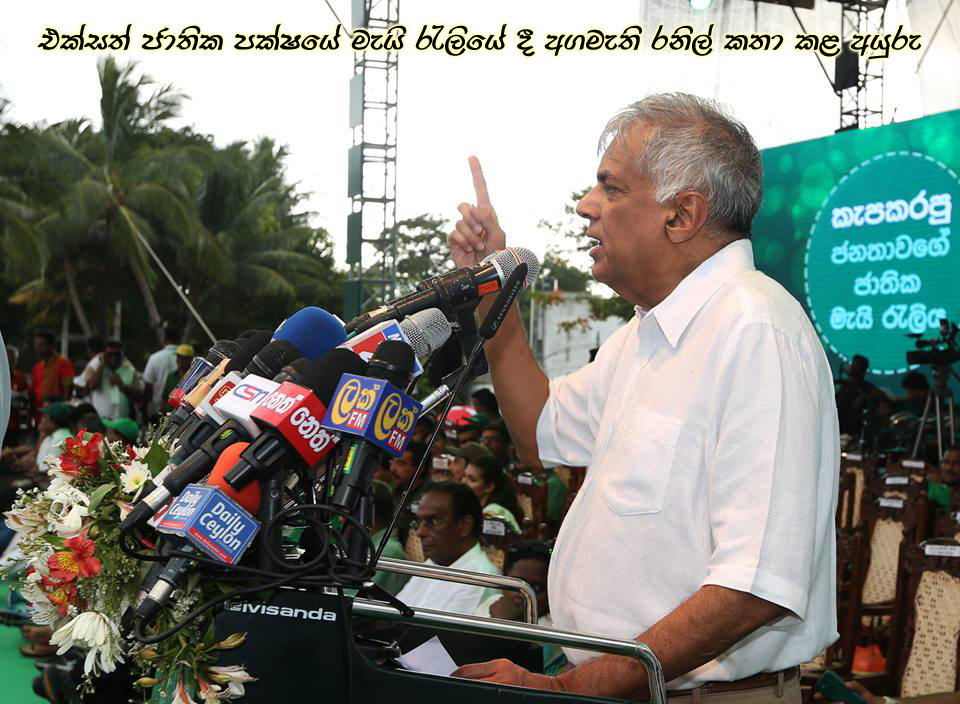 (Lanka-e-News- 01.May.2016, 11.45PM) The May day rallies this year which also served to search the popularity and strength of the main political parties concluded this evening. Based on reports of the intelligence divisions , the largest crowd around 60,000 to 75,000 people attended the UNP May day rally at Campbell park . This was in excess of the crowd present at any of the rallies of the other parties. Even when the UNP leader was concluding his address at the rally , the UNP processions heading for the venue had not ended.
The most decisive contest was between the May day rallies of the officially acknowledged  SLFP led by president Maithripala Sirisena at Galle esplanade and the May day rally of the SLFP led by Mahinda Rajapakse. These two rallies truly brought home to the people which of the two groups was stronger. According to the intelligence division reports , the officially acknowledged   SLFP led by president Maithripala Sirisena was streets ahead of the SLFP led by  Mahinda. The SLFP led by the incumbent president had such a vast crowd  that it was a sea of heads from Galle Samanala bridge to the town.
There was a crowd of about 40,000 people for the Galle May day rally while only about 15,000 were present at the Kirilapone rally, intelligence division reports revealed.
The number of M.P.s who attended the Kirilapone rally  with Mahinda Rajapakse was only 41.
Intelligence division reports revealed , representatives of all races and religions  from across the entire country including representatives of the people of  the north and East took part in the UNP rally and the SLFP Galle rally , whereas for the Kirilapone rally , only people of Colombo and environs attended, and a majority were from Hambantota . Representatives of other religions and races were very few, the intelligence division added.
The same intelligence division reported that a crowd of  about 7000 people attended the May day rally of  the JVP held at B.R.C. grounds.This number is about the same as  last year's , the intelligence division stated.
The May day rally held  in Kilinochchi of TNA which represents the country's official opposition , had a crowd of  800 to 1000 people, and they did not give much publicity., sources say.
Analysts who made an unbiased assessment said , this year May day had confirmed further the growing strength of the present national government , whilst also confirming the strength of the group of Rajapakse rogues has weakened further , and it is weaker  than it was on 17 th August 2015, while adding the Rajapakses have voluntarily courted this disaster.
Herein are a number of photographs relating to the May day rallies of the UNP, SLFP and the United brigand's group of Mahinda Rajapakse. Scenes of  the UNP's massive  procession can be viewed via video footage
---
http://www.lankaenews.com/news/1304/en