Tens of thousands of Tamils across the world on November 27 and the days leading up to it held events to mark Maaveerar Naal (Tamil national remembrance day). 
The day, which remembers those who sacrificed their lives in the Tamil struggle for freedom, is marked on November 27 in memory of the first death of a Liberation Tigers of Tamil Eelam (LTTE) cadre in fighting. Lt. Shankar died in combat on November 27, 1982. 
For the first time after the end of the armed conflict, Tamils in the North-East gathered by thuyilum illams (LTTE resting homes) across the North-East, which were had been destroyed by the Sri Lankan military. Cleaning and moving away the rubble with their own bare hands, locals lit flames and lamps to remember the fallen cadres. 
Lamps lit in Vavuniya in remembrance of Maaveerar Naal
Tamils in Vavuniya commemorated Maaveerar Naal by lighting lamps to symbolise the sacrifice of thousands of fighters who died in the liberation struggle.
[more]
Maaveerar Naal commemorated privately in homes across North-East
In addition to public events this year, Maaveerar Naal continued to be marked privately in people's homes, as many remained fearful of military intelligence officers and reprisal.
[more]
Students at Eastern University commemorate Maaveerar Naal
Over 200 students at Eastern University commemorated Maaveerar Naal at the Vantharumoolai campus in Batticaloa and the Swami Vipulananda Institute in Kalladi on Saturday.
[more]
Maaveerar remembered outside Koappay army camp
NPC Councillors S Shivajilingam and S Sajeevan led Maaveerar Naal commemorations outside the headquarters of the military's 51 Division – formerly the site of an LTTE cemetery.
[more]
North-East Tamil papers mark Maaveerar Naal
Many front pages in the North-East Tamil press marked today's Maaveerar Naal, the Tamil remembrance day. The Uthayan, the Valampuri and Kalai Kathir were amongst the papers dedicating entire pages to the commemorations.
[more]
Maaveerar Naal marked in Nallur
Tamils gathered by the destroyed Thileepan monument in Nallur on Saturday to take part in one of the many Maaveerar Naal commemorative events taking place across the North-East on November 27.
[more]
Jaffna uni marks Maaveerar Naal
Students and staff at the University of Jaffna marked Maaveerar Naal (Tamil national remembrance day) on November 25, lighting candles in memory of those who gave their lives to the Tamil struggle.
[more]
Maaveerar Naal remembrance posters displayed at Jaffna Uni
Posters marking Maaveerar Naal (Tamil national remembrance day) were placed around the University of Jaffna as students and staff held remembrance events on November 25.
[more]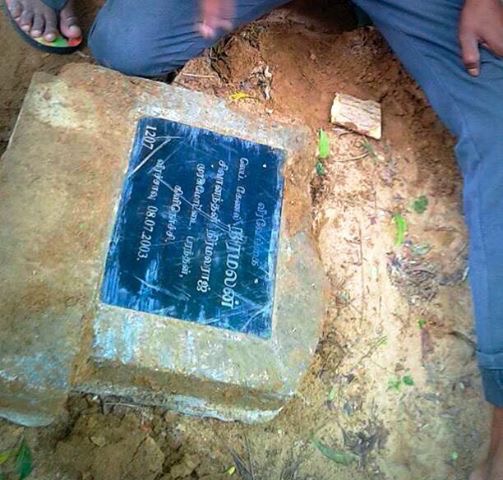 Locals clean LTTE cemeteries in Kilinochchi
Tamils in the Kilinochchi district gathered at the sites of cemeteries for fallen LTTE cadres to tidy the remains of the tomb stones, ahead of Maaveerar Naal, the Tamil remembrance day, on November 27.
[more]
NPC plants trees to remember those who died in Tamil struggle
The Northern Provincial Council on November 1st launched a tree planting initiative to span across the month of November in memory of all those who died in for the Tamil homeland.
[more]
Europe
Danish Tamil uni students commemorate Maaveerar Naal
Students at Aarhus University in Denmark marked Maaveerar Naal (Tamil national remembrance day) on Friday.
[more]
London shopfronts display Tamil national flag for Maaveerar week
Tamil businesses across London mark Maaveerar week by flying the Tamil national flag in their shopfronts.
[more]
Features
Muslim Maaveerar of the Tamil Struggle
Tamil Guardian publishes a brief sample of Muslim Maaveerar.
[more]