Sri Lanka's former army commander, Sarath Fonseka on Friday said he was ready to testify against the former military commander, Jagath Jayasuriya who has been accused of war crimes. 
"At that time, I had several complaints against him. It was to do with crimes against suspects in his custody," Fonseka was quoted by AP as saying, adding that My Jayasuriya was responsible for detained LTTE cadres.
"As I started an investigation, the then rulers removed me as army commander."
"If there are proper legal proceedings then I am prepared to stand as a witness," Mr Fonseka told a press conference.
The Daily Mirror quoted Mr Fonseka as saying:
"I received complaints that Mr. Jayasuriya was engaged in crimes as Vanni commander with regard to those who were arrested. He continued the same strategy even after he was promoted as army commander. I have information regarding those who committed the crimes. I am ready to explain the crimes committed in detail if proper legal action is instituted."
"I was aware that he committed crimes and I tried to initiate an investigation. As the initial step, I arrested Mr. Jayasuriya's Aide-de-camp."
"They are not crimes that the army has to be collectively responsible for but they are isolated incidents committed by a few individuals. We need to reveal those incidents and punish those involved," Mr Fonseka said, calling for investigations and prosecutions under martial law in order to protect the honour of the army.
"If there had been any crime, legal action can be taken against those involved according to martial law. Country's law is not necessary for that."
Mr Fonseka was stripped of his title and imprisoned shortly after the armed conflict came to an end in 2009.
Mr Jayasuriya this week fled Brazil where he was posted as ambassador, after human rights groups filed lawsuits in Brazil, Colombia, Peru and Chile over his role in the military in 2009.
Both men stand accused of overseeing Sri Lankan units that bombed hospitals, as well as the execution and torture of surrendees and disappeared civilians amongst a litany of human rights abuses against Tamil civilians and militants in 2009.
Mr Fonseka's comments came as several retired servicemen questioned why he was not also being investigated for war crimes.
The convener of the Ex-servicemen's Association, Ajith Prasanna asked whether Fonseka was exempted because he "had become a stooge of this US-sponsored government", the Daily Mirror reported.
"These allegations levelled against Jagath Jayasuriya is a serious blow to the Sri Lanka Army. We condemn these allegations by the Tamil diaspora," he said, adding his criticism to the manner in which the new navy and army commanders, Rear Admiral Travis Sinniah and Major General Mahesh Senananayake were appointed.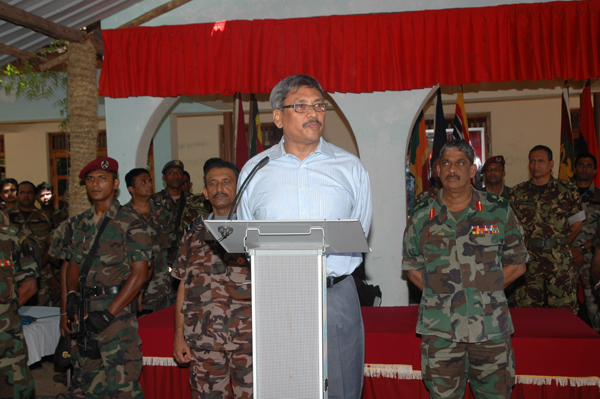 Then defence secretary, Gotabhaya Rajapaksa with General Sarath Fonseka standing to his left
This is not the first time that Sri Lanka's senior military and defence figures have pointed at each other as responsible for war crimes.
Earlier this year, Mr Fonseka alleged that there were "seven or eight war criminals in the Sri Lankan army" and accused the Rajapaksa brothers for a loss of "discipline" in the army.
"There was no threat of electric chair against the former President [over allegations of war crimes], but he instilled fear among the people by always talking about such a threat. It was we who commanded and fought the war, it was we who would have been sent to the electric chair, if actually there were such a threat."
Meanwhile the former defence secretary, Gotabhaya Rajapaksa, when accused by the CID over running death squads, pointed the finger at Mr Fonseka.
"He [Fonseka] was the army commander at that time," Mr Rajapaksa said in March.
"If he knew of such a death squad, why did he not take any action on them. He was completely wrong in not taking action."