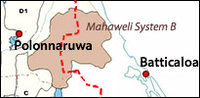 Sinhala colonists who have encroached into traditional Tamil areas in Batticaloa have again started to shoot and kill the cattle belonging to Tamil dairy farmers in Paduvaankarai region. Dairy farmers in Ko'ra'lai-pattu South blame three Sinhala encroachers as culprits after one of their cows was shot and killed on Thursday night. The farmers said they have recovered three of their cattle with gunshot injuries. Between 2013 and 2016, more than 1,000 cows, owned by Tamil dairy farmers were short and killed. The process was accelerated after Sirisena coming to power. However, due to relentless protests and complaints, the menace was temporarily halted from the end of 2016. Now, it resumes again, Tamil farmers said. Paduvaan-karai was protected by the Liberation Tigers of Tamil Eelam (LTTE) before the end of war in the East in 2007. 
Full story >>
---
Latest Reports:
Dec 04 13:40

Sinhala colonists resume violece against Tamil far..
Dec 03 15:18

Colombo's deceptions on Tamil political prisoners ..
Dec 02 22:17

Deploying wild elephants, Colombo blocks resettlem..
Dec 01 22:36

Occupying Colombo's Intelligence steps up threats ..
Nov 30 18:32

Occupying Colombo's intelligence harasses Maaveera..
Nov 29 04:57

Eastern Tamil Eelam marks Heroes Day with mass mob..
Nov 28 08:12

Peoples' uprising on Heroes Day delivers strong me..
Nov 27 10:48

Jaffna University community marks Tamil Eelam Hero..
Nov 26 23:45

Occupied Tamil Eelam mobilised to mark Heroes Day ..
Nov 25 15:08

Appointing PSC to look into uprooted Tamils' land ..
Nov 24 20:16

Empowering genocide-victims, particularly women, i..
Nov 23 23:35

SL military intelligence, Sinhala Police step up s..
Nov 22 23:10

Lion flag controversy comes to forefront after NPC..
Nov 21 23:10

Braving Colombo's harassment, people in occupied T..