Chamal No, Dinesh No, opposition has no winning 'jockey' for 2020 presidential election ! Vasu laments – conspiracy the only solution (video)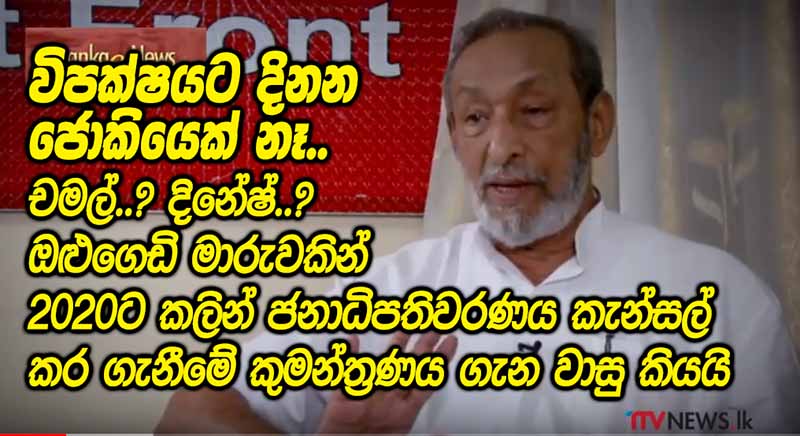 (Lanka e News – 30.July.2018, 7.30AM) The pro Rajapakses  following the defeat on 2015-01-08 ,who have not changed and  stranded  at one place in the opposition are unable to select a suitable candidate for the presidential election, and  are hence conspiring to avoid holding a presidential election , said Vasudeva Nanayakkara , who is himself  a key figure  among the pro Rajapakse group  when addressing the TTV , a new media channel.
He went on to say the quandary is so deep that they have agreed to abstain from speaking about a presidential candidate . Yet , when responding to a question posed by a new  young journalist , this bearded  Leftist  better known as  'Old Goat' because of his lascivious propensities despite his senile decay  ,could not restrain his characteristic unbridled tongue  -it popped out from his own mouth that the candidate can be Chamal Rajapakse or Dinesh Gunawardena.
Lascivious ludicrous Vasu the 'old goat' looking around for a presidential  candidate revealed ,
 'we have agreed that we shall not speak about this issue. That is until we arrive at a decision , our Joint Opposition will not be speaking about this. Because I am in  it , it is difficult for me to transgress  that condition. Otherwise I have an idea as to who should be the choice. If I tell  that I have acted in breach. However I cannot hold back without revealing what is in my mind  when I am questioned like this.The politicos in my mind are Chamal Rajapakse and Dinesh Gunawardena . I think  they are good politicos.'
Question :
If a Rajapakse is to field as the candidate at the presidential elections , what is the position ?
Answer :
If  I am to discuss that question I shall be getting embroiled in  issues. Hence I  am not able to go beyond that in this discussion.
Unbelievably , this is the same 'antique'  so called revolutionary Vasudeva who voluntarily gagged himself out of fear of the Rajapakses , and for no other reason. In any event   this disclosure   however clearly reveals the grave issues surrounding  the opposition candidate.
The position is crystal clear  ,no matter who says what. Gotabaya Rajapakse  the American citizen cannot claim eligibility for the candidature  at presidential elections, let alone winning elections. On the other hand Basil Rajapakse who left no stone unturned to form the new  lotus Bud force against the Bandaranaike Radala (noble) force is not going to offer the presidential  candidature to moronic Gota on a platter.  Basil by his announcement at Weligama had confirmed this , and that needs no further confirmation.  It is to be noted Sri Lanka's politics is decided by India irrespective of who says what. Basil is with India while Gota is with China which is a friend trailing  India.
When considering the  two names , Chamal and Dinesh proposed  by Vasu  , the latter was  mentioning Dinesh's name with Chamal  just for its  sake. Undoubtedly ,  it is only Chamal who has not so far been incriminated in any corruption  charges. Besides he has no citizenship issues.  Hence no constitutional  barriers.
Yet , the issues plaguing the family are apart from what Vasu the lascivious bearded 'old goat'   is aware of.
Sashindra's rajayogaya (luck to become 'king')
If Chamal becomes the president , it is certain he will never give prominence to Namal Rajapakse and will only propel his own son , Sashindra Rajapakse.
Mahinda , Shiranthi  and Namal are aware of this much more than us. An interesting  incident that happened some time ago bears testimony to this…
During the time when Mahinda Rajapakse became the president , Sashindra Rajapakse was his private secretary. Mahinda and Shiranthi came to know that Sashindra is possessed of rajayogya  according to his horoscope which  was more powerful and eclipsing  Namal . Mahinda and Shiranthi who strongly believe in horoscopes and myths immediately removed Sashindra from the post .Though other reasons may have had an impact  the main reason was this rajayoga threat .
Mahinda Rajapakse who is famous for his cunning and crookedness , while steering Namal into Parliament  shunted Sashindra to the provincial councils. That is, if any day Sashindra is to become a political leader , Namal will have  a more senior  position and suitability .Today , it is the objective of Mahinda to hold on without lagging behind until Namal reaches the age to contest presidential elections.
If Mahinda has thought that far  way back  in 2005-2007 , surely , he is not going to give in to Chamal Rajapakse and make him the presidential candidate now when he knows Chamal is  digging the grave for Namal  , though the 'old goat'    Vasu the clown  thinks otherwise.
Under the constitution Mahinda who crows any diddle will  do cannot contest presidential elections again. Gota the American citizen who crows yankee doodle too cannot be a presidential candidate .Basil who is also an American citizen too cannot field as presidential candidate. But because Sashindra Rajapakse has the rajayogaya , Chamal who is his father will also not be granted  the presidential candidacy.  In the circumstances , the pro Rajapakse opposition which has countless lackeys hasn't a 'jockey'  for the presidential elections.
It is a well and widely known fact , at  the local elections ,by saying   Mahinda will be the prime minister  votes were collected by the Lotus Bud for its victory .Though  we need not say it  , Basil  the founder of the Lotus  bud and Mahinda Rajapakse are of course fully aware, at  the  presidential elections which is without Mahinda,  votes cannot be won via  the  subterfuge claiming , 'Mahinda  says.'
The true length,  breadth and depth of  Rajapakse's insoluble dilemma  …
Vasudeva in the  final stage of his interview said ,though not in so many words that Rajapakses are in a deep quandary when it pertains  to the next presidential elections.  According to him ,  before the 2020 presidential elections , through a head count subterfuge in parliament , Mahinda Rajapakse must be made the prime minister , then via a constitutional amendment the presidential elections shall be cancelled , and by going for a general election , they can clinch the advantage.
In other words it is very obvious from his enunciations ,  they have no confidence at all that they can win the presidential elections . Therefore Vasudeva has finally via his speech   proved one simple  truth beyond all doubts –  how monumental  the  fear of the Opposition is in regard to the next presidential elections !
Chandra Pradeep
Translated by Jeff
Video footage of Vasu's interview and opposition views are  here under  http://www.lankaenews.com/news/2779/en