The final stages of such talks took place at the Battaramulla residence of S.B. Dissanayake, the juggler of words that he is. He first denied that such meetings took place. Two weeks ago, however, he was self-congratulatory and took pride that he was the man behind the making of a new government. That boast was short-lived. Mahinda Rajapaksa, who resigned as Prime Minister yesterday, berated Dissanayake just days ago in choice Sinhala, some of the words unprintable. He had promised numbers for a majority in Parliament but could not deliver.
The Sunday Times of October 7 revealed exclusively that during talks, President Sirisena had told Rajapaksa it was "extremely difficult" for him to work with the then Premier Ranil Wickremesinghe. He charged that he was scuttling many of his efforts. Cynics called our story an "inspired leak". A concerned western diplomat in Colombo telephoned Wickremesinghe who had by then arrived in London after a visit to Oslo, Norway. The former Premier, who will take his oaths once again this morning, did telephone party seniors from the British capital but decided to go through with his programme. Perhaps he did not think the issue was serious enough to return. Matters could well have taken a different turn if he did.
Sirisena told the Sunday Times (Political Commentary) in an interview published on November 25 that it was between October 20 and 25 that he took a decision that Wickremesinghe should be removed as Prime Minister. He pointed out, "not that I was having discussions with Mr Rajapaksa."  Even to the dumbest, it would be abundantly clear that without any prior knowledge Rajapaksa would not have driven to President's House from a wedding at the Shangri La Hotel to take his oaths as Premier on the night of October 26. He was waiting for a telephone call. Yet, in the same interview, Sirisena said "I did not attend that meeting" at the residence of Dissanayake in Battaramulla. A public admission would have been acute embarrassment for him. It is now well known that he did go.
After all, he was the head of a National government as well as leader of the Sri Lanka Freedom Party (SLFP). None was aware (of the secret talks). It is better explained by a telephone call I received from a Sirisena ministerial confidant. "I am sorry to tell you that your story is wrong. I would have known if there was such a thing," he declared. Sirisena, the lone negotiator, kept it close to his chest. It is now history.
In the ensuing melee for 52 days, President Sirisena vowed he would "under no circumstances" reappoint Wickremesinghe as Prime Minister. He took his "decree" further when he told an SLFP convention on December 4 that even if all the 225 MPs in Parliament wanted, he would not swear in Wickremesinghe. Then he told a delegation of United National Front (UNF) that he would not even appoint anyone from Wickremesinghe's "clique." He also said would not wait an hour is office if Wickremesinghe became Prime Minister.
New PM and Cabinet
Today at 11am the President of Sri Lanka, the Head of Government, the Head of the Cabinet of Ministers, the Commander in Chief of the Armed Forces, Maithripala Sirisena will just do the opposite of what he propagated — he will swear-in Wickremesinghe as the Prime Minister. It was originally planned for Friday night but Premier Rajapaksa had not resigned. Yesterday, President Sirisena was in Diyatalawa at an military ceremony. Either this evening or tomorrow, he will also swear-in members including those of that "clique" in his own Cabinet of Ministers.  He has thus proved that he triggered the country's worst political crisis, rode the high horse, plunged the country into economic chaos and restored the status quo ante without as much a murmur. No speeches, no address to the nation nor an apology to his "Hitha Mithra" or dearly beloved people. If he threatened that he would return to Polonnaruwa instead of swearing-in Wickremesinghe, he still remains in Colombo.
It is only after the Sirisena-Rajapaksa political marriage did they discover that the new government did not have a majority in Parliament. Sirisena prorogued Parliament until November 16. Later, amidst a howl of protests, he advanced the date to November 14.
There were teething troubles after a Cabinet of Ministers were sworn-in. The posts of Minister of Health and the Minister of Petroleum Resources remained vacant. The Attorney General had opined that the two ministry secretaries could not be appointed until the ministers were named. Premier Rajapaksa offered Pavithra Wanniaratchchi the Health portfolio and Mahinda Yapa Abeywardena, Petroleum Resources. Both refused. He then rushed Chamal Rajapaksa (Health) and Gamini Lokuge (Petroleum Resources) to take their oaths.
As Parliament began debating two motions of no-confidence against Premier Rajapaksa, one after another at different intervals, the lack of numbers was the subject of major concern. The sessions showcased to the world some of the worst of rowdy behaviour in the well of the House. The lack of numbers led to a string of discussions between Sirisena and Rajapaksa supported by their own parliamentarians and advisors. It was those from the Sri Lanka Podujana Peramuna (SLPP) who opined that President Sirisena should go for a dissolution of Parliament. The proposal was in keeping with the SLPP's stated policy of demanding early elections. Both sides got working on the move and to examine the legal position after Sirisena was in agreement.
The first to give an opinion was former Chief Justice Sarath N. Silva. He said in terms of the existing Constitution, it was possible to dissolve Parliament. He gave Sirisena a thick file interpreting different clauses of the Constitution and citing provisions that would facilitate dissolution.  Hard on the heels of that came another two-page opinion by Wijeyadasa Rajapakshe, President's Counsel. He also declared dissolution was possible. He was a former Justice Minister and has waxed eloquent as an expert on many a legal matter for the SLFP, the UNP and in Parliament. Profer another to legal advice was Professor G.L. Peiris, once head of the Law Faculty of the Colombo University.
At a discussion chaired by Sirisena, the two opinions were discussed. Faiszer Musthapha recommended that instead of a dissolution, they should go for a referendum. Susil Premjayantha (SLPP), the last Justice Minister and lawyer, was silent. The referendum was to ask voters whether they needed a general election. However, President Sirisena had made up his mind and signed a proclamation to dissolve Parliament. It was gazetted (2096/70) on November 9 and called for elections on January 5 next year. Ironic enough, Sirisena rejected fervent appeals from some of his close aides to go to the Supreme Court for an interpretation of the relevant Constitutional provisions before dissolving Parliament. They advised him that it would take at most three days. The President is constitutionally empowered to seek such an interpretation. But an earlier communication to the Supreme Court over his term of office receiving a negative response seemed to have deterred him from taking that course.
Dissolution order challenged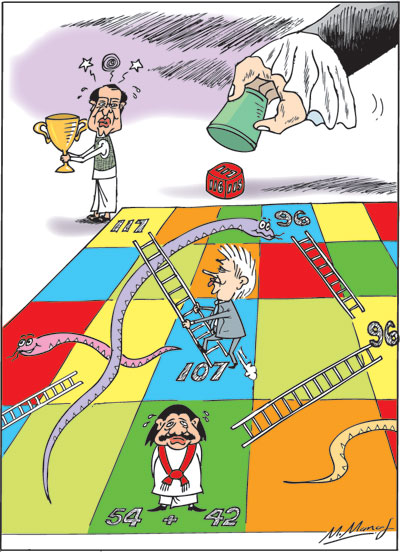 Sirisena's proclamation was challenged in the Supreme Court (SC) by ten different parties who complained their fundamental rights were violated. They included Tamil National Alliance (TNA) leader Rajavarothayam Sampanthan, United National Party (UNP) Chairman Kabir Hashim, Janatha Vimukthi Peramuna (JVP) leader Anura Kumara Dissanayake, Sri Lanka Muslim Congress (SLMC) leader Rauff Hakeem, All Ceylon Makkal (People's) Congress leader Rishad Bathiuddin, National Elections Commission member Prof. Ratnajeevan Hoole and Tamil Progressive Alliance (TPA) leader Mano Ganesan. The names of other members of the parties also appeared in the petition. There were also eight intervenient petitioners.
At a time when corruption has reached dizzy heights, there is an increase in abuse of power, a deteriorating economy, a drop in tourist arrivals, all adding to a poor image to the country here and abroad, there was one thing that made Sri Lankans proud. That was the Supreme Court, the highest in the judicial hierarchy that serves as a Constitutional Court. It acted boldly and independently. This was in the face of veiled intimidation by government leaders. A three-judge SC bench on November 13 issued a stay order on the dissolution of Parliament.
Thereafter, an extended seven-member bench led by Chief Justice Nalin Perera unanimously ruled on Thursday evening that President Sirisena's proclamation dissolving Parliament was unconstitutional. Other members were Justice Buwaneka Aluvihare, Justice Sisira de Abrew, Justice Priyantha Jayawardena, Justice Prasanna Jayawardena, Justice Vijitha Malalgoda and Justice Murdu Fernando.
The decision in this case, the SC ruling said, "rested on the correct manner in which Article 33 (2) (c), Article 62 and Article 70 of the Constitution are to be read, understood and applied. The 60 Petitioners complain that the Proclamation has been issued ultra vires and in contravention of the powers and procedures set out in these Articles and that, therefore, their fundamental rights guaranteed by Article 12(1) of the Constitution have been violated. The essence of the task before us, it pointed out, is to examine these Articles and determine whether or not the Proclamation has been issued in terms of and in compliance with the powers and procedures set out in these Articles."
Here are edited excerpts of significant highlights of the 88-page ruling. The SC said it is "based on the analysis of the nature, effect and meaning of Articles 33 (2) (c), 62 (2) and 70. It is concluded that:
1.  The enumeration of the President's powers in Article 33 (2) includes and specifies the power vested in the President to summon, prorogue and dissolve Parliament;
2.  The President may exercise that power only within the terms of the Constitution and by acting in accordance with the procedure specified in Article 70 and subject to the limitations specified in Article 70;
3.  Any dissolution of Parliament by the President can only be effected by way of a Proclamation issued under and in terms of the first paragraph of Article 70 (1);
4.  By operation of the second paragraph of Article 70(1), the President cannot dissolve Parliament during the first four and a half years of its term unless he has been requested to do so by a resolution passed by not less than two thirds of the Members of Parliament [including those not present]. Even upon receipt of such a resolution, the President retains the discretion to decide whether or not he should act upon such a request;
5.  After the expiry of four and a half years of Parliament's term, the President is entitled, at his own discretion, to dissolve Parliament by issue of a Proclamation;
6.  Upon the expiry of five years from the date of its first meeting, Parliament will dissolve 'automatically' and without any intervention of the President by operation of Article 62 (2);
7.  Upon such dissolution at the end of the five year term, the President must act under Article 70 (5) (b) and forthwith issue a Proclamation fixing a date for the General Election and summoning the new Parliament to meet within three months of that Proclamation.
Chief Justice Perera with his colleagues agreeing noted that "To my mind, the reasoning and conclusions set out above give effect to the first principle of statutory interpretation that the words of a statute must be given their plain and ordinary meaning and that the clear and unequivocal language of a statute must be enforced. The rule that provisions in the Constitution must be harmoniously read and applied so that the scheme of the Constitution can be made effective without rendering any provision superfluous or redundant, is complied with.
"Further, the reasoning and conclusions set out above ensure that the words in the relevant provisions are not strained or twisted in an attempt to reach a conclusion which is not justified by the provisions themselves. To my mind, the effect of this interpretation also accords with the duty cast on this Court to read and give effect to the provisions in the Constitution so as to uphold democracy, the Rule of Law and the separation of powers and ensure that no unqualified and unfettered powers are vested in any public authority. As stated earlier in this judgment, it is an undisputed fact that the Proclamation has been issued before the expiry of the period of four and a half years from the date the Eighth Parliament had its first meeting. It is also undisputed that no resolution has been passed by Parliament requesting that Parliament be dissolved.
"Therefore, on an application of the reasoning and conclusions set out above, I am compelled to hold that the Proclamation has been issued in contravention of the provisions of Article 70 (1) of the Constitution and is, therefore, null and void….."
Justice Abrew's judgment
Justice Sisira de Abrew in a four-page judgement with reference to a petition from the Tamil National Alliance (TNA) declared, "For the above reasons I hold that the Proclamation issued by the President of the Republic… published in the Government Gazette …….dissolving Parliament has violated fundamental rights of the Petitioner guaranteed by Article 12(1) of the Constitution. I have earlier held that the Proclamation issued by the President of the Republic … published ….. dissolving Parliament, is contrary to Article 70(1) and 70(3) of the Constitution; is therefore null and void ab initio; and of no force or effect in Law. For the aforementioned reasons, I make order quashing the proclamation issued by the President of the Republic…..published in Government Gazette …….. dissolving Parliament and declaring the said Proclamation null and void ab initio and of no force or effect in law."
The Supreme Court also rejected the submission made on behalf of the Attorney General and by the added respondents that Article 33 (2) (c) confers a sui generis, independent, overarching and unfettered power upon the President to dissolve Parliament at his sole discretion and without reference to Article 70.  The ruling said "It must also be stressed that, as set out earlier when identifying the relevant principles of the law and statutory interpretation, this Court has, time and again, stressed that our law does not permit vesting unfettered discretion upon any public authority whether it be the President or any officer of the State. The suggestion that Article 33 (2) (c) vests in the President an unfettered discretion to summon, prorogue and dissolve Parliament at his sole wish and without reference to the clear and specific provisions of Article 70 is anathema to that fundamental rule and therefore must be rejected….."
The Supreme Court room was packed and a tight Police security cordon was in place when the Chief Justice read out parts of the order on Thursday evening. Riot Squads and water cannon trucks were on standby. Additional security was also provided that night at several strategic locations including areas outside Temple Trees, the Presidential Secretariat and Sirisena's official residence at Mahagamsekera Mawatha.
As is the case since he swore in Mahinda Rajapaksa on October 26, shocks and surprises came almost daily or in intervals of hours for President Sirisena. Soon after the SC declared that his proclamation to dissolve Parliament was not constitutional, he went into a meeting with legal advisers. The discussion was on what measures he should adopt next. Thereafter, he chaired a meeting of the government parliamentary group at the Presidential Secretariat. It was also attended by Premier Rajapaksa. An angry Sirisena told MPs that he would not allow the SLFP to sign any agreement for a government with the UNP. "If anyone wants to join," he said, no disciplinary action, however, would be taken against them.
Sirisena in for a shock
President Sirisena was in for some shock when the meeting ended. The 21 parliamentarians of the SLFP stayed behind to talk to him. They had met separately earlier and discussed the current political situation. They told Sirisena that they saw no political future for them in the opposition since they would only be left with espousing the cause of the SLPP.  Moreover, they said, it was only by serving a government that they could reach out to the grassroots level and strengthen their party. Yet, they said, they would support Sirisena. Otherwise, they warned, they would also find themselves at a disadvantage to defend Sirisena and extend continued support. Sirisena appeared somewhat shocked but declared "that's your decision." He once again made clear there would be no formal agreement with the UNP to form a government. The point here being that if the SLFPers joined with the UNP in forming a government, it would be a National Government and therefore the Cabinet can go beyond 30, the upper limit stipulated by the 19th Amendment for a single party Government.
However, highly placed UNP sources said they "will not" in toto accept the 21 SLFP MPs and thus "trigger another controversy" with President Sirisena. These sources said nine names from the SLFP have been picked and only they would be taken in. These sources also said there would otherwise be strong opposition from the UNP too.  We are also exploring the possibility of asking the SLFP members to come in their individual capacity, these sources said.
Whilst most in the SLFP group have remained steadfastly loyal to Sirisena and thus to their party, there were more than a handful who were not. They maintained a continuous dialogue with those in the UNP leadership making them privy to what was going on within their ranks. Of course, that was not a one-way street. President Sirisena, too, benefited from a group of UNPers who turned close and influential advisors to him. They kept him apace regularly on what was going on in the UNP leadership levels. They also often told him what steps should be taken to address issues. Their main focus remained activities of ousted Prime Minister Ranil Wickremesinghe and his close allies. Senior SLFPers who attended meetings of Sirisena were surprised he had a "hands on" knowledge of matters being discussed at 'Temple Trees'. In turn, advisors to Wickremesinghe identified those involved. He was livid.
These developments were reminiscent of the government of former President Chandrika Bandaranaike Kumaratunga between 2001 and 2004. In the latter years, her relationship with the then Premier Wickremesinghe became very acrimonious with frequent bickering at Cabinet meetings.
After triggering off the crisis and days went by, President Sirisena began to feel deeply concerned about sustaining the new government. A Vote on Account could not be passed and this meant there would be no money from January 1 next year for any expenditure, not even to pay salaries of state officers. That kept worrying him. A UNF-dominated Parliament would not support him. The two successive Supreme Court rulings and the Vote of Confidence passed with the support of TNA helped thaw relations with Sirisena. Now, Parliament will sit for one day after Christmas (i.e. on Wednesday, December 26) to pass a Vote on Account.
Behind-the-scenes consultations
The composition of a new government was the subject of behind-the-scenes consultations until late on Friday night. Some significant arrangements have been worked out. The 21 SLFP MPs want to join the new government and will retain the same Cabinet, Deputy and State Minister portfolios. They said they would still support Sirisena. In addition, also wanting to join will be six other MPs who joined Sirisena's side – Wijeyadasa Rajapakshe, Ananda Aluthgamage, Ashoka Priyantha, S.B. Nawinna, Dunesh Gankande and former Tamil National Alliance (TNA) parliamentarian S. Viyalendran.
Since Sirisena has prohibited a formal SLFP-UNP tie up, a case is being made for a "national government" by the UNP seeking to form an unusual alliance – one with the Sri Lanka Muslim Congress (SLMC) parliamentarian Ali Zahir Mowlana. Earlier, he was on the verge of being sworn in as Deputy Minister of Health by President Sirisena. Whilst all other SLMC members have contested under the UNP ticket, it is only Mowlana who was a candidate from the SLMC in the east. Thus, funny enough, the UNP alliance under consideration will be with the SLMC through Mowlana and that is to be called a "national government" – a requirement in terms of 19 A to expand the Cabinet of Ministers. It's virtually an exercise to provide more jobs for the boys.
Another significant change most likely is the recognition of Mahinda Rajapaksa as the new Leader of the Opposition. After the matter was discussed, the UPFA General Secretary Mahinda Amaraweera is awaiting the approval of President Sirisena to write to Speaker Karu Jayasuriya that they are in favour of recognising Rajapaksa. The move will mean the ouster of Rajavarothayam Sampanthan, leader of the TNA. Of course, a final decision lies in the hands of Speaker Karu Jayasuriya. The climate of rapprochement appears to favour Rajapaksa.
The TNA has already run into deep controversy after its 14 MPs signed a letter and later supported the Vote of Confidence on Ranil Wickremesinghe to be the Prime Minister. The Central Committee of the Tamil Eelam Liberation Organisation (TELO), a constituent partner, has sent an ultimatum. A resolution adopted by the party says that the TNA should obtain from Wickremesinghe in writing a document demanding, among other matters, the merger of the Northern and Eastern Provinces, the release of prisoners, rescind the Prevention of Terrorism Act as well as release land belonging to Tamils. Three TNA parliamentarians – Dharmalingam Siddharathan, E Saravanapavan and Sri Skandarajah – have told the Tamil media in Jaffna that during a meeting with Wickremesinghe, they had sought guarantees in writing over their demands. They are naturally concerned about votes during an election. However, Abraham Sumanthiran, the main architect who ensured TNA support to the UNP denied the claims and said they would not accept even if a document is given to them in writing by Wickremesinghe. "The TNA support is only to protect democracy," Sumanthiran was quoted as saying. Another highly placed TNA source said, before deciding to back Wickremesinghe as Prime Minister, the alliance had consulted "our supporters and friends abroad." We have received their full support, the source said.
Initially, the Cabinet of Ministers, likely to be sworn in this evening or tomorrow, in keeping with provisions of the 19th Amendment to the Constitution will be 30. It is to be expanded to a larger number thereafter with a proposed motion being moved in Parliament on December 18 to form a "national government." Since President Sirisena has declared that the SLFP would not have any formal agreement, in an unusual move, the UNP wants a formal tie up with the Sri Lanka Muslim Congress (SLMC) for a "national government." This seems the only way out for a larger cabinet though it will remain a burden on the taxpayer and go against the spirit of 19A.
Earlier, Sirisena told an SLFP Central Committee meeting that he would seek an electoral alliance with the SLPP if the Supreme Court ruled that the dissolution of Parliament was constitutional. He said all electoral organisers of the party would cease to hold office. He would personally name successors with the help of a committee, he told the meeting on Friday (December 7). Thereafter, the on again and off again alliance was first discussed between President Sirisena and Premier Rajapaksa.
Later, Sirisena remained as representatives of the two sides continued their meeting. Another planned meeting for last Wednesday (December 12) between the SLFP and the SLPP over the matter did not take place. Convenor Thilanga Sumathipala had not been able to inform members of the committee. Yet, both Basil Rajapaksa, the SLPP ideologue, and Dullas Allahapperuma had turned up. Now, there will be no forward movement on the proposal for an SLFP-SLPP alliance. The SLPP will go ahead with its own plans now.
Late on Thursday night, Speaker Karu Jayasuriya sought a meeting with President Sirisena. Together with ousted Premier Ranil Wickremesinghe, they met Sirisena. It was to request that Wickremesinghe be sworn-in as Prime Minister on Friday. They said the Cabinet of Ministers could be sworn-in thereafter on Monday. A source privy to the discussion said Sirisena had told the duo that he would see what could be done and "did not commit himself." A source close to the Presidency said Jayasuriya proposed a Leadership Council made up of UNP leaders as well as other heads of political parties. They would take decisions on matters of importance like the sale of "national assets" — matters relating to ports, the Trincomalee oil tank farm etc. "Forget the past and we will move forward," Jayasuriya told Sirisena. He said the new government should be disciplined, clean and transparent. Jayasuriya also disclosed that a system of Leadership Council that existed in India was available with him and that was an example to follow.  He said there would be consultation by the Prime Minister in any major decisions taken. The source said Wickremesinghe concurred with Jayasuriya that he will maintain a close dialogue with Sirisena. Earlier, Speaker Jayasuriya has been in close telephone contact with President Sirisena.
This was perhaps in the hope as far as Sirisena was concerned that the Supreme Court would issue an order on Friday vacating the Court of Appeal order that the Prime Minister (Rajapaksa), Cabinet of Ministers, Deputies and State Ministers should not function until the outcome of a Quo Warranto against them is determined. However, the Court unanimously rejected the request for such an order but allowed leave to proceed with the case with two judges in favour. The third, Justice Malalgoda, dissented. The other two members were Justice Eva Wanasundera and Justice Buweneka Aluvihare. The SC also restrained the Court of Appeal from hearing the case until it is determined by them.
Rajapaksa's resignation
Earlier on Friday afternoon, a call from President Sirisena prompted Premier Rajapaksa to hurriedly leave a wedding reception at the Cinnamon Grand Hotel. Throughout the afternoon, the two discussed matters arising from the Supreme Court ruling over the dissolution of Parliament. Rajapaksa had hoped that there would be an SC ruling vacating the Court order. Plans were to summon an emergency meeting of the Cabinet on Saturday (yesterday) and declare that he and the Cabinet would resign on the same day. This was to allow Sirisena to swear in a new UNF Prime Minister, Ranil Wickremesinghe, on Monday. However, that was not to be.
On Friday afternoon, when the Supreme Court was still hearing the case involving the Appeal Court ruling, Rajapaksa summoned a meeting of leaders of the SLPP and their partners. Chairing the meeting at his Wijerama residence, he told them "I cannot embarrass President Sirisena. I will have to pave the way for him to take a decision." In his speech, Rajapaksa cited ancient kings like Walagamba and Wimala Dharmasuriya and said they had been forced to abandon their kingdoms. However, they had re-captured them later. He said he was looking at his actions in this spirit.
Among those in favour of his resignation was Udaya Gammanpila. Ranjit Soysa declared that he was opposed to the tie up but still supported Rajapaksa's actions. An exception was Vasudeva Nanayakkara, who said Rajapaksa should step down only after a Vote on Account is passed. Obviously, the absence of a majority in Parliament was lost on him. Just after the SC rejected pleas to vacate the CA stay order, Rajapaksa summoned a meeting of the SLPP parliamentary group together with other allies on Friday night. He told them he would submit his resignation on Saturday morning (yesterday) after addressing the nation.
If President Sirisena, by ousting Wickremesinghe, thought he would cause disarray in the UNP, he has ended up consolidating the UNP and Wickremesinghe's own position more than ever before. That would naturally enhance Wickremesinghe's claim to be his party's candidate at the 2020 presidential election. There is no gainsaying that he would have to work hard to go beyond the circle of his close friends, deal with corrupt activity amongst some of his then ministers and be more assertive. Instead of outsourcing to young UNPers the task of speaking out for the party, he should take over the leadership challenges and erase the bad image created. Otherwise, the hurdles he has surmounted would be of no avail and he will be at the centre of another confidence crisis.
On the other hand, President Sirisena has lost face – because without good advice or guidance, he has plunged Sri Lanka into a 52 day long chaos. He has been talking on the telephone this week to Wickremesinghe, who will be his Prime Minister again. One is not wrong in saying that the nation expects more deeds from President Sirisena than words. The one who spoke of forming a Cabinet on a "scientific basis" should profit by the blunders he has made. More so when he is aware that he has provided strong grounds for an impeachment after the Supreme Court ruled that he violated the Constitution. The government that will now be appointed has more than two years (February, 2020) in the minimum according to the 19th Amendment and till August 2020 for a full term and therefore has a greater responsibility to re-calibrate the nation.