SLFP splits over SLPP tie-up, but Rajapaksa's group lays down conditions
Some sections wanted agreement by January 15, but Pohottuwa leaders insist that full procedures must be followed before any alliance is formed
Questions of rationale raised as President also seeks thaw with UNF and compromises on subjects given to ministers
MoD reaches defence agreement with powerful country, giving it access to Sri Lanka's facilities
 He has etched his name in a controversial chapter of Sri Lanka's political history with mistakes that stunned a nation and faced ignominy over violating the country's Constitution.
Now, just five days after the dawn of 2019, President Maithripala Sirisena appears set to create more records, be it for good or for worse. It comes in the backdrop of issues that have overflowed from last year. One is the hearing by the Court of Appeal (CA) of a case where the appointment of Prime Minister Mahinda Rajapaksa on October 26 is being challenged. Rajapaksa, however, resigned after the Supreme Court ruled that the dissolution of Parliament was unconstitutional. This paved the way for the return of Ranil Wickremesinghe as Prime Minister. The CA, nevertheless, was set to resume hearings on January 11 but a Supreme Court (SC) order has halted it.
It was after an application in the SC challenging the CA for issuing a stay order that prevented the then Premier Rajapaksa, Cabinet Ministers, State Ministers and deputy ministers from functioning in office. The SC will hear the case further on January 16, 17 and 18. The judgment on this case will impact on actions which Sirisena took, whether they were constitutional or not. Since a new United National Front (UNF) government is now in place, the outcome will largely be academic though it is of great importance. That will reflect on Sirisena's governance in the past four years on the one hand and his political career cum future on the other. Tomorrow (Monday), the SC will hear petitions that challenge the ouster of Premier Wickremesinghe.
These aspects appear important for President Sirisena. In that midst, his actions in the past few days are riddled with contradictions. He is blowing cold sometimes and hot at other times. This facet of his political character is not unknown if one is to go by previous instances. Yet, they increasingly raise serious questions over national well-being and the country's image.
For example, he removed Ranil Wickremesinghe as Premier and vowed not to appoint him even if 225 MPs in Parliament wanted it. He was forced to do just that. Wickremesinghe returned stronger than before and remains in a dominant position in his United National Party (UNP). If that was bad enough, the worst were what happened to his own Sri Lanka Freedom Party (SLFP) parliamentarians after the others walked into the Sri Lanka Podujana Party (SLPP). Like in a war, they suffered the political collateral damage from the exercise. They lost their portfolios and thus the perks that go with them. Their own nominees who were found positions in ministries, departments and corporations became refugees. That has seen the birth and slow growth of an anti-Sirisena group within his own Sri Lanka Freedom Party (SLFP). There are reasons to believe they are becoming vociferous.
The after-effects of his actions also reverberated in the Tamil National Alliance (TNA) which has been supporting the UNF. Its leader Rajavarothayam Sampanthan lost his position as Leader of the Opposition. At a party leader's meeting on Friday in Parliament, Speaker Karu Jayasuriya reiterated that he would continue to recognise Mahinda Rajapaksa as the Leader of the Opposition. It was just last month that the TNA's 14 MPs supported Wickremesinghe to become the Prime Minister by adding their numbers to a majority of more than0 113 in Parliament.
It is in this climate that President Sirisena, as SLFP leader, chaired a meeting of the party's Central Committee on Thursday at his Mahagamsekera Mawatha residence. It saw the replacement of Professor Rohana Luxman Piyadasa, a Mass Media don at the Kelaniya University as the party's General Secretary. Though not in any way a bad reflection on Prof. Piyadasa, historically most major political parties have had serving politicians as their General Secretaries. It was the UNP under J.R. Jayewardene which initially replaced politicians by removing joint secretaries Gamani Jayasuriya and Jinadasa Niyathapala, who were Dudley Senanayake loyalists and installed Anandatissa de Alwis, but the change-over de Alwis also went on to contest elections and Harsha Abeywardene took over. The UNP has reverted to having a serving politician as General Secretary. Since removing Anuradhapura District MP Duminda Dissanayake, known to have close affiliations with the UNP, Sirisena brought in Piyadasa in June last year. Under Sirisena's charge there have been four different General Secretaries for the SLFP in as many years.
Now, Dayasiri Jayasekera has been named as the acting General Secretary. This is after Sirisena stripped all former SLFP electoral organisers of their positions. He declared that he would appoint only suitable persons and leave out others. This has led to the formation of a caucus. They held a news conference at the Public Library on Thursday. The group is led by Attorney at Law Rajika Kodituwakku who has been functioning as Co-ordinating Secretary to the President and SLFP organiser for Kesbewa.
He has since resigned as Co-ordinating Secretary. Among those in the group are organisers for Kegalle and Beruwala, members of provincial councils and Pradeshiya Sabhas. "We have explained to President Sirisena why we are opposed to his moves to form an alliance with the Sri Lanka Podujana Peramuna  (SLPP)," he said. "The current impasse was because the SLFP Central Committee took impractical decisions which could not be implemented," said M.N.M. Amjad, former SLFP organiser for Beruwala electorate. Added G.H. Buddhadasa, onetime Chairman of Kaduwala Urban Council and former SLFP co-organiser for Kaduwela: "We believed in President Sirisena and waited for three and half years. We suffered a serious setback at the local polls," he said.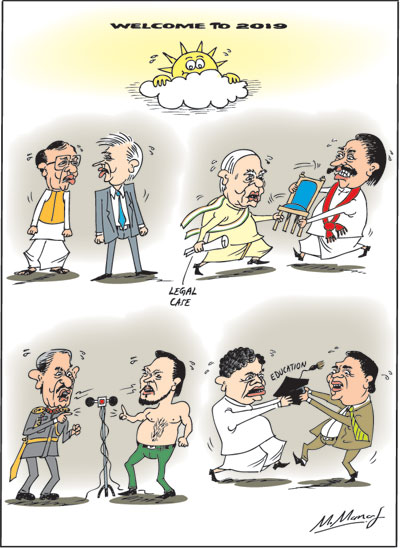 Speakers at the news conference praised former President and the then SLFP leader Chandrika Bandaranaike Kumaratunga, now a staunch backer of the UNP. There are fears within the Sirisena faction that Kumaratunga is engaged in behind-the-scene moves to capture power in the SLFP. This was the main reason for the closure of the SLFP headquarters before Sirisena went on a private visit to Thailand. Sections in the SLFP claim that his move to strip electoral organiser titles was also aimed at weeding out Kumaratunga loyalists. In the same way, at least one Governor among all those who resigned, was not re-appointed for the same reason. Another Governor who was already facing charges of bribery (when he took office) was not re-appointed for allegedly involving himself in irregular land transactions in the area he was Governor and for overspending. This week Sirisena appointed Azath Sally as Governor of the Western Province, though he could not even win a ward at last February's local polls to the Colombo Municipal Council. He was nominated councillor on the SLFP list. There were also issues with M.L.A.M. Hhisbullah who has been named Governor for the Eastern Province. In September last year he was arrested by CID detectives together with his son and produced before at the Valachenai Magistrate's Court. It was on allegations that he used machinery belonging to Sri Lanka Building Construction Society to construct a private university on a fifty acre site in Punani, Batticaloa. That apart, there is more trouble brewing in the SLFP.
Why did President Sirisena hire and fire Piyadasa even before he concluded one year in office? The fact that some, if not a substantial number of his choices to positions, both in Sri Lanka and in the overseas diplomatic missions have not lasted long or are amateurs is all too well known. Examples include the office of President's Secretary which has seen three incumbents and the post of Defence Secretary four incumbents.
Questionable defence deals
In the case of the latter, most Sri Lankans, including UNF frontliners, are blissfully unaware that agreements have been signed with an important foreign government without proper consultation or studying the implications involved. In one such instance, practically every single security apparatus of this powerful country dealing with different defence issues have gained legitimate access to Sri Lanka. For that country's former envoy once quipped to a friend, "if we cannot win them over, let us get whatever we can get for us." That worked with only little effort.
Parliament has not been told about these defence deals. Only cursory Cabinet approval has been granted. It is no secret that most ministers do not study cabinet memoranda ahead of their being approved. They also lack the expertise and the depth to examine issues in a broader context. This is besides the gross ignorance of most over geopolitical issues. In this particular instance, the bureaucrat involved in the exercise was rewarded with stints at one of the world's leading institutes of learning among other matters. The Sunday Times has seen the lengthy renewed document signed on behalf of the country by this bureaucrat together with related papers. If the previous one ran into a few pages, the latest is a thick volume, each defining a particular arrangement. Its far reaching implications would be felt only as time goes by and the provisions take effect one by one. That led to claims being made by another powerful country which also won its way.
In the case of overseas appointments, amateurs have been posted causing considerable embarrassment to the country. An example was about a lady appointee. Sri Lankan diplomats in this key capital said the husband used the official vehicle, with the national flag flying, to visit tourist destinations. The practice is that the flag is not posted in the vehicle when the head of mission does not travel. Only saving grace for the country has been the role of career diplomats serving as heads of missions barring one or two political appointees.
The appointment of another head of mission was a believe-it-or-not story. A Colombo District UNP parliamentarian, who has been strongly critical of his own leader, sought an appointment with Sirisena on behalf of a onetime hotelier. He was a voter in his electorate and sought a job in a diplomatic mission specifically as a first or second secretary level. He ended up receiving a head of mission appointment. The duo were pleased since the hotelier was receiving a higher position and the MP was being rewarded just because he was critical of his boss and saying so to those who matter.
Electoral arrangement with SLPP
Why did President Sirisena switch the SLFP General Secretary with the dawn of the New Year? A high ranking party member, who did not wish to be identified, explained the reason. "He wants to strengthen the party at the grassroots level purely to be in a strong bargaining position with the SLPP to form an alliance before any election," he said. "Working out an electoral arrangement," he declared, "is our highest priority at the moment." These remarks underscore the ever growing reality that the SLFP cannot go it alone at any poll. Adding to that is an even more growing reality — should President Sirisena choose to contest as a presidential candidate, his only hope now lies with the SLPP. Will he succeed in getting the SLPP's support?
The new acting SLFP General Secretary Dayasiri Jayasekera told the Sunday Times, "I will try to bring unity among other parties with whom we hope to team up to contest the elections. There may be differences. For the time being, we have to forget them." He added, "The former General Secretary Rohana Luxman Piyadasa resigned from his post. The President nominated me as the Acting General Secretary. It was unanimously approved at the CC meeting. The President directed that within the next four months, party organisation at the village level should be revamped. The President said he would also nominate electoral organisers to the vacancies. We hope to improve the party structure within the next four months when we could face an election. All these programmes will begin next week."
Confirming further the moves for an electoral alliance was Nishantha Muthuhettigama, the SLFP's Galle District MP who was present at the CC meeting. He told the Sunday Times, "The entire meeting was focused on preparations for future elections. The party will be fully revamped during the next four months. The President said it was decided that a broad national front should be formed. The support of all possible parties should be obtained for this purpose.  This programme will also be completed in four months, he said. The President also said they had no issues with the SLPP and they (SLFP) would have to contest elections with the SLPP."
The next day (Thursday) outgoing General Secretary Piyadasa told a news conference, "In future, our party symbol can be changed as we forge an alliance and create a progressive, nationalistic leftist front that loves and protects the country. We are calling everyone to forget differences and join this new alliance." Acting General Secretary Jayasekera, strongly criticised TNA frontliner M.A. Sumanthiran for his remarks that a new Constitution would be presented in Parliament before February 4. He pointed out that on January 9, 2016 Premier Wickremesinghe set up a Constitutional Council. Thirty-three different points were presented as factors for a new Constitution. Now, instead of pursuing this an expert committee was trying to directly submit a draft. "We are strongly opposed to it," he declared. The SLPP shared the same view and it now appears doubtful whether new Constitution could be approved by Parliament. There will be no two thirds majority.
Ahead of elections, be it provincial, presidential or parliamentary, the SLFP has pinned all its hopes on a tie-up with the newly emerging SLPP. His recent assertions notwithstanding, periodically President Sirisena has also displayed signs of thawing his relations with the UNF. Again, his subsequent actions that run counter have raised questions of rationale or reasoning. More on that later. The only certainty at present is his priority push for a tie-up with the SLPP.
However, it is a different story on the other side of the equation. SLPP and SLFP delegations met just a few days ago. The SLFP side was keen to reach accord on an agreement for an alliance before January 15. However, the SLPP was strongly opposed to the move on the grounds that procedural issues would have to be sorted out first. Both sides had agreed earlier that the name of the alliance would be Sri Lanka Podujana Peramuna. The emphasis is on Podujana (People's) of the SLPP rather than Nidahas (Freedom) of the SLFP.
Yet, there is wrangling over many issues. The main one is that the SLPP will not negotiate with the United People's Freedom Alliance (UPFA). Instead, it will talk only with the SLFP. It has been made clear that talks with any other UPFA constituent partner, will be held only if it makes individual requests to the SLPP. In other words SLPP's talks will only be bilateral. SLPP delegation leader Dinesh Gunawardena made the issue clear. This led to calls by the SLFP side for a meeting with both Mahinda Rajapaksa as well as Basil Rajapaksa, the chief architect of the SLPP. The former President was not available on the dates suggested and the meeting did not materialise. The issue was further discussed at a meeting of partner leaders of the SLPP on Thursday.
On the drawing boards is a list of important demands which the SLPP wants its SLFP counterparts to fulfil. Among them is a demand that a proposed Executive Board that will run the affairs of the proposed alliance should have 51 percent SLPP or majority representation. In return, the SLPP is to assure a "formidable place" to the SLFP. Another is the requirement that individual parties would have to organise their branch structures since the proposed alliance will not have them. Another matter which will become critically important is the basis on which candidates will be picked from either side.
Some of the issues that have not been discussed so far are likely to surface. One is the programme which Sirisena declared ahead of the presidential election in January 2015. He has been telling confidants that as far as possible he preferred to stick by those policies. The question is how they would be juxtaposed with those of the SLPP and how much the latter would concede. The SLPP is upping the ante for a number of reasons. One is its perception, correctly, that the SLFP is now a weak party. They (SLFP) will not be able to win an election on their own. Secondly, given the circumstances, President Sirisena is left with little or no choice but to lean on the SLPP. Thirdly, SLPP seniors claim more SLFPers are now making overtures to join the SLPP ranks since they have emerged as a large political party.
In essence, the dilemma for President Sirisena in 2019 is relatively more than the political turmoil that plunged the country into chaos for 52 days last year. There, he derailed a government causing confusion, economic damage and triggering international concern. Contrary to all what he said, he was able to put it back on track though it will take weeks or months for real normalcy to be restored.
Sirisena's thaw with the UNF
It is now a different scenario where, Sirisena, the onetime General Secretary of the SLFP, has lost the party's grassroots level base. He finds himself politically isolated and sans the support of the UNP, which backed him to power. Ironically, his political future now rests in the hands of the man who he so vigorously ousted and slammed from public platforms just four years ago — Mahinda Rajapaksa. For what compensates for his weaker sides, he makes up with his Sinhala oratory from political platforms.
Whether these developments have been the cause or otherwise, President Sirisena has shown signs of somewhat thawing in his relations with the UNF. After re-instating Ranil Wickremesinghe as Premier, he was emphatic that assigning subjects to ministers would be his prerogative. He was livid with one minister who likened him to the lowest breed in the canine world in a video that went viral. Yet, he restored to him all the subjects that the particular ministry held before Wickremesinghe was removed as Premier.
Some UNPers say this was the result of the work of a broker from their party, now very close to President Sirisena, making a plea on the minister's behalf that all subjects should be given back. He is regarded as a close friend of the minister in question. Interesting enough, late last year, when the same minister was to visit an Asian country for an important conference, he could not obtain an appointment with President Sirisena to brief him. The broker phoned the President after learning of it and got the appointment pronto.
Yet, there were other signs. Premier Wickremesinghe appealed to President Sirisena this week for re-allocation of subjects, a move through which he could satisfy some disgruntled ministers. That worked. Sirisena explained that the allocations were worked out by his Secretary Udaya Seneviratne after studying previous practices. He asked Wickremesinghe to come out with his own list. One of the changes contemplated is the shifting of selected institutions from the Ministry of Plantation Industries and assigning them to Lakshman Kiriella, Minister of Public Enterprise, Kandyan Heritage and Kandy Development.
President Sirisena sat through the first ministerial meeting of the UNF cabinet on Wednesday. The focus was on raising money.  There was an exchange of words between Finance Minister Mangala Samaraweera and his predecessor Ravi Karunanayake. It was over a proposal by Finance Minister Samaraweera to obtain US dollars one billion from the National Savings Bank. Karunanayake, who sought the finance portfolio but failed, argued it was detrimental. The politically battle-hardened Samaraweera had a diplomatic approach. He said he was willing to consider it if Karunanayake had an alternative proposal. There was none at that time. The request was approved by ministers with only Karunanayake dissenting.
Ministers also approved a memorandum re-submitted by Samaraweera to effect further amendments to the Inland Revenue Act to "provide relief and smooth implementation" of tax laws introduced last year. Highlights appear in a box story on this page.
UNP's strategy for polls
It is not only the SLFP that is facing woes with just one year for scheduled presidential election. The United National Party (UNP) is on the same page but for different reasons. It has won approval at the Cabinet to launch its rural emancipation programme but there are fears of the available time frame. It is compounded by more fears that possible Provincial Council elections may turn out to be a spoiler. Yet, senior UNPers say the upcoming budget proposals will set the scene for the party. "We will build on that," said one of them.
A major issue which UNP leader Wickremesinghe faces, as reported in these columns earlier, is who will be the party's candidate at the next presidential election. Opinion is building both in favour of Wickremesinghe as well as his deputy Sajith Premadasa. This no doubt portends a rift of significant proportions as the clock ticks by.
Wickremesinghe has also been deluged with requests from his party MPs for cabinet portfolios. How MPs with heartaches will react towards their leader will also be a factor.  A cross section of view reflects the mood in the party. Here is what they told the Sunday Times.
L. Ananda Wijemanne (Kalutara District): "We worked hard. Cabinet portfolios were given were given to thieves and others undeserving. Why cannot our leader give senior members seated in the back rows in Parliament? When I took up the matter with Premier Wickremesinghe, he said he will see about it in the future. The leaders move with people only when they seek power. Once they get it, they forget the people."
Thushara Indunil Amerasena (Kurunegala District): "I wrote to the party secretary that I am also eligible to receive a ministry. I also mentioned that I am not making any demands to push the party to the wall. There are 13 deputy minister positions remaining vacant. They should be given to the deserving MPs. Corrupt persons should be left out."
Hector Appuhamy (Puttalam District): "Members who are seated in the back rows had a discussion with the Prime Minister last Sunday. At the meeting we pointed out that though we were seated in the back, it did not mean we were not senior politicians. During the political turmoil I spent 50 days at Temple Trees. It was only two days I was not present there. The leader should consider us as well. We are the working elephants which draw crowds. It is unjust if working elephants are put aside. Only parading elephants are given portfolios."
Chaminda Gamage (Anuradhapura District): "It is good if portfolios are given to active Parliament members who work for the people. I am also a senior politician coming from a political family."
V. Radhakrishnan (Nuwara Eliya District): "I had a chat with the Prime Minister on Thursday. He said I would be getting a non-cabinet rank ministry. I may get it by next week."
Come what may, one of the criticisms both President Sirisena and Prime Minister Wickremesinghe face is an uncomplimentary sobriquet – that they have both dented their parties in different ways.
Highlights of major changes in tax laws
The Cabinet of Ministers on Wednesday approved a memorandum re-submitted by Finance Minister Mangala Samaraweera to "facilitate effective implementation" of tax laws that came into effect from April 1 last year.
The result of "post implementation" review, the changes will come in the form of more amendments to the Inland Revenue Act of 2017. The changes are to take effect from year of assessment 2018/2019. Here are highlights:
The cost incurred for the freehold of land or leasehold of land for not less than 33 years up to a maximum 50% of the total investments proposed to be considered as a part of investment other than investment made on land for the purpose of real estate development. In the case of mixed development projects, the cost of land will be considered on proportionate basis. Consequently, the concession granted for new investments as provided under Second Schedule will be renamed as "Investment Allowance."
The investment is proposed to be completed within a maximum project implementation period of four years or commencement of commercial operations whichever comes earlier and the "Investment Allowance" proposed will be granted for the year of assessment on which the project implementation period is completed.
The Strategic Development Projects Act No 14 of 2008 and the Inland Revenue Act No 24 of 2017 are proposed to be amended to accommodate projects with more than US$ 1 billion of investment for a special incentive package under the Strategic Development Projects Act No 14 of 2008.
The cost of assets comprised of lands and building held by a business as at September 30, 2017 also proposed to be considered as equal to the market value as at that day, for the purpose of computation of the gains from realisation of such assets.
In order to encourage the investments in Information Technology sector, the requirement of minimum 50 employees for the eligibility to additional deduction of 35 % of the salary expense is proposed to be removed.
The "gross income" is proposed to be the total income excluding the investment income. Provided that, the concessionary tax rate of 14% should be applied only for the income from an activity eligible for the concessionary tax rate. The investment income of such company should be liable for income tax at the rate of 28%.
The service fee paid by a resident person who is engaged in export, to a non-resident person for the purpose of obtaining of its laboratory services/standard certification to comply with the requirements of the export market (s) is proposed to be exempted from income tax.
In the case of Human Resources Agencies the 5% WHT (withholding tax) is proposed to be applied on the amount of Commission but not on the total payment made to them. (i.e. Total Receipts – The payments made to the workers).
WHT rate applicable on the royalty payments made to residents should be reduced from 14% to 5%.
Such part of the profits and income from the manufacture and sale or import and sale of any liquor or tobacco product should only be made liable for income tax at the rate of 40%, maintaining the status quo prevailed as at March 31, 2018. Any business entity which serves or sells liquor or tobacco as part of its business shall be liable for income tax at the rate of 28%.
Agricultural income, earned by the Small Scale Agro Entrepreneurs, from the cultivation of any agricultural produce such as tea, spices, coconut, rubber, paddy, fruits, vegetables etc. to be exempted from income taxation for a period of five years.
Income tax rate and profit on processing Small and Medium Scale Industries using local agricultural commodities to be reduced from 28 % to 14 %.