A senior State Department official told a Congress Sub Committee last Tuesday that Washington had made clear to President Maithripala Sirisena and other senior officials that Lt Gen. Shavendra Silva's promotion to Commander "will significantly curtail bi-lateral co-operation with the Sri Lanka Army under the US law."
The reference was made by Alice G. Wells, Acting Assistant Secretary of the Bureau of South and Central Asia in the State Department. She was testifying before the House Foreign Affairs Subcommittee on Asia and the Pacific. She and another official said accountability for Lt. Gen. Silva and other perpetrators "could lead to easing restrictions and greater military engagement." Just weeks earlier, Ms Wells was in Sri Lanka meeting both government and opposition leaders.
She told the Subcommittee, "We are deeply concerned by the appointment of Lt. Gen. Shavendra Silva as Army Commander and the negative message the appointment sends for Sri Lanka's "purported commitment to post-war accountability." She added, "The allegations of gross human rights violations against him, documented by the United Nations and other organisations, are serious and credible. The appointment undermines Sri Lanka's international reputation and its commitments to promote justice and accountability, especially at a time when the need for reconciliation and social unity remain paramount."
Ms Wells' remarks, a Foreign Ministry source said, underscored the attention the US was paying to the issue. However, President Sirisena has stood by his appointment and contended strongly that the allegations against the Army Commander were not correct, the source said.
Ms Wells said, "We look forward to continuing our work with Sri Lanka on these and other issues and will actively press our human rights agenda with whichever candidate emerges victorious from next month's election."
---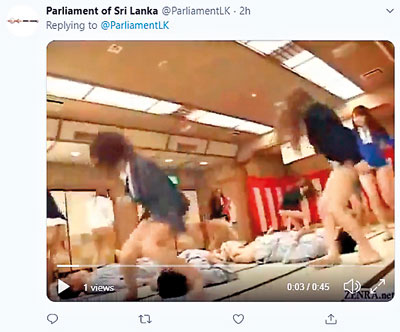 Porn twist on Parliament twitter
Sri Lanka Parliament's official Twitter account @ParliamentLK followers were stumped on Friday evening when it suddenly tweeted out a pornographic video. The 45 second clip appeared suddenly amid a series of other tweets that had been sent out by the account containing highlights of this week's sittings.
The offending tweet was deleted soon after the Sunday Times reached out to Parliament officials over the incident. They stated that the account had been compromised but that they had regained control.
@ParliamentLK tweeted out an apology yesterday: "Unfortunately we had some issues with our account last night. We apologise for the content that has been briefly on our timeline. Our account is fully reset now. We are back and functioning."
The internet, however, does not allow you to forget simply because you deleted something. Screenshots of the video were all over Twitter, with one user asking whether this was "Your tax rupees at work?"