By S. Rubatheesan

P.S.M. Charles, the newly appointed, first woman Governor of the Northern Province, who also happens to be a native of the region and a senior public servant, is looking forward to fulfilling people's aspirations.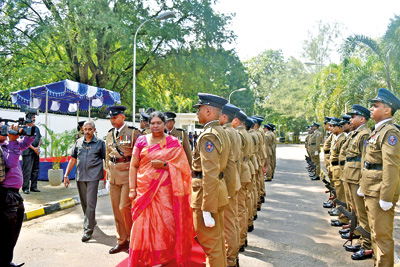 P.S. M. Charles receiving a guard of honour
She was born and bred in Ilavalai, Jaffna.
Ms Charles was sworn in by President Gotabaya Rajapaksa on December 30.
She assumed duties on Thursday at the Governor's Secretariat, where she was welcomed with a guard of honour by the provincial police. Her family was also present.
"I was instructed to address the needs and heal the past wounds of the war-affected people in the province. The Presidential Secretariat assured it will grant powers and support to provide whatever is required for this, and other things that northern people were deprived [of] in the past," Ms Charles said at the ceremony.
Earlier, she served as secretary to the Ministry of Health and Indigenous Medicine, and before that, as director of Sri Lanka Customs. She had also served as district secretary in Vavuniya and Batticaloa.
When the Special Grade Officer of the Sri Lanka Administrative Service (SLAS), was offered the post, she had hesitated, since she was at the pinnacle of her three decades long service. Her four daughters had felt the same, but her husband had persuaded her.
"I'm here today because of my family. I accepted the post to serve my native land. Even though I served in other parts of the region, I'm thrilled to be appointed to serve in my native place. I urge everyone of you to assist me in the journey to serve the people of this region," she said.
She was named a month after appointments of others provincial governors by President Rajapaksa who overwhelmingly won the presidential polls on November 16.
President Rajapaksa explained to media heads at a recent breakfast meeting at the Presidential Secretariat earlier this month that no one was willing to take up the post considering the practical difficulties and different political opinions of the Tamil National Alliance (TNA) which represents the north in the Parliament.
To release her from SLAS and voluntary early retirement, President Rajapaksa had to submit a Cabinet paper to ensure Mrs Charles is provided with all the benefits of a senior public official.
"I consider that the decision to appoint me as Governor by President Rajapaksa is to serve the needs of the war affected region of the north and to fulfil their expectations," Governor Ms Charles, said while emphasising she feels the heartbeat of the people in the area.