Jam for the Barmy Army as tourism tries to counter virus
By Nadia Fazlulhaq

The tourism industry is resorting to desperate measures to counter the effects of COVID-19 on cruises, flights and Chinese travel to Sri Lanka, wooing the Barmy Army with attractive tours and offering discount packages to Indian tourists.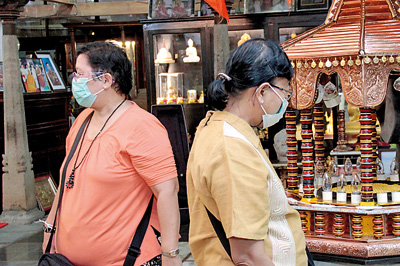 Tourists at Gangaramaya Temple. Pic by Indika Handuwala
According to Sri Lanka Tourism Development Authority, "Last month tourist arrival was 207,507. This was a drop from January's 228,434. There was a 6.5 percent drop in arrivals in January and a further drop of 17.7 percent in February. Last year in February tourist arrival was 252,033."
Chinese tourist arrivals went down by 92.5 per cent between January and February. Last year, about 160,000 Chinese tourists arrived in the country.
Last month, the highest arrivals were from India (35,309), the United Kingdom (26,348) and the Russian Federation (20,948).While all countries showed a drop in tourism compared to last year, Russian arrivals saw an increase of 61 per cent, the tourism authority said.
"This could be due to the outbreak of COVID-19 coupled with the effects of [the April 2019] Easter attacks," the authority said.
The country attracts overseas tourists to the southern coasts and central hills from December to March. "Due to coronavirus [COVID-19] we are losing a lot of tourists during this peak travel period," Sri Lanka Hotels Association past president Srilal Miththapala said.
Although Sri Lanka is portrayed as a safe country, there is a general fear of travel or of being at airports and travelling by air when an airborne disease has reached epidemic level, he said.
He said the tourism industry had been recovering after last year's Easter Sunday attacks, buoyed by promotional work by vloggers invited to visit the country and with travel packages, but as coronavirus was a global problem the local authorities could do very little about countering it.
Mr. Miththapala said the cancellation of this year's leading travel and trade show, ITB Berlin, due to the coronavirus outbreak would badly affect both local and international tourism stakeholders.
"Until this pandemic is brought under control the authorities should make sure they look after the industry with financial support while promoting domestic travel," he said.
"The only way to keep tourists coming is to highlight the fact that Sri Lanka is a safe tourist destination with a good medical system," Mr. Miththapala added.
He said airline restrictions would choke European arrivals and there would be a particularly sharp drop in Italian tourist numbers because of the outbreak of coronavirus in Italy. Last month, prior to the outbreak in their country, 3,037 Italian tourists visited Sri Lanka.
Tour operators and travel agents are being severely hit by cancellations which are currently running at 25-30 per cent, lack of forward bookings, a drop in leisure travellers and the halting of disembarkation from passenger cruise ships Sri Lanka Association of Inbound Tour Operators President Mahen Kariyawasam said.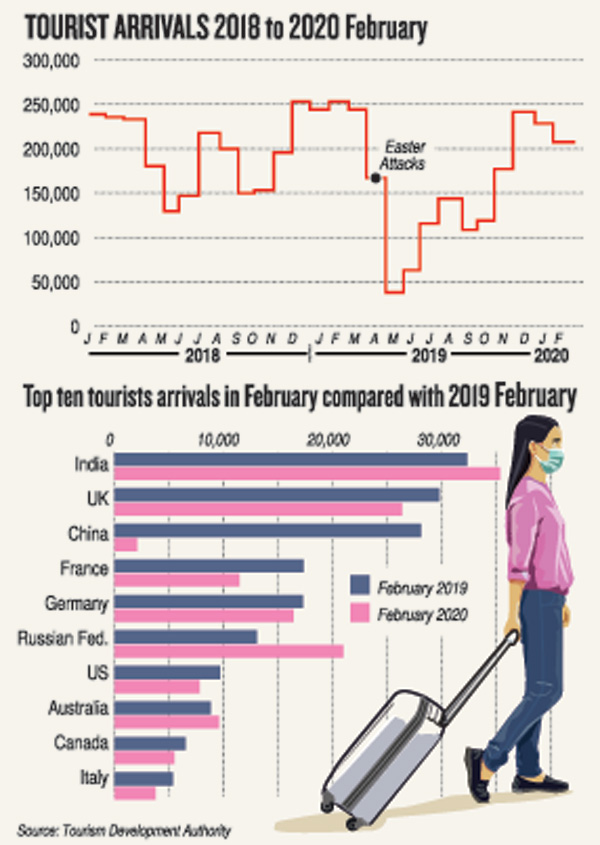 Earlier this week, the Director-General of Health Services, Dr. Anil Jaasinghe, instructed port officials to not allow passengers to disembark from cruise ships at ports as a measure to prevent possible coronavirus cases from entering the country.
Last month, 4,169 British cruise tourists arrived by sea along with 2,068 from Australia, 1,680 from the United States and 1,639 from Germany. Last year, more than 16,000 tourists arrived in the country via sea.
"Passengers from cruise ships bring a lot of business to city hotels, souvenir shops and boutiques, shops in malls targeting high-spending foreign tourists, local pubs and restaurants. All of these will be affected by this measure," Mr. Kariyawasam said.
He said inbound tour operators are joining the national carrier, Sri Lankan Airlines, in introducing promotional packages targeting Indian tourists.
Mr. Kariyawasam said local tourists will have many offers in the coming months as hotels are experiencing foreign tour group cancellations and fewer new bookings.
"First the Easter Sunday attacks, then the presidential elections, now coronavirus outbreak, then again elections – Sri Lanka's tourism industry is exhausted with these events and incidents," the President of Hoteliers of South, Shamindra Fernando, said.
"The Barmy Army and English cricket fans will bring hope to our hotels, especially in the south when they arrive for the England cricket tour," he said.
"We are all really looking forward to the upcoming tour – the England Team is there, so we most definitely will be, too. All of us are thoroughly looking forward to the test matches and visiting Sri Lanka," Emily Newton, Operations Manager of the Barmy Army told the Sunday Times.