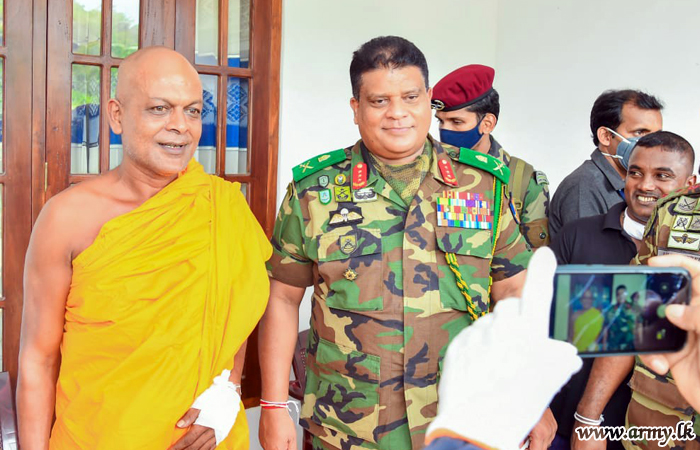 The head of Sri Lanka's army, who is currently barred from travel to the US over his role in overseeing war crimes, met with a Sinhala Buddhist monk who has repeatedly spread hate speech and was caught on camera assaulting a Christian man, as he visited the Eastern Province last week.
Shavendra Silva, the former head of the army's 58 Division which is reported to have committed grave violations of international law, met with the controversial monk as part of a high level defence delegation to the East. On the trip, Sri Lankan Defence Secretary and another alleged war criminal, Kamal Gunaratne, pledged to Buddhist monks in Amparai that the military would protect archaeological sites through the establishment of a naval sub-unit in Muhudu Maha Viharaya and enact harsh punishments for "vandalism".
During the visit, Silva was pictured with Ampitiye Sumanarathana, a monk notorious in the region for his hate speech.
Last year, the monk was caught on camera assaulting a Christian man in Batticaloa, in a clip that was shared thousands of times on social media.
In 2016, the monk threatened to kill a Tamil government official in Batticaloa, calling him a "Tamil dog."
Following the visit, Sri Lanka's president Gotabaya Rajapaksa met with senior clergy members and pledged the establishment of a military task force to protect Buddhist sites in the East.
Related Articles: 23 May 2020 : Sri Lankan president pledges military will protect Buddhist sites in east23 May 2020 : "Damages to national heritage will not be tolerated" – Sri Lanka's Defence Secretary31 December 2019 : Video of Sinhala Buddhist monk assaulting Christian man goes viral16 December 2016 : Chief Buddhist monk from Batticaloa released on bail09 December 2016 : TNA urges government to relocate chief Buddhist monk from East16 November 2016 : Protest in Batticaloa against Buddhist monk's racist verbal abuse13 November 2016 : Buddhist monk tells Tamil govt official – 'you Tamil dog, I will kill you'