Sri Lanka's Shoora Council had decided to felicitate all Muslim parliamentarians who were elected at the August 5 parliamentary election.
Shoora is the Arabic word for consult and its role is like a counsel. Of course, in Sri Lanka, the council's key members also play an active role in many other Muslim bodies.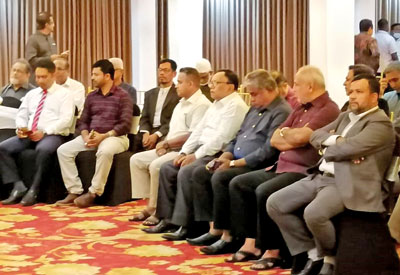 At the Sri Lanka Shoora Council reception – Rishad Bathiudeen (ACMK) and Rauff Hakeem (SLMC)
The council sent out colourfully printed invitations to all new Muslim parliamentarians. The event, it said, would be held at the Rosewood Ceylon at Hospital Road in Dehiwala at 7 pm on August 20, the day the Parliament convened for the first time. The reception facility was earlier named Shahran Hall. The name change came after Muslim extremist Zahran was identified as the leader in the Easter Sunday attacks and gained notoriety.
When it came to the felicitation hour of 7 pm, council top rungers were unaware something else was going on. A formidable group of Muslims were angry that the event, which they claimed would 'polarise' the community, was under way.
They told SLPP alliance MPs not to attend the event and alleged that most council members were staunch UNP-ers. Telephone calls went all round and the result — SLPP MPs kept away from the event.
The most embarrassing moment was when an announcer kept giving updates on the public address system before the invitees sat down to dinner. He said Justice Minister Ali Sabry, was now on the way. When dinner time came, he had not arrived. Then the announcer summed it up by saying Mr Sabry was held up at a meeting with President Gotabaya Rajapaksa.
As a result of the absence of ruling SLPP MPs, the event turned out to be a felicitation of parliamentarians from the Sri Lanka Muslim Congress led by Rauff Hakeem and the All Ceylon Makkal Katchi headed by Rishad Bathiudeen.
http://www.sundaytimes.lk/200823/columns/shoora-council-dinner-deserted-by-slpp-muslim-mps-413538.html