Wimal Dheerasekere writes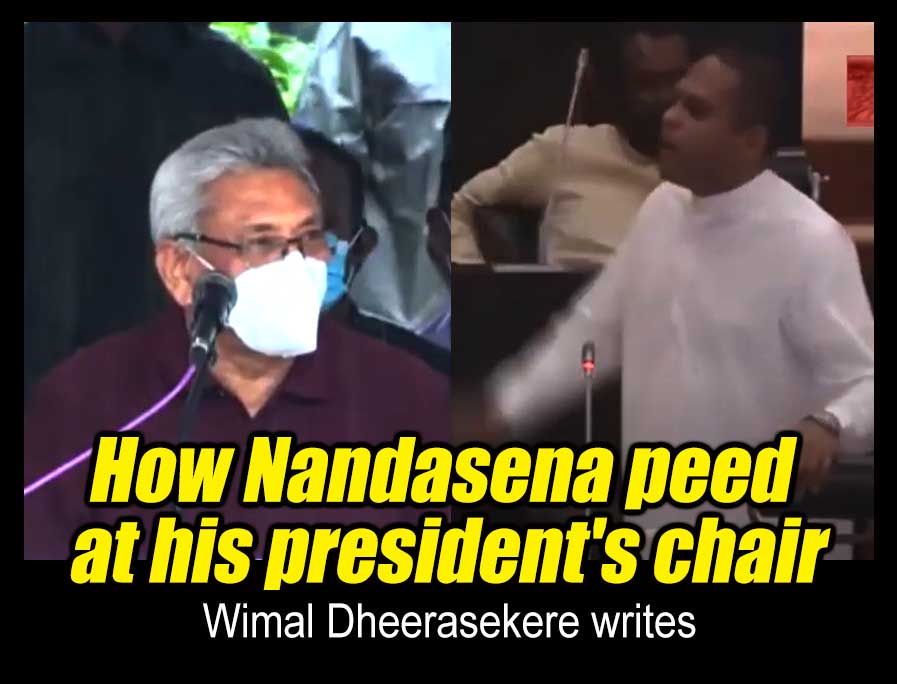 (Lanka-e-News- 10.Jan.2021, 11.30PM) President Nandasena who was frowned by the action of opposition MP Harin Fernando at the parliament, posed a public threat that he is an executor that he would kill Harin as a dog as he killed Prabakaran. It is a wild event that the civilized world does not expect from any president who was democratically elected in this world but yesterday 9th all the people of the world saw.
In fact, what Nandasena did was peeing on the supreme presidency. The attached video shows President Nandasena's brutal statement and relevant parts of Harin's speech that made him so angry. Therefore we don't take the time to rewrite them here.
Nandasena's' Hypnosis..
The president was initially angry that Harin was calling him 'Nandasena'. Harin addresses that way not directly, but only twice. However if the name used by his parents is Nandasena Gotabhaya Rajapaksa, he should not be the first person to be angry with Harin Fernando for calling himself Nandasena but his late father Don Alvin Rajapaksa and mother Dandina Samarasinghe Dissanayake whose tombs were build with the expense of public money worth of Rs. 80 million. If a person becomes angry to be addressed by someone by a part of a name given to him by their parents, it is a symptom of 'schizophrenia'. Such a person should not be in the presidency but in a mental
hospital.
The whole of Sri Lanka called Junius Richard as 'JR'. Percy Mahendra Rajapakse was called 'Mara' by his opponents. The initials of a person first ame are in English and the initials of his last name are in Sinhala. But nowhere did the two become angry as the manner in which Nadasena addressed and threaten to kill the opposition MPs like dogs.
On the other hand, there are an infinite number of past and present events in which politicians have been publicly addressed by their opponents as various satirical names. But no one is as mad as Nandasena. If Nandasena's immediate relatives and friends do not realize that he needs the help of a psychiatrist, Nandasena will inevitably be in big trouble.