Indian High Commissioner voices concern to Premier Rajapaksa
Monday's hartal paralyses Jaffna peninsula
Pakistan Prime Minister Imran Khan to visit Sri Lanka
SJB invites disappointed UNP group to join it
Ranil to remain as UNP leader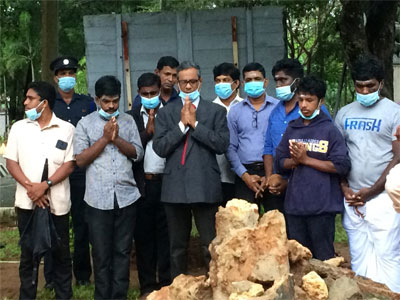 Vice Chancellor of the University of Jaffna, Prof. Sivakolunthu Srisatkunarajah with the students in front of a makeshift foundation stone. This for the construction of new "Mullaivaikal memorial" in the Jaffna University campus.
The Indian High Commission (IHC) in Colombo made desperate efforts last Saturday (January 9) to reach Prime Minister Mahinda Rajapaksa. He was away in Kurunegala, his electorate, meeting constituents.
As he returned to Colombo on Sunday afternoon, High Commissioner Gopal Baglay rushed to his residence at Wijerama Mawatha. He voiced serious concerns over the demolition of "Mullaivaikal memorial" located within the precincts of the Jaffna University. He is learnt to have told Premier Rajapaksa that coming as it does just after the visit of Foreign Minister, Dr Subramaniam Jaisahankar, it could lead to protests erupting in the southern Indian state of Tamil Nadu.
Mullaivaikal, in the northern Mullaitivu district, saw the final phases of the military defeat of the Liberation Tigers of Tamil Eelam (LTTE). There were large concentrations of civilians in the area, declared a "no fire zone." Tamil groups allege that a large number were killed here, a claim strongly denied by security forces and the police. The memorial, with the approval of a previous Vice Chancellor, was commissioned in February 2019. Earlier, a directive from the University Grants Commission (UGC) to halt the construction, which began in April 2018, had not been carried out. The reason was the clout the Tamil National Alliance (TNA) enjoyed in the former yahapalana government. Parts of the memorial had been pre-cast outside, brought into the campus and assembled.