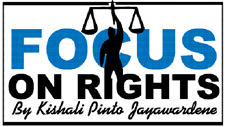 The Supreme Court's Determination on amendments to Sri Lanka's Prevention of Terrorism Act (PTA, 1979) announced by the Speaker in the House on Tuesday 8th March 2022 is largely predictable, some would mutter sotto voce, pedestrian even.
Not timorous amendments but solid revisions needed
Undoubtedly the Court itself was limited by the patent lack of imagination if not foresight by the Government in presenting amendments of such a tepid nature in the first place. If the intention was to placate critical comments in Geneva and Brussels, than that exercise badly backfired.  Strategically speaking, if this package of uninspiring amendments had been bolstered by at least one strong revision of the law which would have signified commitment to recognising the tsunami of injustices that the PTA had resulted in through the decades, one might have been a little more forgiving.
https://www.sundaytimes.lk/220313/columns/gsp-plus-the-pta-and-sri-lankas-painful-contortions-476415.html