The Rajapaksa saga continues: As Gota flies in, Basil flies out with SC ok
Like a thief in the night, he flees the island state, furtively sneaking out past midnight's godless hour aboard a military jet, deserting his presidential office and leaving his country in the ruins he wreaked.
In dereliction of duty as Commander-in Chief of the Armed Forces and Executive President, he leaves his burning country at the mercy of unknown fates. He transgresses his vow, repeated oft, that, come what may, he will not run away, and betrays the trust 6.9 million people had placed in him, barely three years ago, to faithfully 'exercise the executive powers of the people'. Instead, he bolts. Without honourably resigning first, he flees.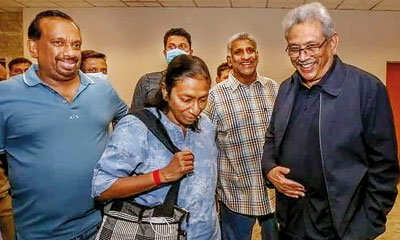 THE MIDNIGHT HOMECOMING TO HOSANNAS: Former President Gotabaya Rajapaksa, with nothing to declare at the airport but his failed quest for asylum, finally returns home with his wife, after 51 days on the run
He requests asylum in foreign states but is rebuffed at every turn. He ignores calls for his resignation by those he left behind holding the crying and hungry baby. After two days, he appoints a guardian, unconcerned whether the baby will take a shine to the foster parent or not. He clings on to his presidential title in the belief foreign states will accord the respect due to a visiting foreign head of state and grant him entry to their ports. Only when he gains a foot in at Singapore and his selfish aim is achieved does he let go.
From first stop Male to Singapore where, from some undisclosed room on July 15, he dispatches, via e-mail, his resignation as president, an office he may have already forfeited by desertion and absence. Only then does the nauseating spectacle of a Sri Lankan Head of State begging disgracefully for a sleepover on a foreign bed come to an end.
Notwithstanding an appeal by the new Government to the Singapore authorities to extend his stay, he is booted out of Singapore and seeks refuge in Thailand, where its government accepts him on certain conditions on August 11. But hard times fall with his funds drying up, with his unnamed sponsors professedly unable to bear the continuing costs of his expensive high-life reputedly at the presidential suite of an undisclosed plush 5-star hotel in Bangkok.
Unable to live in the manner accustomed, with his cost of living expanding exorbitantly beyond his mysterious sponsors' belt and his freedom of movement banned and virtually under hotel arrest, he yearns for the broad acres of the land he deserted and seeks return home where he can, in the midst of the economic flames he had lit before he had fled, live pampered in luxury on public money again.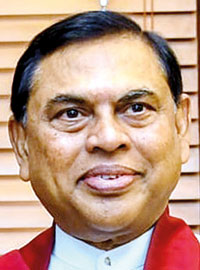 BASIL: Back with family in US
Then, earlier this month on September 3, Gotabaya Nandasena Rajapaksa steals back again – this time as an ordinary citizen — at around 30 minutes past the midnight hour to be met at the Katunayake airport by a group of his former lackeys, and thereafter to relax in their company at the airport's VIP lounge before the VIP convoy of vehicles speeds back to Colombo under the cover of darkness.
A plush state-owned house in Colombo 7, newly made ready by a thoughtful government, awaits his occupation; with a security contingent to guard him round the clock wherever he travels in Lanka, his transport also paid for by the people's pocket.
Home is where the heart is and what better place than Lanka for his heart to be? A 'pin-boomiya,' or blessed land for the Rajapaksas whether in or out of office — where house, travel and expenses, all borne by the people's money.
These privileges are granted by virtue of the President's Emoluments Act of 1986, which enables him to live in comfort and presidential style with a pension plus an additional allowance, while the people he had beggared live in hunger and hardship. But the law entitles him to further scrounge on his people, and the law is supreme.
And so be it.
The one privilege past presidents are not entitled to is the presidential immunity they enjoyed whilst in office. That privilege, thank God, ceases the instant they cease holding the office and, thereafter, the law that applies equally to all, applies equally to him.
But does it?
Gotabaya Rajapaksa was able to return home after life on the run, branded an international pariah, due to the fundamental human right enshrined in Article 14(i) of the right of every citizen to return to Sri Lanka. This guarantees the right of any citizen of Lanka to return home, no matter what heinous crimes he may have committed here or abroad. It cannot be used to prevent a person from setting foot on Lankan soil. But once he does, he can be arrested for alleged crimes or charges filed soonest.
During the years prior to 2019, a host of criminal cases had been filed by the then Attorney General Jayantha Jayasuriya, now Chief Justice, against Gotabaya Rajapaksa. His personal lawyer Ali Sabry is on record saying he has appeared for Gotabaya in over 30 cases. None of the cases proceeded to trial.
With Gotabaya becoming President on 17 November 2022, the host of criminal cases the Attorney General had marshalled before the courts were brought to an immediate standstill, when they were rendered impotent before the armour of presidential immunity that shielded Gotabaya Rajapaksa from prosecution during his presidential term.
With his resignation from the presidency on July 15, the invincible shield that granted him immunity, fled his Singaporean room to return home to protect its new wielder, President Ranil Wickremesinghe. Today, with Gota's return to Lanka this month, he is as common as the rest of the people, and, if he has done any crime that warrants arrest, he can be arrested on sight in the manner people are arrested and remanded in hordes, even for alleged minor offences.
The serious charges Gotabaya faced before becoming President stand inert: the array of cases before the courts, forced to a standstill, still remain standing still, frozen in time, despite his loss of immunity with many rights groups protesting against legal inaction.
The new President has often spoken of the law's supremacy and the need to maintain the Rule of Law at any cost. The Rule of Law and democracy's due process also hold that there can be no selective law enforcement. It must be seen to apply equally to all. As a British judge, Lord Hewart, once ruled: "It is not merely of some importance but is of fundamental importance that justice should not only be done, but should manifestly and undoubtedly be seen to be done".
Perhaps it is time that the present Attorney General Sanjay Rajaratnam stirs and starts to dust off the old files, which had remained shelved for the last three years, and resumes the due process to show the people that the law and the constitution exist not only to protect the rich and powerful but that its sword falls equally on all. Or else, the Law, hailed as the respecter of none, will risk losing its own respect.
That's not the end of the Rajapaksa saga, a melodrama with many twists and surprising turns, set to run and run to keep the folks agog.
Even before Gotabaya flew in, Basil Rajapaksa had laid plans to fly out. On July 15 travel bans were placed on Mahinda and Basil Rajapaksa, and several others, by the Supreme Court following a petition filed by Transparency International Sri Lanka, including former Chairman of the Ceylon Chamber of Commerce Chandra Jayaratne, Jehan Canagaratnam and Julian Bolling. They claimed the respondents were directly responsible for the current state of the Lankan economy. The travel ban was repeatedly extended by the Supreme Court, the last being on 10 August.
On Friday September 2, Basil Rajapaksa asks the Supreme Court to lift the travel ban the court had imposed on him. The Supreme Court duly grants his wish and allows Basil to spend four months abroad if he so desires. On September 10, he flies back to his adopted country, America, for a happy reunion with his wife and children. As a foreign citizen, he is now beyond the jurisdiction of Lankan courts. His return in four months to face his accusers in court, remains entirely at his discretion.
All the Rajapaksas may be out of political office — except for Chamal Rajapaksa's son, Shasheendra Rajapaksa, who was recalled from the wilderness this month by President Ranil Wickremesinghe and reinstalled in political office as the State Minister of Irrigation, perhaps a precursor of the family's planned return – but it seems their unseen hand still rocks Lanka's political cradle.
When war guns boom, it is said, the laws fall silent. But in Lanka, it seems it's blindfolded, ear-plugged and gagged when political expediency demands it be kept suspended for some, even in times of peace.
| | |
| --- | --- |
| | Why flab is beautiful for the fattest MP in HouseMeet the MP who is the fattest, heaviest and, as he says so himself, the healthiest among the 225 fat cats in Lanka's present Parliament.Meet Chamara Sampath Dassanayake who, by his own reckoning, tips the scales as the fattest man – or woman – in Parliament. And he is mighty proud he has so much going for him to boast about.CHAMARA: Tips the scales to beat the rest and proud of it tooAssuming his duties as the new State Minister of Primary Industries on September 8, he told well-wishers who had turned up for the groundbreaking event: 'President Ranil Wickremesinghe appointed me to this ministry. It doesn't matter if it's big or small. My ministry is like my body. But out of the 225, I have no cholesterol or sugar. I control my body. I have the largest body in this Parliament. I am its fattest MP'.And his bulk has proved no bar to his sex appeal either but added tons to his charisma among his voters. 'My electoral successes are all due to my fat appeal,' he says without a blush over his body beautiful. 'When I contested the Uva Provincial Council elections, the people voted for me, saying they must vote for Demodara Bada or Demodara Thadiya. They love my fat and voted for my body.'No doubt that came in handy to push his weight about in the Uva province as its SLFP Chief Minister. In January 2018 Chamara Dassanayake, who also held the post of Provincial Education Minister, summoned the female principal of Badulla Tamil Girls Maha Vidyalaya to his home. He allegedly lambasted her for having dared to refuse his request to admit a student to her school and forced her to kneel before him in atonement for disobeying his order. The principal later told the media that she had refused his order because the admission list was closed.When public anger erupted over the outrage and the Teachers' Union threatened to launch a nationwide strike, he was forced to step down from his post of Education Minister. Stepping down, he said, he was doing so until an investigation into the matter cleared him of the charge.It duly did. In April, the Governor of the Uva Province M. P. Jayasinghe announced that a one man committee – a single retired public servant appointed by him – had inquired into the incident and had cleared Dassanayake of any wrongdoing. 'He had done nothing serious,' Governor Jayasinghe said. And Demodara Bada bounced back to his old post as Education Minister with all the spring of a much inflated football.But will his overblown brawn show the same nerve when bounced against his old party, the SLFP? Chamara Dassanayake who turned coat this month and left the SLFP ranks in the opposition to cross over to join Ranil Wickremesinghe's team of 37 state ministers, declared upon assuming new office in the presence of fellow SLFP Nimal Siripala who had also pole vaulted to become cabinet minister: 'They have threatened to sack me from the SLFP. They can throw me out from the party but they cannot throw me out from the people's heart.' This Tuesday, SLFP leader Maithripala Sirisena struck. He sacked him and five others, including Nimal Siripala de Silva, from the party for violating party discipline by joining the Government.But sacked though Chamara maybe from the SLFP, can he be booted out from the people's bosom? Is it a mere fat hope of Chamara — or Demodara Thadiya as he affectionately calls himself — to bounce back with gusto come the next elections?The people get the MPs they deserve. As long as voters give more weight to flab than to brain, no doubt, h |